Cudo Miner Review: In-Depth Review (Pros & Cons)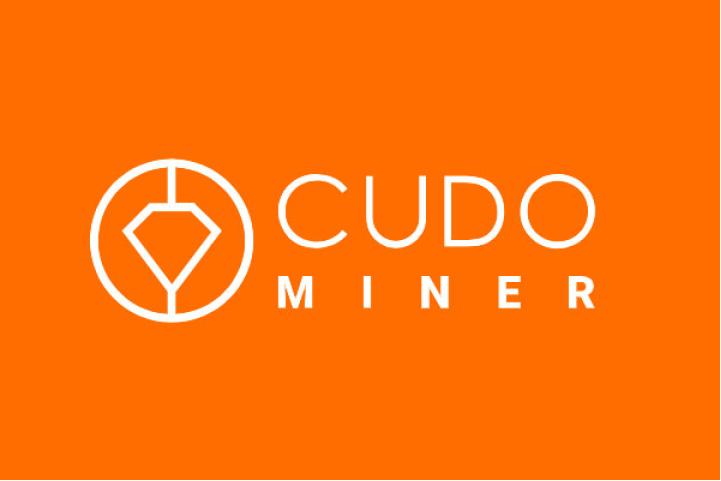 Cudo Miner
The automatic coin switching feature will continuously scan for profitable tokens
Cudo Miner offers several options for miners of all levels
Users can leverage their idle PCs to earn cryptocurrency
Pros:
100s of tokens available for manual mining
Cudo products can be downloaded free of charge
Intuitive user interface and setup process
Cons:
Only five tokens available for automated mining
Lack of in-person support
No mobile app
Cudo Miner Ratings and Reviews
Cudo is an intuitive cryptocurrency mining software that offers several options for new entrants and experienced miners. Using the Cudo Miner, any individual can leverage the processing power of their idle devices into passive income streams. 
The free software provides simple access to the cryptocurrency mining markets, with free withdrawals and low commission fees. The wide selection of minable tokens and simple setup process makes Cudo a viable option for those looking to enter the market or optimize their operations.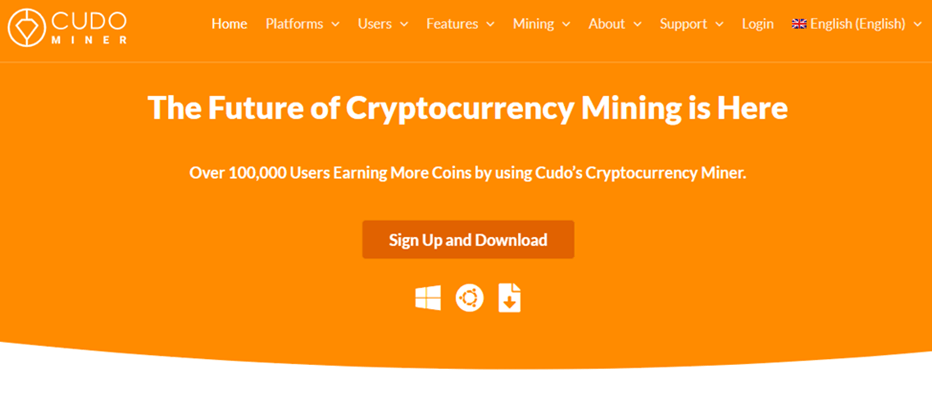 Highlights of using Cudo Miner
Cudo Miner offers several options for

miners of all levels

, including the

intuitive Cudo Miner for beginners

and the comprehensive

Cudo Farm for advanced mining rigs

. 

Cudo products can be downloaded

free of charge

, with

zero withdrawal fees

and

minimal commissions

paid on earned crypto.

The Cudo Miner allows the average consumer to

leverage their devices' idle time

into a

passive income stream

.

Miners have access to

100s of mineable cryptocurrencies

with varying levels of profitability.

The automatic coin switching feature will continuously scan the markets for the most profitable tokens

,

reducing the labor

needed to

maximize profitability

.
Risks of using Cudo Miner
The

automatic coin switching feature only supports five tokens

, however, users have access to

100s of tokens when operating manually

. 

Users may find a

lack of in-person support

, however, the

FAQs section provides insight

into most issues users may face.

Cudo mining software is

only available on Microsoft Windows and Linux

, with

no availability for iOS or mobile devices.
Cudo offers industry-standard security at the platform level

, but users

may need to deploy their own countermeasures

to protect their devices.
Cudo Miner Features
Cudo Miner: An automated cryptocurrency mining software that allows users to easily convert their laptop to a passive income generator. Available on Windows, Linux, or through CudoOS, The Cudo Miner is designed for miners of all levels.
Cudo Farm: An advanced cryptocurrency mining and management software for miners with high-power mining rigs. A more comprehensive version of the Cudo Miner, Cudo Farm, helps miners optimize efficiency and profitability through tools such as data insights, automation, and intelligent decision-making.
CudoOS: A computer operating system designed to make miners more profitable. Using machine learning, optimized hash rates, and industry-low power consumption, CudoOS is a tool for miners to enhance their earning potential with simplicity.
Automatic Coin Switching: An automatic algorithm built into Cudo products that continuously scans for the most profitable tokens for mining. Enhancing time efficiencies and profitability, Automatic Coin Switching allows users to maximize their earnings and time away from their devices.
Cudo Miner Pricing and Fees
The Cudo Miner mining software is free to download with zero withdrawal fees, however, miners will need to pay a commission to Cudo for tokens mined. The commission levels are structured such that fees decrease as mining volume increases.
Commission Fees (as a percentage) for Cryptocurrency Mined [1]: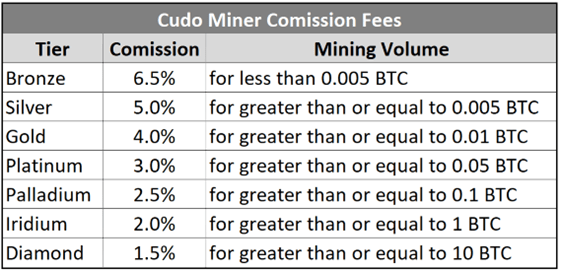 For example, users who mine 0.01 BTC over the trailing 30 days will pay Cudo four percent of crypto earned, whereas users who mine over 10 BTC will only pay 1.5 percent. Fees are calculated using the token exchange rate on the day the crypto was mined.
How much can you make on Cudo Miner?
A miner's profitability using Cudo Miner is dependent on the processing power of their device and the exchange rate of the cryptocurrency being mined. The higher the price of a token and the more powerful device a miner has, the more money can be made.
Although projecting potential earnings may prove volatile, Cudo claims its software will boost the profitability of mining operations by up to 30 percent [2].
Cudo Miner Company Background
Cudo Miner was founded in 2017 by tech entrepreneur Matt Hawkins when he recognized that the idle power of unused laptops could be leveraged for cryptocurrency mining. When Hawkins discovered that computers typically sit idle 60 percent of the time and experienced the steep learning curve of mining crypto, he designed a solution [3].
Cudo operates with the mission to "provide access to disruptive technologies… working towards making Cudo Miner the best solution in the world to monetize your hardware" [3]. Cudo also works toward environmentally sustainable operations by investing in carbon offsets and funding green energy projects.
How does Cudo Miner work?
Cudo offers a number of cryptocurrency mining products for those with underutilized computers, as well as those with comprehensive mining farms.
When individuals mine cryptocurrency, they are securing the respective blockchain network of that token. For example, when users mine Bitcoin, they are verifying Bitcoin transactions on the network and are awarded small amounts of Bitcoin for successful transactions.
Users looking to capitalize on the computing power of their laptop can earn passive income by downloading the Cudo Miner software and letting it run automatically in the background. Experienced miners have the option to utilize the powerful Cudo Farm miner, which provides management of 100,000s of devices, remote management, and industry-leading hashrates.
When users are ready to withdraw, they can transfer their mined cryptocurrency to a separate wallet, or sell the crypto and transfer the balance to supported bank cards free of charge.
Cudo Miner User Experience
Cudo Miner provides an intuitive experience to miners of all experience levels. The extensive educational resources and simple interface make it easy for anyone to turn their laptop into a crypto miner.
Once users download the Cudo Miner software and sync their device to a blockchain network, Cudo will automatically mine cryptocurrency in the background. Users may manually select the tokens they mine, or they can set Cudo to automatically switch between tokens that are the most profitable.
The Cudo Miner interface provides intuitive access to insightful data regarding mining devices. Users can easily view information such as individual hashrates, power usage, and monthly earning potential.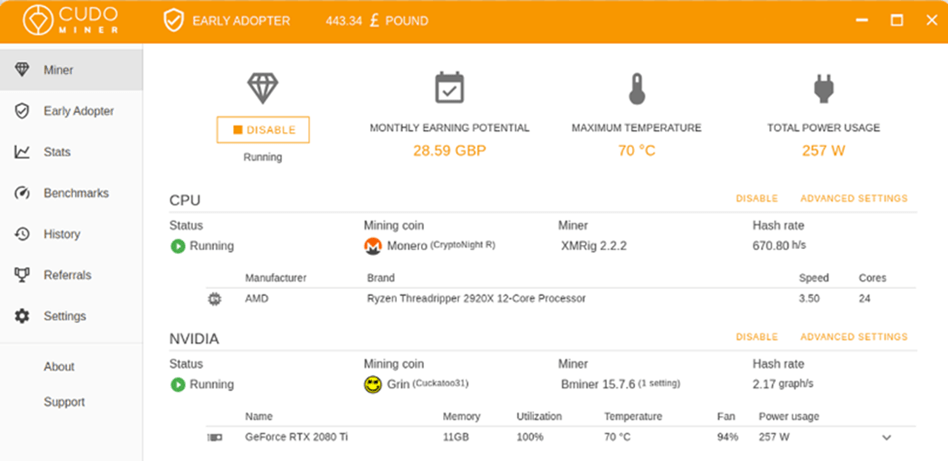 What coins are supported on Cudo Miner?
The Cudo Miner offers support for over 100 tokens with manual mining, but those who choose to utilize the automated mining feature only have access to five cryptocurrencies.
Those five currencies include:
Ethereum Classic (ETC)

Bitcoin Gold (BTG)

Ethereum PoW (ETHW)

Ravencoin (RVN)

Monero (XMR)
Security: Is Cudo Miner Safe & Secure?
Cudo offers industry-standard security on the backend of their platform, such as SSL and encrypted data transfers. On the account level, their primary method of security is the default requirement of two-factor authentication (2FA).
Much of the responsibility of securing miners lies on the user. The primary attack vectors on miners typically come in the form of phishing and viruses, which is why it is extremely essential to install active antivirus software on all devices.
Customer Support: Contacts & How to Get Help
Cudo may lack the efficient customer support channels provided by other software, but its FAQs section provides solutions to many of the issues users may encounter. For more complex issues, users can reach the Cudo team through their Telegram channel.
The lack of in-person customer support is mainly because of how simple the mining process can be. Most of the issues experienced consist of hardware issues or simple problems that are addressed in the FAQs.
Who is Cudo Miner Best For?
Cudo mining products offer an intuitive solution for crypto miners of all levels. At a low cost, Cudo provides the tools needed to optimize the end-to-end mining process, including powerful features such as automatic coin switching and the integration of the mining-specific Cudo Operating System.
The intuitive interface, simple setup process, and free software make the Cudo Miner a viable option for beginner miners with low processing power. As beginners learn the basics of crypto mining and acquire additional GPUs, they can advance to the more intricate options. 
The advanced mining software options provide an opportunity for miners with comprehensive mining rigs to accurately manage their operations with advanced insights and customization. 
The extensive support of 100s of minable tokens separates Cudo from its competitors, with additional support for automatic coin switching of five tokens. The accessibility of the software allows advanced miners to focus their operations and allows beginners a low-intensity mining experience. 
Cudo is an accessible option for those looking to enter the crypto-mining market and also provides the power and tools for advanced miners looking to maximize their earning potential.