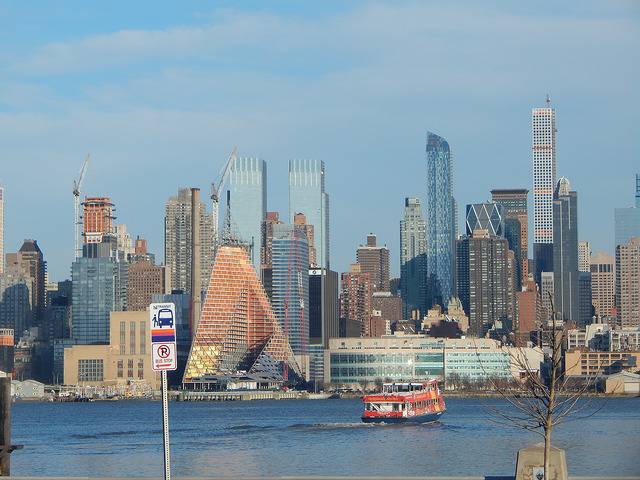 New Jersey is one of the most coveted and attractive states to live in the United States. Whether living within commuting distance to New York City is your top priority, you are looking for Philadelphia apartments, but find suburban South New Jersey to be a little more your speed, or even if you're an investor looking for a desirable apartment complex to buy, there are lots of options.
New Jersey is one of the wealthiest states in the United States, with a per capita income of $35,928 (2012) and a personal per capita income of $50,781 (2010).  New Jersey's median household income is $71,637 (2012) and its median family income is $87,389 (2012), both the second-highest in the country.  New Jersey real estate has homes and apartments for rent for every budget.  Below, a look into the best cities in New Jersey (close to New York City) for every price range. There are many best places to live in jersey city, explore more here.
Edgewater, New Jersey
Edgewater is considered one of the best places to live in New Jersey for several reasons including its close proximity to New York City (it is only about 16.4 miles away if you use FDR Drive and NJ Transit is fast and reasonably stress-free), safe and beautifully designed neighborhoods and affordable rental prices that range between $1,900 and $3,500.
North Bergen, New Jersey
North Bergen is about 10.2 miles away from the City (30 minutes via US-1 N). The North Bergen area is known for its affordability and many North Bergen apartments are being built along the Hudson River boasting spectacular city views at "see it to believe it prices", and therefore it is no wonder North Bergen is luring young professionals working in New York City. Rental prices range from $1,000 to around $3,000.
Get Started
Claim up to $26,000 per W2 Employee
Billions of dollars in funding available
Funds are available to U.S. Businesses NOW
This is not a loan. These tax credits do not need to be repaid
The ERC Program is currently open, but has been amended in the past. We recommend you claim yours before anything changes.
West New York, New Jersey
West New York, which is situated in Hudson County near the New Jersey Palisades, is one of the most densely populated municipalities in the United States. West New York boats affordable condominiums with rental prices ranging from $1,600 to $4,000.
Edison, New Jersey
Edison, New Jersey, was recently voted one of America's Best Cities to Live according to Money Magazine.  This 32-square-mile township of more than 100,000 residents, has a rich history, from colonial times to the present, and is the home of Thomas Alva Edison's famed Menlo Park laboratory where the incandescent light bulb was perfected and the sound was first recorded. Rutgers University and Middlesex Community College are located nearby and the area has attracted major employers, such as John F. Kennedy Medical Center and Johnson & Johnson.
Iselin, New Jersey
Iselin has a very strong Indian-American community and boasts a thriving local business district with many ethnic shopping and dining options that draw people from Jersey City and Jackson Heights looking for a more relaxed, suburban lifestyle.  Residents are minutes from the Garden State Parkway, New Jersey Turnpike, and Routes 1, 9, and 287. Woodbridge Center mall is only a five-minute drive away and Menlo Park mall is located only ten minutes away. Commuters are able to reach Penn Station in New York City in just over a half over by taking a train from nearby Metropark.
Weehawken, New Jersey
Weehawken, also known as NoHo, is parallel to Midtown Manhattan and is separated by the Hudson River. Weehawken's location is convenient for those that work in New York City and live in the best areas of New Jersey as it's only 6.7 miles via West Street. The rental prices range from $2,000 to $4,000, an attractive option for New York metro area living.
Secaucus, New Jersey
Secaucus was recently rated No. 19 on New Jersey Monthly's annual list of the "Best Places to Live in New Jersey" and home buyers and renters are showing an increased interest in the area.  The town of more than 18,000 residents is the only municipality from Hudson County to rank above 200 on the list. The magazine rated 510 municipalities in the state based on home values, property taxes, crime rates, school performance, and lifestyle factors such as nearby live performing-arts theaters and full-service restaurants.