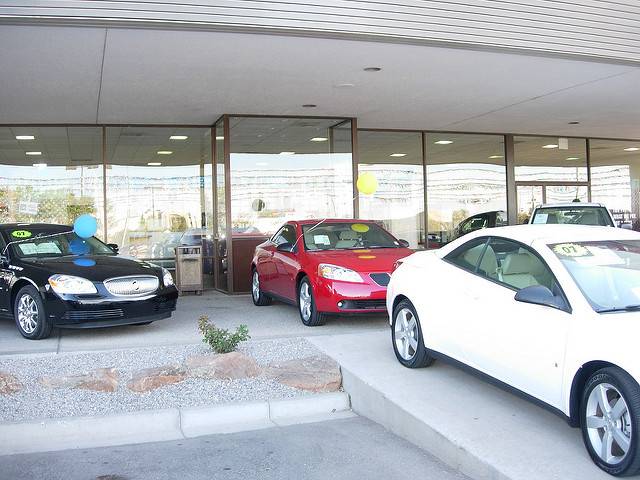 Owning and running a car dealership is full of both opportunities and challenges. With 6.3 million cars sold in 2017 alone and the majority of households owning a car, the industry is alive and well. However, it's not all easy. In 2017 there were 16,812 new car franchised dealerships and 145,364 used car dealerships in the United States, not accounting for the thousands of independently-owned dealerships as well. It's a competitive market.
Convincing customers to buy a car is challenging enough, only made harder by increased competition. By implementing the right strategies and understanding what customers want in their car buying process, you'll find that driving sales for your car dealership is entirely possible.
The Sale Begins Online
One common mistake car dealerships make is focusing solely on the in-store experience. Yes, getting a customer into a showroom, a test drive, and on the lot is crucial to making a sale. However, data has shown that most customers thoroughly research online before buying a car, and that research includes a dealership's website. While most customers come into the dealership on weekends, 30% of total online inventory views and 37% of total leads occur on Mondays and Tuesdays, proving that customers are researching days in advance of visiting a dealership in-person.
It's important to recognize this research as the first part of the sales process. In this process, your website and social media channels are your opening pitch, with in-store visits being a way to seal the deal. Ensure your website and social media channels are always up to date, featuring your best products or promotions, and, most importantly, showcase how and why your dealership is different from the rest.
Make a Good Digital Impression
With customers using your website and social media channels for research, it's imperative that you make the right impression. Research has shown that customers often have a negative opinion of car dealerships. Whether it's the buying process or negotiating, people often dread dealing with the ins and outs of buying from a car dealership.
Get Started
Claim up to $26,000 per W2 Employee
Billions of dollars in funding available
Funds are available to U.S. Businesses NOW
This is not a loan. These tax credits do not need to be repaid
The ERC Program is currently open, but has been amended in the past. We recommend you claim yours before anything changes.
In fact, 87% of Americans dislike something about car shopping at dealerships and 61% feel taken advantage of during the process. While this may sound discouraging, it's actually an opportunity for your dealership to set itself apart.
If you can improve the aspects that shoppers dread and relay it in your messaging, people will be more likely to visit your dealership. Fifty four percent of customers said they would buy from a dealership that offers their preferred experience, even if it didn't have the lowest price. You can demonstrate this preferred experience to customers through your digital presence. Explain how your dealership is different from the rest throughout your website, but especially on the homepage, about us page, and FAQs page. Whether you focus on how you advocate for the customer or always try to get your customers the best price, narrow down your value proposition and run with it. Then, of course, follow up on that promise in-store to solidify the relationship.
Don't Underestimate Social Media – Especially YouTube
Social media is one of the easiest ways for customers to familiarize themselves with your company and its offerings. According to Think With Google, 69% of people who used YouTube while buying a car were influenced by it, more so than television ads, newspapers, or magazines. Consider how your dealership can capitalize on your social media accounts.
By showcasing product features or promotions in YouTube videos or Facebook Live Streams, you're able to insert some control in the customer research process. While you can't control what Kelley Blue Book has to say, you can show customers how your newest line of trucks drive in the rain or how the Bluetooth in one of your models works. Not only does this help with their research process, it instills trust between your dealership and the customer. Each social media channel will have a different way that works best, and, with a little trial and error, you will slowly learn what each channel's audience engages with most.
Become Active In Your Community
A car is a long-term, expensive purchase that customers feel pressured to get right. As a result, the car buying process requires extensive trust between a customer and the dealership. One way to begin building that trust with existing and potential customers is by getting involved in your community. Whether it's sponsoring a kids' sports team or attending events at your local Chamber of Commerce, it's important that people get to know you and your business.
Creating a positive, trusting relationship with your local community will not only put your business top-of-mind when someone is ready to buy a car, but can also lead to friend and family referrals. Even if you hadn't met a person yet, if someone they know recommends your dealership, they will feel more confident shopping with you than someone else.
Running a successful car dealership is just as much about understanding your customer as it is understanding your product. By knowing how customers shop for cars and how they would like that process improved, you can differentiate yourself from the competition and come out on top.
Author Bio
Bruce Hakutizwi is the USA and International Accounts Manager for BusinessesForSale.com, the world's largest online marketplace for buying and selling small and medium size businesses. Bruce has over 7 years' experience working within the US business transfer marketplace connecting buyers and sellers. If you'd like more recommendations and industry advice, check out BusinessesForSale.com resources for everything you need to know about buying, selling, and running your own business.