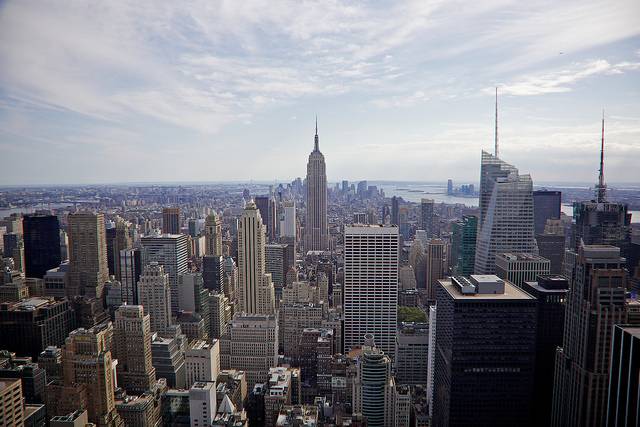 Small businesses offer a personal touch and specific expertise that some larger-scale enterprises can't deliver; this could be one of the reasons why smaller electrical service companies are dominating their sector. In fact, 80 percent of businesses in the electrical contracting industry have under ten employees.
The U.S. electrician industry is currently experiencing relatively strong growth with projections to reach $185 billion in 2019. The number of employees in the sector is also steadily increasing as workers are starting to diversify into related areas of work within the field, such as green solutions, which provides more sources of revenue.
Now, let's take a glance at a specific region with a reasonably high demand for skilled electricians — New York. The Big Apple can be the ideal ground to start a small electrical service business because there are many external factors driving this trade to success. Let's investigate the current state of the industry and how companies operating in this region are staying profitable.
The Nature of the Business
Electricity is a basic need for the modern American. From providing the everyday essentials of heating and lighting to powering our sophisticated, metropolitan lifestyle via internet and technologies, electricity is a staple in our way of life. Electrical service businesses hold a key position in ensuring that residential homes and commercial properties stay continuously connected to a power source.
Plus, an electricians' skill set allows them to offer a broad variety of services. These services consists of electric power and systems installation and servicing, telecommunications, fire and security systems, and electronic control systems; all of which are essential to every household or public building.
Get Started
Claim up to $26,000 per W2 Employee
Billions of dollars in funding available
Funds are available to U.S. Businesses NOW
This is not a loan. These tax credits do not need to be repaid
The ERC Program is currently open, but has been amended in the past. We recommend you claim yours before anything changes.
They are in an ideal location
The state isn't called The Land of Opportunity for nothing. New York possesses many favorable economic conditions that attract hungry entrepreneurs, especially in this specific trade:
They support a state goal 
New York is a nation-leader on sustainable energy practices. New York's Clean Energy Standard released a requirement to raise in-state renewable energy usage from its current 28 percent to 50 percent by 2030. With this target in mind, Governor Andrew M. Cuomo is creating commercial, industrial, and residential-focused initiatives to encourage and support the use of greener energy use.
At the same time, New Yorkers are transitioning to high-efficient heating, ventilation, and air conditioning (HVAC)technologies since they realize the long-term, cost-savings. For instance, a "green" boiler or furnace can save individuals up to 30 percent on heating costs; while a new gas water heater can save them up to 50 percent on energy compared to traditional models. Electrical service businesses are supporting and leveraging this green movement by possessing the specialized skills to install and maintain these energy-efficient alternatives.
They capitalize on government regulations
With the many hazards associated with poor wiring, the sector is closely governed. The New York City Electrical Code Revision Committee periodically discuss and implement new amendments to the state code, ensuring that current regulations are aligning with modern technologies, as well as with the National Electric Code (NEC).
In fact, New York is currently revising the Building Code regulations, with new standards to be introduced sometime late in the year 2019. With recurring scrutiny and adjustments made, the demand for electrical services is stable as both residential properties and commercial real estates have to keep their equipment up to par and in accordance with these amendments. Some consumers will even have to undergo larger installations and replacements to meet the new standards.
By providing a necessary service that supports a fundamental need, all the while benefiting from ongoing trends, electrical service businesses have become a valuable trade in the state of New York. Any interested entrepreneurs who have the background and training in this field could find success by investing in this sector.