Fast Lane Traders Review: Pros, Cons, and More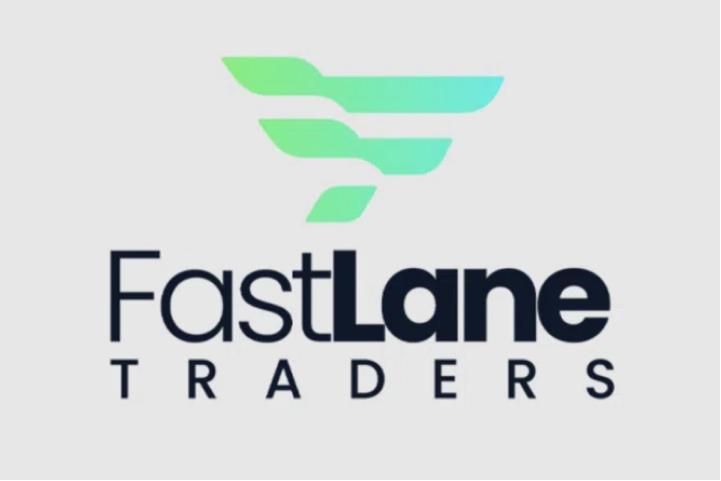 Fast Lane Traders
Financial and crypto education platform
Help users make informed trading decisions
Suitable for novice and experienced traders
Pros:
3-day free trial period
30-day 100% money-back refund policy
No minimum starting capital requirements
Cons:
No mobile app
Can be expensive for some users
Lack of social media integration
Fast Lane Traders Ratings and Reviews
Fast Lane Traders is a financial and crypto education platform that provides access to market data, research, and analysis to help users make informed trading decisions quickly and easily. 
The platform is suitable for experienced and novice traders. For beginners, it offers comprehensive education and support materials to help users develop their crypto trading skills. For advanced traders, it presents a range of trading tools, including a sophisticated charting platform, customizable trading strategies, automated trading systems, and risk management features. 
Fast Lane Traders features a range of trading tools, such as live market data feeds, automated trade execution, and short-selling capabilities. The platform also offers step-by-step strategies, from educational videos to tutorials on making low-risk/high-profit trades.
Fast Lane Traders offers a 3-day trial and is an excellent choice for crypto traders looking for a reliable and user-friendly day-trading platform.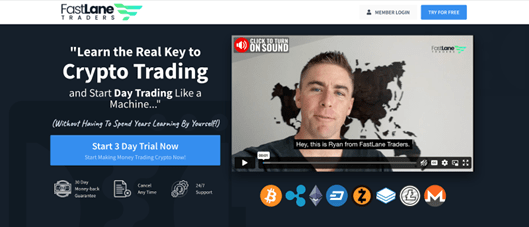 Fast Lane Traders Pros
Core Fast Lane Strategy:

The platform offers modules that help build a strategy with easy-to-follow educational videos, even for individuals who have no knowledge of crypto charts.

Low barriers to entry:

The platform is designed to make trading more accessible by providing users tools they need to start trading quickly and easily. Users only need a valid email address to get started on the Fast Lane Trader platform. There is also no minimum starting capital requirements.

Customer Support:

They provide a wide variety of reliable and efficient customer service and support channels.

Refund Policy:

Fast Lane Traders offers a 3-day free trial period and a 30-day 100% money-back refund policy.
Fast Lane Traders Cons
Website:

Fast Lane Traders' website does not provide users with many customization options, such as the ability to customize the color scheme or layout. This can make the site feel generic and uninviting.

Mobile app:

Fast Lane Traders doesn't have a mobile app. The platform is only available online via its website.

Lack of social media integration:

The platform does not provide any way for users to interact with other traders or connect with industry experts through social media. This could limit the potential for traders to build their own networks and stay connected to the industry.

Pricing:

Professional-grade trading software can be expensive, and the cost may not be justified for smaller traders dealing with a limited amount of capital.

Price structure:

The pricing structure isn't clear, and there is no information on whether Fast Lane Traders platform takes commission or not.
Fast Lane Traders Features
Besides offering educational sources, technical analysis, and advanced charting, Fast Lane Traders provides various features to its users that include:
5 Modules

: 

Module 1

(Trading Basics) explains how crypto markets work and trading methods such as swings, scalps, longs, shorts, spot, margin, and futures trading.

Module 2 (Technical Analysis) teaches how to read charts and price action.

Module 3 (Indicators) presents indicators such as VWAP, Moving Averages, Market Cipher B, Momentum Waves, RSI, and more.

Module 4 (Trading Profitably) shows how to trade profitably, manage risks, and build a strategy.

Module 5 (Entering Strategies) presents diverse tactics such as trigger wave strategy, crossover strategy, MA Bounce, and more.

Discord Group:

Fast Lane Traders subscribers can access day trading chat rooms on Discord to exchange ideas and participate in community discussions. With this method, the platform provides a supportive environment that allows its users to become more informed and successful traders.
Fast Lane Traders Pricing and Fees
Fast Lane Traders offers a monthly subscription with a trial period. Those who want to subscribe to the platform can start their 3-day free trial period and find out if the platform is what they're looking for.
After the 3-day free trial period, the Fast Lane Traders platform charges a $7.95 USD sign-up fee.

If the users are content with the Fast Lane Traders, they can continue accessing the platform by paying a monthly subscription fee of $86.61 USD. 
Users are billed every 30 days unless they take action to cancel their subscriptions. However, Fast Lane Traders users can cancel anytime their subscription plan, and there is also a 30-day refund option.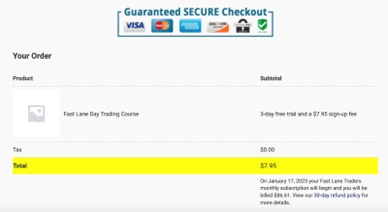 Fast Lane Traders Company Background
Fast Lane Traders is a privately held company founded by Ryan, according to a video on the Fast Lane Traders website. Neither Ryan's last name nor the Fast Lane Traders company background can be found online, which raises curiosity about the company's legitimacy and its founder. 
According to the company's website, Fast Lane Traders offers packages for individual traders and day traders. The company also provides a range of educational materials and support services, as well as competitive pricing, to help optimize trading performance.
The company's mission is to provide maximum value to its clients through high-performance technology and a commitment to customer service.
How does Fast Lane Traders work?
After subscribing to the Fast Lane Traders website with an email and a valid credit card, users get access to the Fast Lane Traders platform that contains educational videos on crypto trading, news, and analytics. 
Fast Lane Traders provides users with the access to data that can be used to make profitable trades. Through its platform, Fast Lane Traders offers access to 5 modules, educational videos on crypto trading, news, and analytics which can be used to create a trading strategy. Additionally, the platform provides backtesting capabilities to test different methods and identify the ideal setup.
All the content can be reached from Fast Lane Traders' website, and users can also install Discord so that they can access Fast Lane Traders community and chat rooms.
Fast Lane Traders User Experience
The Fast Lane Traders user experience is designed to be as streamlined and convenient as possible. When visiting the site, users are able to quickly and easily find information about educational content and services that Fast Lane Traders offer. 
Offering top-notch courses on investments, users can follow an easy step-by-step knowledge of the inner workings of the market as well as predictive low-risk trading. Users learn unparalleled information and trading techniques that give them proficiency and profitability. Also, users can periodically access the platform's new educational content and features.
In addition, users can use the platform to track their progress, view market news and analysis, and access customer service and support. The customer support section provides users access to knowledgeable staff who can assist them with queries.
Customer Support: Contacts & How to Get Help
Fast Lane Trader offers a limited yet effective scope for customer support. Users who need help with the platform can reach the customer service team by emailing support@fastlanetraders.com or calling (888) 200-5051. The customer support team is actively addressing user concerns on Monday to Friday between 9 am to 6 pm EST.
There is no FAQ or support center on the Fast Lane Traders website to find answers to users' questions. Additionally, there is no social media integration on the platform's website. However, there is a private Discord group where community members can engage and get help from experienced traders.
Who is Fast Lane Traders Best For?
Fast Lane Traders is primarily best for novice investors who want to learn how the crypto market works and how to trade actively by taking advantage of market swings and volatility. Since the courses on Fast Lane Traders progress step-by-step, beginner investors can learn trading techniques and how to get specific results with them.
Educational sources and news on the platform are also suitable for experienced traders, allowing them to expand their trading knowledge. It also offers advanced charting tools, research tools, and analytics, giving traders the edge they need to stay ahead of the game.
Overall, Fast Lane Traders is designed to help all levels of swing traders to make informed decisions and are comfortable with significant risk with the support of a mentor.