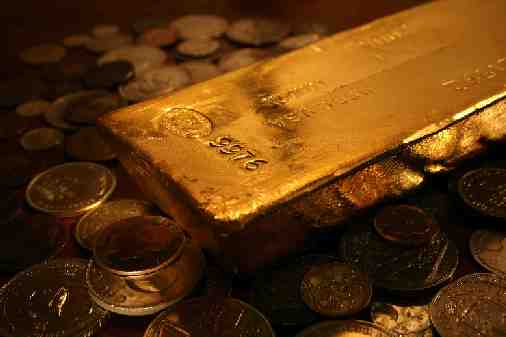 This week hasn't been the best of weeks for gold as the price of the commodity was in the midst of a multi-session losing streak. However, on Thursday, gold found its way upward in spite of a strong United States dollar, increasing interest rates, and positive economic results. So, what's the deal? Why is it that gold broke its losing streak? Today, we'll talk about near term pressures that led to multi-session declines, why I believe that gold found its way to the green on Thursday, and whether or not these gains are likely to continue.
Here's What Led To Recent Declines In The Price Of Gold
Before we get into what we can expect in the price of gold ahead, it's important that you understand just why the precious metal went on a multi-session decline. Gold is a safe-haven commodity. This means that in general, gold finds strength when economic conditions are poor, central bank interest rates are low, and market conditions leave much to be desired. However, we've seen the exact opposite as of late. Here are a few key factors that have pushed the value of gold downward:
US Jobs Report – First and foremost, the recent US jobs report for the month of January proved to be a primary cause for concern. During the month, the United States added 200,000 jobs to its economy with wages increasing by 0.3%. The strong growth in jobs and increasing wages suggests gains in inflation and economic strength. That's bad news for any safe-haven investment.
Increasing Central Bank Interest Rates – Another issue that gold is facing as of late is fears of increasing central bank interest rates. Essentially, when economic conditions are positive, central banks around the world generally increase interest rates. In doing so, rates increase on other safe-haven investments. This creates safe-haven competition for gold, ultimately pushing the value of the precious metal downward. At the moment, the United States and the UK are expected to raise interest rates relatively soon. With strong economic developments in both countries and a call to prepare for higher rates out of the Bank of England.
Strong USD – Finally, the United States dollar is starting to see some strength. Unfortunately, that's yet another hit to gold. The reality is that gold is generally priced using the USD around the world. So, as the value of the USD rises, gold becomes more expensive around the world, further reducing demand.
Why Did Gold See Gains Thursday Amid The Conditions Mentioned Above
On Thursday, gold had a relatively positive session, breaking the multi-session declines we've seen in the value of the commodity. Ultimately, there are two factors that I believe played a role in the gains on Thursday. Here's how I see it:
Get Started
Claim up to $26,000 per W2 Employee
Billions of dollars in funding available
Funds are available to U.S. Businesses NOW
This is not a loan. These tax credits do not need to be repaid
The ERC Program is currently open, but has been amended in the past. We recommend you claim yours before anything changes.
Mnuchin Comments – One factor that definitely helped the value of gold on Thursday was a comment that was made by U.S. Treasury Secretary Steven Mnuchin. In his comments, Mnuchin explained that a weaker USD was good for United States trade. While these comments were later walked back slightly, they could be interpreted as the U.S. Treasury Secretary not prescribing to the strong dollar theory. In fact, in a statement, Win Thin, senior currency strategist at Brown Brothers Harriman, had the following to offer:
"Whatever the intent was, the fact they did it right after these trade actions on washing machines and solar panels suggests it's something more thought out. You saw Mnuchin was trying to walk it back, and Ross tried to walk it back… The dollar was being sold even before these comments. There's other stuff going on. Our view is the rest of the world is getting better quickly, so the U.S. does not stand out so much."
No matter the reason behind the comments, they definitely played a role in the movement we saw in the USD. As a result of the slight declines in the USD, gold saw gains.
Gold Bulls Are Pushing Hard – Another factor at play here is likely excitement among the bulls. At the end of the day, gold has been on a losing streak. So, any bit of positive news for the precious metal is going to lead to excitement among the diehard bulls. So, while the USD is down slightly, we are seeing an unproportionately positive response in the price of gold.
Are The Gains Likely To Continue?
This is the million dollar question my friends. Quite honestly, no one can tell you whether or not the gains in gold are likely to continue. However, if I was going to be my bottom dollar on it, I would say that this spike is likely to be short lived. At the end of the day, at least in the short-term view, economic development, increasing interest rates, and a stronger USD are likely to continue. All of this will ultimately continue to pressure gold.