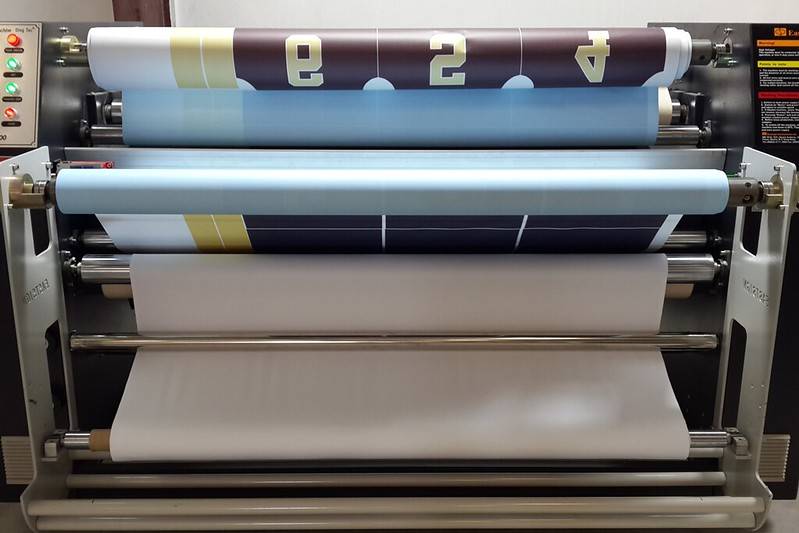 When it comes to displaying marketing, options have drastically moved from the traditional methods. One of the conventional techniques for business signage is fabric stands and fabric pop-up stands, and for a good reason. They are common due to their versatility, durability, and ease of setting up. Many businesses are opting to use the fabric banner stands when they need to promote their business while on location. The banners are printed using a printing process known as dye sublimation.
Dye sublimation is used to print images onto materials and fabrics. The digital print never fades, but it also comes out clear, colorful, and crisp. It's also very cost-effective, making it a favored choice for printing t-shirts and mugs.
But then, what is sublimation printing? What process does it take, and which products are best used with the sublimation techniques? Read on, and you'll find answers to these questions and more.
The meaning of dye sublimation
While the name may make the process sound intimidating and techy, it's very easy to understand. Dye sublimation is a printing technique with a heat press applied to a sheet of transfer paper that's printed with unique solidified inks. When the solidified ink is heated, it's then vaporized and turns into a gas. The gas permeates the fibers of the materials or polyester textiles, creating a stunning graphic.
To understand how sublimation printing is different, let's think about your typical office or home printer. In an inkjet printer, the ink is sprayed onto the paper as a liquid directly, and afterward, it dries to a solid. The second stage is what makes dye sublimation printing distinct – where the solidified inks are transferred to the material as gas without going through the liquid phase.
What products can you print on?
Here's a list of materials that can be used to print using the process of sublimation.
Photography printing – The best way to produce high-quality photographic images on apparel, magnets, and canvas.
Signage – This is a perfect way to print banners for e-commerce businesses. You can easily print on vinyl to create retractable banners and trade show display fabrics. The signs and banners you see, hanging in front of shops, are an excellent example of how sublimation was used.
Home Decor – It's popularly used by businesses that sell to interior designers. Examples like ceramic tiles are decor used in kitchens, bathrooms, and even restaurants.
Polyester – This is one of the most common materials used for sublimation printing. Examples are knit polyester that's used in flags, apparel, and table covers. They can also be used in a woven polyester fabric used on durable products such as custom tents or fabric backdrops.
Rigid substrates – These are products that aren't malleable like fabrics. They are polymer materials like plastic, glass, aluminum, and fiberglass.
Blank rigid materials – These are products that are produced in bulk and are available at wholesale prices like drinkware, cellphone covers, or mousepads. They are usually known as blanks because they come with no prints or designs so that you can personalize yourself.
Types of materials that can be sublimated
Dye sublimation produces unique and distinct graphics, but it has limitations on what materials can be used. It's advisable to sublimate on polyester or polyester-coated materials only. While this confines the choice of which fabrics to use, it leaves an open field for other non-fabric materials like sporting goods, trade show banners, and tiles. These materials are harder to print on using different printing methods like screen printing and heat transfer printing.
Sublimation printing on glass
When using the dye sublimation process on glass, you should exercise caution because glass breaks easily. When using the heat press, you can use the heat press pad as an additional protective cover.
It would be advisable if you also remembered that when the heat press is used on glass, it creates fogging because glass heats up differently than the other materials used. When this happens, halftones should be used to cover this.
You can also use textured material that creates an impression of a better image on the glass. What makes this style different is that sublimation should be made in the direct image, not the mirrored image, since the print is put on the back of the glass and is seen from the other side.
Get Started
Claim up to $26,000 per W2 Employee
Billions of dollars in funding available
Funds are available to U.S. Businesses NOW
This is not a loan. These tax credits do not need to be repaid
The ERC Program is currently open, but has been amended in the past. We recommend you claim yours before anything changes.
Sublimation printing on plastic
When printing on plastics, a different technology is required. While you usually use a flatbed press to print on fabrics and other flat-surfaced materials, with plastics, you'll need an oven press because it's a 3D object.
One other difference is that the images will be printed on film, rather than on paper because it forms easily when printed on plastics than other materials.
Also, the plastic material should be able to withstand the heat of up to 400 F to avoid the material being ruined by the heat.
Sublimation printing on fabric
There are many things to note when using sublimation printing on fabrics like dresses, t-shirts, tablecloths, etc. The popular designs used on fabrics are the all-over print designs because they are easy to make.
However, one hindrance you may encounter when printing on fabric is that some random white creases may appear on the printed fabric. This may happen if you don't place the transfer paper properly, therefore causing it to be wet or making it fold over. Make sure to check everything when setting up your fabrics for printing.
If you're looking for a textured look, this type of printing won't achieve that. This type of printing is for duplicating designs of fabrics and not the feel. Exercise sound judgment when choosing your models.
Sublimation printing on metal and aluminum
When you use metal or aluminum materials, you can create a powerful printed image. Make sure to choose the best quality materials for premium results.
When using metals, you should keep in mind that the metal is usually placed at the top of the sublimation transfer paper and not underneath during printing. Place the image correctly on the metal without using any heat tape. You have to make sure the heat is directly touching the paper and the metal.
Sublimation printing on canvas
Sublimation printing on canvas is different from other materials because, on canvas, it can be designed to be stretchable. This type of design is called a 'gallery wrap' where they roll the canvas print around the sides up to the back of the frames, and the tools used to hold it in place are invisible to the viewers.
You should also note that the sides of the canvas will be visible, so you should print a continuation of the image or a repeat, whichever works. The canvas should be larger than the frame when using the gallery wrap style to allow it to stretch and fit perfectly.
Also, ensure that the material is clean. You can achieve this by using a lint roller.
Sublimation printing on wood
The sublimation dye technology can also be used on wood materials, showing a wider variety of materials you can choose. While wood doesn't contain polyester like other materials, you can coat the wood with some poly substance by use of heat and rollers.
Once the coating is done, the sublimation process is done the same way as when using polyester materials, although the heat used may be lower than the average 400 F. You should note this when using a coating on wood to avoid spoiling the process.
Sublimation printing on acrylic
While acrylic may not be primarily polyester-based, you can use the sublimation acrylic when you want to print using the dye sublimation process. This product is best used with the heat process and transfer paper without it being destroyed. You can find sublimation acrylic sold in websites and shops where printing materials and printing machines are sold.
Sublimation printing on vinyl
When using the dye sublimation process on vinyl, it's similar to when done on other materials. The only difference that may be noticed when printing on vinyl products is that the products are usually cut into various shapes.
It mostly applies to materials that use sticky adhesives such as floor and wall decals. This is achieved by cutting the outline of the image needed on the design file before the use of the sublimation printer.
When it's time to print, the image is cut into the proper shapes closer to the edges of the print. Depending on the size you're printing, more than one vinyl can be printed at the same time and cut separately.
Sublimation printing on nylon
This is the most challenging material that can be used for dye sublimation. There are different kinds of nylon material, and each reacts differently to the printing process. The type that's commonly used for textiles is Nylon 6.
When using nylon, it's best to test before doing the main sublimation to choose the most desired result. It's also advisable to use low temperatures to avoid the nylon material getting ruined by the heat.
Conclusion
Dye sublimation is a cost-effective process that has a wide variety of materials to be used on. Images appear clear, and you're guaranteed that they will never fade. For the best results on dye sublimation printing, go to https://www.justvisionit.com/wall-art/.