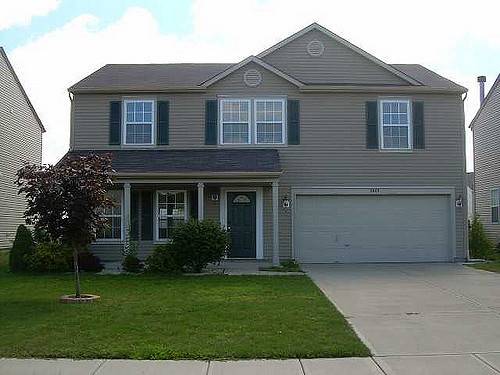 They say never judge a book by its cover. But the reality is that a property is judged by its curb appeal as an indication of its value: the more attractive it is externally, the higher the perceived value. However, perceived external value is just one side of the coin; the other is the property's internal value: the quality of its installations. Both curb appeal and installation quality are combined to determine the property's overall value. 
With that in mind, it is not hard to see that property's value hinges on the frequency and quality of performed maintenance work. While location and market factors also play a vital role in its final value, a well-maintained property can get onlookers to take a second glance, even amidst unfavorable circumstances. The key is to have a proactive maintenance plan that is strategically and timely executed by a competent team. 
Which brings us to the question: should property maintenance be done in-house or outsourced to a maintenance company? The answer is basically, "it depends." 
Commercial and residential properties share some standard features, but they are worlds apart when it comes to maintenance. This difference makes a "one-size-fits-all" approach ineffective due to the unique characteristics of each. What's more, residential properties don't usually have the same maintenance budget as commercial properties. A limitation on budget steers the decision-making process, thus creating restrictions on maintenance options. However, irrespective of in-house or outsourced, a property manager should aim to have the best quality to enhance a property's value without racking up costs. 
In-house or outsourced? The important decision-making starting points
Most property managers will usually ask themselves: where does one begin when deciding between an in-house team and a property maintenance company? 
Get Started
Claim up to $26,000 per W2 Employee
Billions of dollars in funding available
Funds are available to U.S. Businesses NOW
This is not a loan. These tax credits do not need to be repaid
The ERC Program is currently open, but has been amended in the past. We recommend you claim yours before anything changes.
It's tempting to try to answer this question by thinking about the pros and cons; however, this is unhelpful without context. The first starting point to get beyond this conundrum is to have a deep insight into the property's current value and the future possibilities to move it beyond this value. By making property value projections, it becomes easy to determine the scope of work to maintain its curb appeal and installations. Future projections also provide invaluable tools for the property manager to determine whether there will be adequate resources to maintain or increase the property's value. Among the many resources to consider are human capital and budget. 
Another essential point to consider is the type of property: private or public. Government properties are usually more restrictive due to specific sensitivities with security, but this depends on the property. Private properties are generally more open, thus, maintenance frequencies differ considerably from government properties. For example, a private property that attracts high profile clients will not want to wait for a month to fix an elevator. Waiting a month would mean a negative shift in how its clients perceive its services and the value of its property. This company wants to avoid bad publicity about its broken elevator, but it also wants to ensure its clients' comfort. If the maintenance company it usually uses is short on staff or booked for the month, then the private company may start thinking about in-house maintenance to avoid similar scenarios. 
Moving beyond context – The pros and cons of each approach
Once the property's context is understood, the next step is to weigh the pros and cons of in-house vs. outsourced maintenance services. Budget and experience will be the two main deciding factors that push the property manager in either direction. A property with a large maintenance budget may want the predictability that comes with hiring a service provider without having to consider additional employee costs. On the other hand, the property manager may want to have direct control of the property seeing there is already a deep insight into its operations, hence the in-house route. Not only does this mean less wasted time in explaining the property issues to a maintenance company, but it also means that the value of the property is always in the property manager's hands. From these short examples, it's clear there is no perfect solution as context dictates the outcome.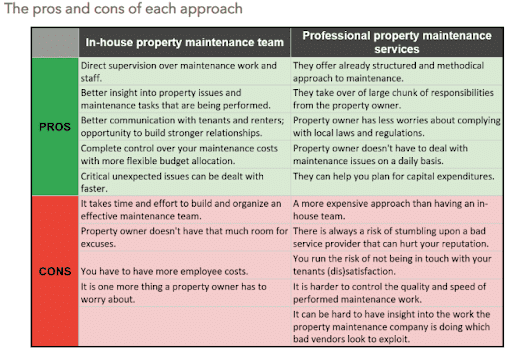 From the table above, we can see that there are numerous pros and cons for each approach. For instance, starting an in-house maintenance team for a large commercial building may be a recipe for disaster due to possible limited experience with proactive maintenance strategies. On the other hand, hiring a maintenance company could also turn sour for many reasons. Some of the different reasons outsourcing could go north include: an apprentice doing a highly technical job, not promptly following up on maintenance plans, or being "overbooked" with other clients.
When taking each pro and con into consideration, it's important to weigh the long-term property value against the International Property Maintenance Code (IPMC). Understanding the minimum requirements in the code and considering this against the property's context is vital for accurate decision-making. In other words, minimum maintenance requirements in the IPMC related to heating, pest control, and electricity, for example, require specialized knowledge, which may take time to find to build an in-house team. If the in-house team member eventually leaves, then the insights into the property also go. 
Conclusion
There is no one-size-fits-all to maintain the curb appeal and installations of a property. With an proactive maintenance plan that is continuously updated, most people find that both approaches work well for them based on how much control they want to have over performed maintenance work. 
A mixed approach is also entirely possible and taps into the benefits and limitations of both worlds. With this option, a small in-house team leverages insights into the property to perform general maintenance, whereas more specialized maintenance requirements are outsourced. For example, a small in-house team can maintain the grounds, do the painting, and perform daily repairs as the need arises. Specialized services such as maintaining the elevator, for example, would then be outsourced. A mixed approach gives a property manager more control over property insights without having to mount a team for infrequent specialized tasks.
Author Bio
Bryan Christiansen is the founder and CEO at Limble CMMS. Limble is an easy to use mobile CMMS software that takes the stress and chaos out of maintenance by helping managers organize, automate, and streamline their maintenance operations. On his blog, you find detailed guides that range from property maintenance to industrial maintenance, and everything in between.