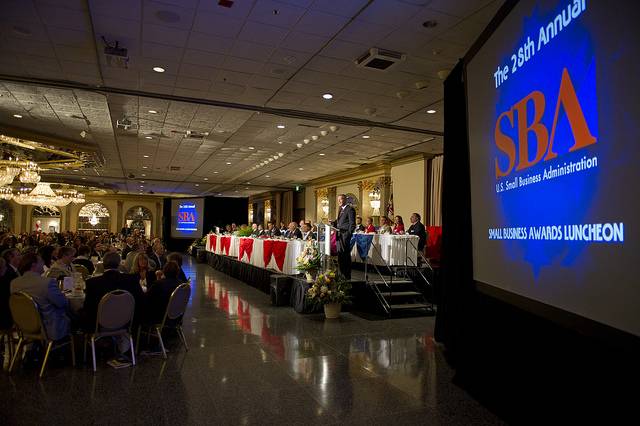 The role of small businesses in the wider economy is often underestimated and undervalued. While a small start-up might not generate as many jobs or tax dollars as Apple or Nike, collectively they account for an overwhelming 99.7% of all US employers.
Entrepreneurship has always been a driving force behind the US economy. The latest Small Business Association (SBA) figures from 2012 show there are approximately 28 million small businesses (defined by the SBA as firms with fewer than 500 employees) in the US and that they generate 54% of all sales in the country.
We always hear that "small businesses create jobs", and it's a fact. Over 50% of the working population (120 million people) are employed by a small business and they have generated 55% of all jobs and 66% of all net new jobs since the 1970s.

ADP's National Employment Report shows that small businesses created 95,000 jobs from November to December 2015 alone. Small businesses were truly a powerful influence on the second-best year for hiring since 1999 and aided America's post-recession recovery.
No wonder President Obama dubbed them "the backbone of our economy and the cornerstones of our communities".
According to Forbes, "US small businesses entered 2016 with stronger sales growth, improved profitability and positive hiring trends".
The durability of this revival, however, remains the subject of fierce political debate. If economists' predictions for 2016 are anything to go by, the year ahead could be somewhat tougher.
Surge in entrepreneurship
Although there seems no obvious end in sight to the long period of unusually low oil prices, the economic slowdown in china, which fuelled recent turbulence in the stock market, augurs ill for the months ahead.
Get Started
Claim up to $26,000 per W2 Employee
Billions of dollars in funding available
Funds are available to U.S. Businesses NOW
This is not a loan. These tax credits do not need to be repaid
The ERC Program is currently open, but has been amended in the past. We recommend you claim yours before anything changes.
However unsettling this may sound, though, these worrisome trends could – perhaps counter-intuitively – fuel a surge in entrepreneurship. Jack Mozloom, national director of media and communications at the National Federation of Independent Business (NFIB), argues that the positive headline figures already mask some structural economic problems:
"The economy has been so sluggish and there's low participation [in the labor market], so many Americans aren't working in the traditional sense. It would be logical to assume many of them have decided that with flat wages and a dull economy, it's better to start their own businesses.
"Their frustration with their employment circumstances may finally motivate them to do what they've been thinking about, but didn't take a shot at until now."
Across America, levels of entrepreneurship started to drop in 2009. However, for the first time in around six years, these numbers began to climb in 2015.
According to a number of studies, small-scale enterprises are outperforming larger businesses on a number of measures. Focusing on companies that have existed for five years or more and have fewer than 50 employees, the Kauffman Foundation's latest survey shows how critical these small businesses are to the economy.
Reversing a six-year downward trajectory and growing at a healthier rate than their larger counterparts, the number of small businesses has grown by 1.2% between 2014-2015 while the number of micro-businesses (six employees or fewer) has leapt 3.6%.
For a decade small-business ownership has been in decline. But despite this, the report showed a slight increase in business ownership between 2014 and 2015, from 5.98% to 6% of the general population (equating to around 11 million businesses).
A recent survey from financial information service Sageworks shows that "businesses with less than $5 million in annual revenue experienced on average a 7.8% annual sales growth in 2015 – increasing almost one percentage point from the previous year and marking "the fourth consecutive improvement in net profit margins."
Sageworks analysist James Noe observed that "while the largest, publicly traded companies often dominate the news headlines, it's small, privately-held companies that drive the bulk of GDP and job creation in the U.S."
But let's not forget about the origins of Big Business.
Such healthy profit margins and sales mean small businesses can afford to reinvest in new staff and product lines and, ultimately, expand.
Some of the world's largest and most successful corporations started out in front rooms, garages and dorm rooms (think Apple, Google and Facebook). So if small businesses are the 'backbone of our economy', then even our most iconic corporations also owe their success to the support they had as humble start-ups.
Why not buy a small-business yourself and become part of the country's biggest economic success story? Check out our Top US cities to buy a business.