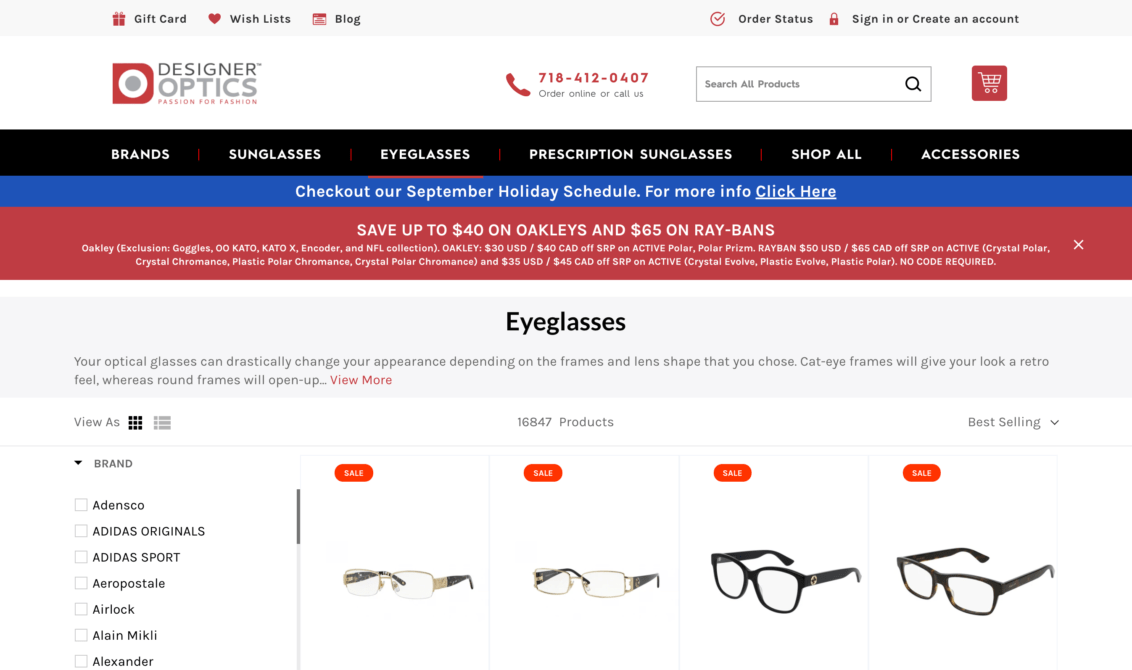 Eyewear is a fashion statement. Whether it's for daily use, reading, or to block out the sun, billions of people across the world wear some form of eyewear. So aspiring entrepreneurs looking for products to sell online would do well to consider an eyeglasses business. So how does one start an eyeglasses business? Let's walk through some of the steps you'll need to take.
Step 1: Market Research
As with most startup businesses, the first place you need to start is with in-depth market research. What competitors are out there already? What do each of them do best? What don't they do well? How can you do it different, or better?
Unless you have a ton of cash to invest in marketing and branding early on, to succeed you'll need to find your own niche. If the online marketplace today has horrible UX, then maybe you can fix that. If no one is focusing on certain segments of the market, then maybe that's your in. Whatever it is, the key here is figuring out how you're going to be able to separate yourself from everyone else out there in the marketplace. Find the gap(s), and then figure out how to fill them with your product.
Step 2: Validate & Source Product
Once you figure out who you're going to serve, you'll need to figure out where you're going to get the product they want and need. In this process you also need to be validating the business model. If, for example, you determine the underserved niche is cheap eye wear, you need to make sure you can source product to deliver on the customer expectations for "cheap" while also maintaining reasonable profit margins. If the numbers don't back out, then you need to start back at step 1, until you have an actual scalable and profitable business.
Step 3: Setup Your Business
After you figure out the business model and are feeling good about the prospects for making a profit, then you need to setup your business. This is going to include things like setting up your corporate entity, getting a bank account for your business, getting a business license, etc., etc. If you've never run a business before, it's advised to consult with a professional to ensure you cover all your basis, and are setup to operate legally in whatever jurisdiction you are in.
Step 4: Branding
While some people overlook this step, if you intend to build an internet powerhouse type business, you'll need to nail your branding. Your branding should speak to the market you're trying to serve, so make sure to really think that through. If you're going to be a luxury retailer, then your brand should exude luxury to anyone who sees it. If it's catering to women, then the brand should speak to women, and so on. Make sure your brand accurately portrays what your company is about.
Get Started
Claim up to $26,000 per W2 Employee
Billions of dollars in funding available
Funds are available to U.S. Businesses NOW
This is not a loan. These tax credits do not need to be repaid
The ERC Program is currently open, but has been amended in the past. We recommend you claim yours before anything changes.
Step 5: Create A Website
After you have that killer branding done, the next step is to put that into the form of a website. Your website is where all the action is going to happen, so it needs to be good. You want the brand to be carried throughout, and you need to make sure it's easy to use for your customers. The last thing you want is a website that is difficult to use and gets in the way of your customers purchasing your products. Keep it simple & make sure to really think through the customer experience. With that, make sure to really consider who your customers are (which is a common theme you should always reference in any business). If you're targeting older people, then you'll want to make sure your website is easy for older people to use. That means things like larger text, and not assuming they will know what popular web icons mean. The goal is to sell your product, so make that as easy as possible.
When you're creating your website, it's also advisable to enlist the services of a professional CRO (conversion rate optimization expert) as well as an SEO (search engine optimization expert). The CRO is going to help make sure your site is optimized in a way that helps drive conversions, or sales. The SEO is going to make sure the site is optimized for search engine rankings.
As a practical example, let's consider that a user does a Google search for buy glasses online. An SEO will help ensure that your website is one of the top positions that show up. Once a user clicks on the Google listing, the CRO takes over – their job is to get that user to buy something. They'll help optimize the UX and help come up with things like promos that will catch user's attention and get them to interact. Here is an example below that demonstrates such a promo. In this example, they are showing a special "September Holiday" event. Also, they are promoting a special sale around Oakleys and Ray-Bans. These are call outs meant to get users to click, engage & buy.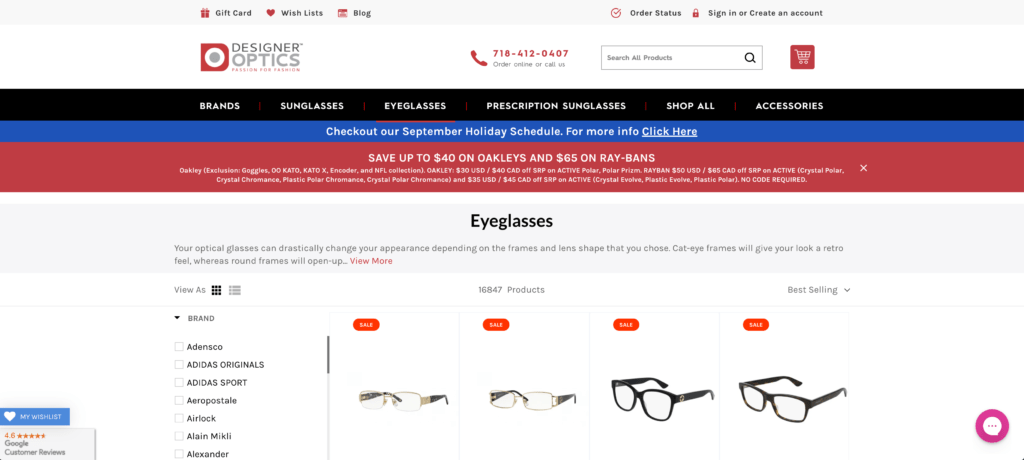 It's vital that you involve these folks early on as well, otherwise you risk having to redo a bunch of work if it was done incorrectly to begin with.
Step 6: Marketing
Once your website is all setup and optimized, the next step is to tell people about it. As you might expect, this is an important step. You could have the best website in the world, but if no one knows about it, then you aren't going to make any money – you need to get the word out.
For most startup businesses cash is a precious commodity, so they don't have a ton of extra cash sitting around for large paid media campaigns. If you do have cash, then scaling up is going to be much easier. You can run ads on Instagram, Facebook, Tik Tok, Google, and so on, or even pay influencers to promote your product. There are a ton of options if you have cash.
Now, if you don't have a bunch of cash, which is most startups, you're going to have to be smarter & work harder. You'll need to cultivate relationships with influencers and convince them to mention your product. You'll need to run PR campaigns to get the word out about your brand. You'll need to do whatever you can to get the word out. There is no sugar coating it, though, it's going to be hard work – there is a reason most businesses fail. If you're going to be the exception, then you'll have to work harder and smarter than everyone else.
Step 7: Customer Service
Once you start bringing in customers, you need to make sure you keep them happy. Happy customers will tell their friends about your business, and they will come back again and buy more products. Unhappy customers will tell people why they shouldn't buy from you, and overall cause all sorts of issues. Seeing as getting paying customers in the first place is hard enough, it's much easier to focus on how to keep them happy.
Ultimately, it's not that hard to figure out how to keep customers happy – treat them with respect, and how you want to be treated. Respond back to their questions and concerns promptly, be pro-active with communications – go out of your way to consistently exceed their expectations.
While this list here isn't going to have covered every little part around starting your online glasses business, it should give you a pretty good idea of what you're instore for. Ultimately whether you start this business, or another business, the general process here will carry forward for just about any online business. There are an endless number of opportunities out there that people have yet to tap – wishing you the best of luck in finding the perfect one for you.