Ledger Nano X Review: Pros, Cons, and More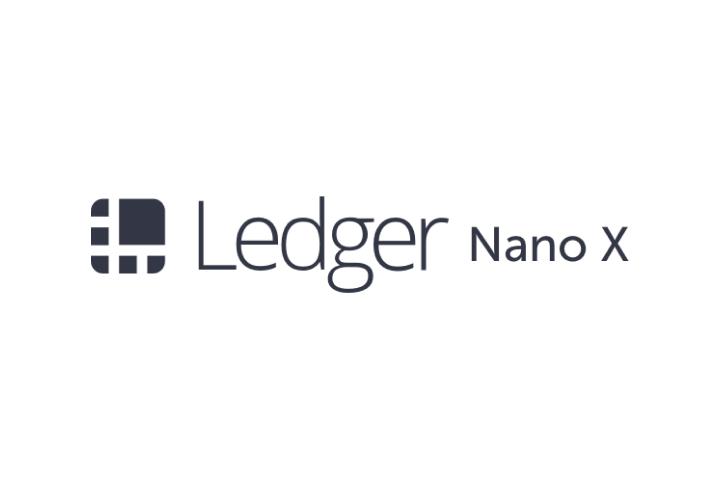 Ledger Nano X
Non-custodial hardware wallet for crypto assets
Can secure and manage over 5,500 coins and tokens
Supports storing NFTs
Pros:
Bluetooth connection is available
Provides top-notch security with a certified secure chip
Looks like a USB stick, small and lightweight
Compatible with 50+ wallets
Cons:
Expensive
Transactions cannot be completed without the Ledger Live app
Does not have a touchscreen
Ledger Nano X Ratings and Reviews
The Ledger Nano X is a non-custodial hardware wallet for crypto assets, offering top-tier security and various features to its users. It is a physical device that looks like a USB stick with a screen on the front storing private keys and users' information offline. 
With the Ledger Nano X, users can secure and manage over 5,500 coins and tokens, including Bitcoin, Ethereum, XRP, and more. Ledger Nano X is used with the device's companion app, Ledger Live, allowing users to manage their hardware wallet seamlessly. Users can send, receive, and exchange cryptocurrencies by synchronizing Ledger Nano X with Ledger Live. Ledger also supports staking for some popular Proof-of-Stake assets and storing NFTs.
Crypto-holders can set up an encrypted Bluetooth connection between their Ledger Nano X device and Ledger Live on their smartphone to manage their crypto assets on the go. 
With a certified secure chip (CC EAL5+), Ledger Nano X provides 24-word recovery phrases to secure its users' private keys and crypto assets.

Highlights
Ledger provides top-notch security with a certified secure chip and a private operating system.

Ledger developed its native hardware operating system called

BOLOS

(Blockchain Open Ledger Operating System) and is the only company to provide the feature through its devices, such as Ledger Nano X.

The user-friendly device supports over 5,500 cryptocurrencies and tokens.

The hardware wallet is mobile-friendly, and users can connect to Ledger Live easily with Bluetooth.

The Ledger Nano X is small and lightweight, only weighing 34g.

Users can install up to 100 applications, including Bitcoin, Ethereum, and Bitcoin Cash, on their devices that are also compatible with 50+ wallets.

Ledger is present on multiple platforms such as Twitter, Reddit, YouTube, Facebook, Instagram, and TikTok for providing information on Ledger Nano X, firmware, and features.
Risks
Ledger Nano X is an expensive device comparing its competitors and Ledger's other products.

The device cannot store more than 100 applications.

The Bluetooth feature is only compatible with a mobile app, not a desktop.

The Bluetooth support is user-friendly but can create a security risk.

Users cannot send, receive or exchange crypto assets without Ledger Live.

Ledger Nano X's display is small and doesn't have a touchscreen. Users must use buttons for navigation or entering numbers.

Ledger has been hacked several times in the past, where personal information such as names and physical addresses of the device holders were leaked.
Ledger Nano X Features
Ledger Nano X allows users to secure, buy, exchange, track their crypto portfolios, and manage their NFTs. The Bluetooth-enabled hardware wallet provides various features besides securing all the digital assets in one place:
Mobility: 

The Ledger Nano X has Bluetooth support and can function without being plugged in. The device's battery lasts up to 8 hours on standby. The battery can be easily recharged by connecting the device to a laptop or desktop computer with a USB cable. However, the battery is designed to last five years and cannot be replaced. 

Another mobility feature of Ledger Nano X is that users can access their crypto assets through their smartphone by downloading Ledger Live.

Staking:

Ledger Nano X users can stake specific crypto assets by connecting their devices to the Ledger Live app. Staking allows hardware wallet users to passively earn rewards by holding their crypto assets in their devices. Users can unstake their crypto whenever they want in Ledger Live.
Technical Features: 

The Ledger Nano X supports up to 100 simultaneously-installed apps.

The Ledger Nano X display is 128×64, allowing transaction details and receiving addresses to be more easily verified.

The crypto wallet uses Bluetooth Low Energy 5.0.

The device can operate between 0° and 40° C (32-104° F).

Users can choose a Pin Code to log in securely.

Ledger Nano X can be updated using the Ledger Live mobile app through a functional device manager called My Ledger.
Ledger Nano X Pricing and Fees
Ledger Nano X is priced at $149 USD. A USB Type-C cable and a keychain are included in the package. However, since all devices placed from the Ledger store are shipped from France, tax and customs duty can be charged extra.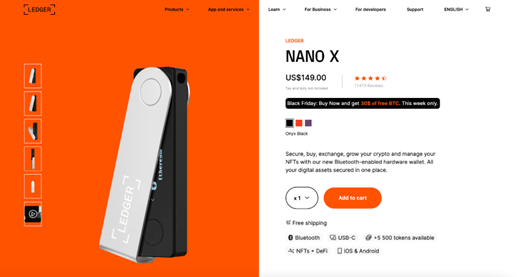 Ledger accepts credit cards and payments through PayPal, Bitpay (only BTC or BCH), and crypto.com. Moreover, Ledger Nano X's companion app, Ledger Live, can be downloaded from the app store free of charge.
Ledger Nano X Company Background
Ledger was founded in 2014 by eight experts, including David Balland, Eric Larchevêque, Joel Pobeda, Nicolas Bacca, and Thomas France, having complementary backgrounds in Web3, blockchain applications, and entrepreneurship. 
Headquartered in Paris and Vierzon, with offices in London, New York, and Singapore, Ledger secured over 15% of the world's crypto assets with its products, including Ledger Nano X. Ledger SAS and its subsidiaries now have more than 800 workers and hundreds of customers in over 200 countries. Since its foundation, the company has sold over 5 million Ledger wallets through its store and with over 100 resellers globally.
The company provides learning resources for web3 within Ledger Academy. They have also developed Ledger Enterprise Solutions, a digital asset custody and security solution for institutional investors and financial players.
How does Ledger Nano X work?
Ledger Nano X has a straightforward design and can be set up easily by following simple steps:
Once users receive the Ledger Nano X box, they can set it up as a new device by connecting the hardware wallet with a USB cable to a laptop or a desktop.

After choosing a desired PIN code, a 24-word recovery phrase is displayed word-by-word on the Ledger Nano X screen. The users are required to write down and verify all 24 words.

Once verified, users can generate their private keys and activate accounts on the device.

Users must download and install the Ledger Live app and link their accounts in order to start receiving, sending, exchanging, and staking cryptocurrencies, tokens, and NFTs.
Ledger Nano X User Experience
Ledger prioritizes the user experience of its products. That's why the company simplifies the process by providing periodical updates on improvements and new features for Nano X and Ledger Live. 
Some recent improvements include a reduction in onboarding time and the addition of a new educational screen for beginners. To enhance the user experience, the low battery alerts have also been modified to clearly display the battery percentage on the Ledger Nano X device. 
Ledger shares all the details via Ledger Nano X's downloadable manual and tips with crypto insights. Thanks to its simplified yet detailed documentation, Ledger Nano X provides a one-stop security center that is easy to understand even for beginner crypto investors and traders.
Ledger Nano X Supported Coins
Ledger Nano X supports over 5,500 coins and tokens. On Ledger Live, users can safely store, receive, send, exchange, and stake popular cryptocurrencies, stablecoins, game tokens, and web3 coins, including:
Bitcoin ($BTC)

Ethereum ($ETH)

Tether USD ($USDT)

ApeCoin ($APE)

Sandbox ($SAND)

ChainLink Token ($LINK)

DogeCoin ($DOGE)
A complete list of tradable cryptocurrencies can be found on the company's website.
Security: Is Ledger Nano X Safe & Secure?
Security is the primary selling point for the Ledger Nano X, as the hardware wallet is at the forefront of developing the industry's device security. The company ranked as one of the top 100 cybersecurity startups of the year1.
Ledger earns this title by providing one of the most secure systems in the crypto industry. Ledger Nano X has CC EAL5+ Secure Element and BOLOS system on the device, which means that the company stores its users' private keys isolated inside the device. Ledger also claimed the French cybersecurity agency ANSSI's full certification for its systems and products.
Additionally, Ledger Nano X requires users to create passphrases besides the PIN. This feature enables users to secure their crypto assets and NFTs even though their PINs are compromised. Ledger Nano X allows setting auto-lock or auto-power off to automatically lock or shut down the device after a period of inactivity.
In 2020, Ledger publicly revealed a data breach, estimated to be about 9,500 customer records, including emails, names, postal addresses, phone numbers, and order history.2. However, there were no incident reports of stolen crypto assets or NFTs.
Customer Support: Contacts & How to Get Help
Who is Ledger Nano X Best For?
Ledger Nano X is a must-have device for every active trader. As one of the most secure hardware wallets in the industry, Ledger Nano X is well suited for beginner and advanced crypto investors caring about keeping their crypto assets protected. The Bluetooth-enabled hardware wallet is useful for active traders on the go and easy to carry, weighing only 34g. 
The user-friendly device supports over 5,500 cryptocurrencies and is compatible with 50+ wallets. Thanks to its companion app, Ledger Live, the cold storage device allows its users to monitor their crypto assets easily and benefit from various features.
With its additional features, such as storing NFTs and staking crypto assets, Ledger Nano X offers more than security. Ledger Nano X users can access the resources through various channels, including their Support center and social media accounts. Ledger Academy also offers essential tools for those who want to learn more about the cryptoeconomy and web3.