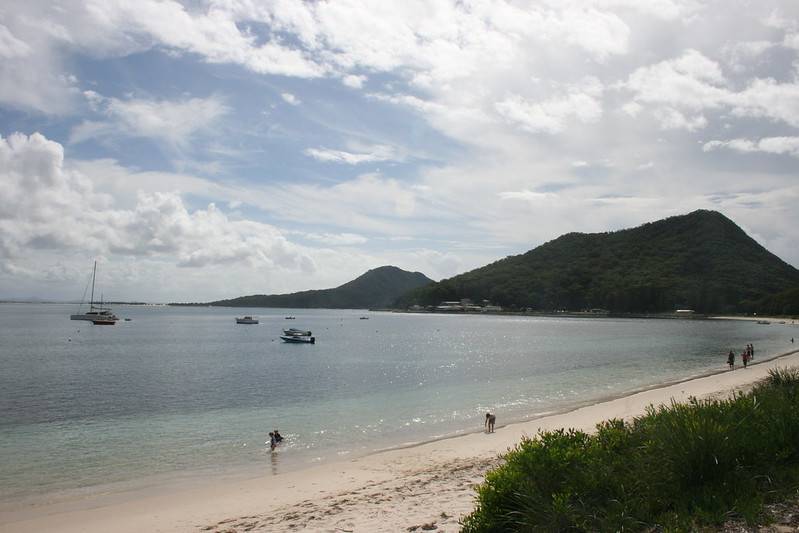 There's a quiet change happening in Newcastle, with new apartment developments, revitalisation at the former site of the Newcastle BHP Steelworks and a tourism boom supported by the Hunter Valley vineyards and entertainment. The City of Newcastle is largely unrecognisable from the 20th century which was a time of hard work, heavy industry and steel making for rail and industry. The Hunter Region was best known for production of coal, steel, aluminium, zinc, lead from refineries and foundries; a workhorse of the Australian economy.
Things began improving, environmentally, from the 1960s, but for years afterwards "the BHP" and its industrial neighbours still dominated the city in ways that are almost unfathomable now. Ref: https://www.newcastleherald.com.au/story/6394123/ghost-of-bhp-still-haunts-the-hunter/
Among the more visible changes there are many quiet success stories that might otherwise have gone unnoticed. The infamous Nathan Tinkler shined bright as billionaire coal magnate for a time, splashing money on sports teams fast cars and race horses until the much publicised flame out of his budding empire.
If you are were born in the late 2000's or have children of that age who are familiar with Youtube, Facebook and Instagram then it's likely you have already heard of the Norris Nuts; a local Novocastrian internet celebrity family of accomplished swimmer Justin Norris. Or perhaps if you are of an earlier generation you may have seen videos by Brittney Lee Saunders, a former Youtube superstar from Newcastle who are some of the more recent talents to emerge from the beaches and suburbs.
Around the world there are high profile Youtubers with thousands sometimes even millions of followers and many millions of video views whom Youtube will share the spoils of the copious advertising revenue the platform attracts. Much as it has done for Youtubers the world over these local Newcastle internet celebrities and their sometimes subtle but often overt product and brand endorsements will certainly have found a comfortable addition to their incomes.
Perhaps they will not acquire enough ad dollars to be considered spectacularly wealthy and a rare few are generously rewarded for the time and creativity they have applied to their craft. Whether they can successfully pivot such prominence into more traditional business success and take their followers along for the journey remains to be seen.
Beyond the World Wide Web is the more traditional realm of concrete, bricks, and mortar. Construction and finance of rental property has been a key plank in the prosperity of many investors for decades both in Newcastle and cities across Australia.
From the time of the closure of BHP Steelworks there has been a dramatic growth in property prices and investment, yet "the harbour city of Newcastle has so far escaped the astronomical prices that Sydney's real estate market has become famous for". Ref: CPS Property – https://www.cpsproperty.com.au/why-you-should-invest-in-newcastle/
Get Started
Claim up to $26,000 per W2 Employee
Billions of dollars in funding available
Funds are available to U.S. Businesses NOW
This is not a loan. These tax credits do not need to be repaid
The ERC Program is currently open, but has been amended in the past. We recommend you claim yours before anything changes.
There is a long-held belief by many Australian's, from aspirational, upward moving professionals and wealthy families that property is not just a place to live but an investment opportunity with boundless possibilities.
"Real estate investing, even on a very small scale, remains a tried and true means of building an individual's cash flow and wealth." – Robert Kiyosaki (author of Rich Dad Poor Dad).
Working families and professional investors alike can leverage mortgaged properties with generous tax benefits to grow their wealth far beyond what is possible by simply working a 9-5 job.
When we consider the expansion of Newcastle's inner-city apartments, regional sub divisions in Maitland and the Hunter Valley, a plethora of industrial, engineering and mining related businesses, trades and services the business and internet success stories are more than we could ever cover but there is a lot going on that contributes to the fantastic wealth enjoyed by the region.
One can see the results of such achievements in myriad ways such as the multimillion dollar homes of Newcastle beaches and Lake Macquarie shores and the vineyards and vibrant commercial hubs in Charlestown, Kotara and Glendale.
In business there are thousands of largely anonymous millionaires in the region along with more well-known success stories such as Kip McGrath of the education franchise by the same name, or Wine Selectors https://www.wineselectors.com.au/  founder Greg Wall whilst prominent business personality and CEO of NIB, Mark Fitzgibbon is believed to be compensated annually to the tune of nearly four million dollars. Ref Wallmine https://au.wallmine.com/asx/nhf/officer/1684147/mark-fitzgibbon
Or more famously, motorcycling legend Casey Stoner who is estimated to have accumulated wealth in the high millions. Another Newcastle businessman is long-time diamond jeweller Craig Leonard who founded Argyle Diamond Investmentshttps://www.argylediamondinvestments.com.au/ over a decade ago. Having a net wealth that is estimated to be in the range of 20 million plus, he is among the most successful business owners in the region. His personal wealth is rumoured to include some of the rarest pink and red diamonds ever offered by the Rio Tinto operated Argyle Diamond Mine in Western Australia.
A name you may recognise; Jennifer Hawkins, apart from being a former miss universe is also a property developer who runs various commercial ventures with her husband Jake Wall, including her tanning range, Jbronze and Sesión Tequila has an estimated 12 million USD in net wealth.
Newcastle and the Hunter are brimming with quiet achievers such as Philip Gardner, CEO of Wests Group and Non-Executive Director of NIB estimated to have net worth in the millions. More prominently would be the elite wealth of property developers and business leaders such as Jeff McCloy and Keith Stronach; at times controversial in their big spending and landmark projects.
These are some of the well-known and less prominent Newcastle millionaires whom we could add to the list with Hilton Grugeon and Bill Saddington who are believed to control companies, property and assets worth hundreds of millions.
With the slowly but surely expanding start-up scene for online businesses and a plethora of property development, construction, engineering and mining service businesses among others, many of which export across Australia and beyond there are sure to be many more success stories coming from the former steel town as it begins to shine on an international stage.
Author Bio
Brett Smith is a writer, an observer of people, and part-time enthusiasts of all things and people in Newcastle, NSW Australia. Always on the look out for interesting places, and stories to document and share.