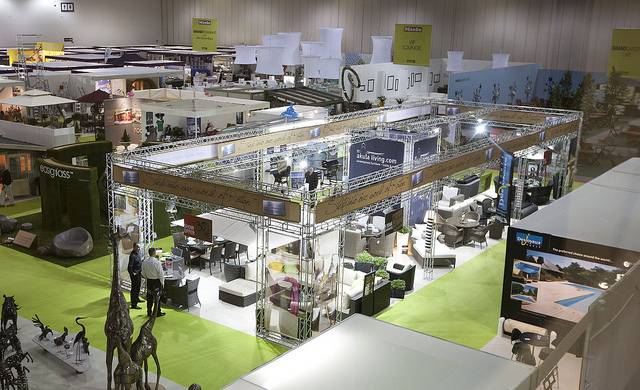 Trade shows have long been a major part of corporate strategies for getting out and getting seen. They're particularly great for new companies because they provide an opportunity to set up for a very focused group trying to make a good match with their target market.
Of course, it isn't enough just to show up and start talking to people. It takes a good overall strategy for luring in potential customers, engaging with them, and following up afterwards.
Let's start with attracting that interest. The worst thing you can do is set up a lonely little table with your literature and wares. It results in a display that's barely more than waist-high for most adults, making your booth just blend into the background. The problem is made that much worse by the presence of taller signage and canopies around you.
Get Started
Claim up to $26,000 per W2 Employee
Billions of dollars in funding available
Funds are available to U.S. Businesses NOW
This is not a loan. These tax credits do not need to be repaid
The ERC Program is currently open, but has been amended in the past. We recommend you claim yours before anything changes.
Avoid getting lost in the shuffle. Search for custom tents and canopies to get yourself some much-needed vertical presence so that even at a distance, you will stand out. This effect is particularly pronounced at outdoor events, where a sloped trade-show space will make your display jump out nicely to distant attendees. A great bonus there is the reprieve you'll get from the sun, wind, and rain.
Now that they've arrived at your display, you need a way to lock onto prospects and get to know them. The little details really add up here. Give them something tangible, and make it a mix of the tried and true, like ink pens, and something more innovative, such as a novel way to let them sample your product. You'll build extra visibility by passing out bags for them to carry the other items they pick up. Wouldn't it be great to have them carry your competitors' literature inside a bag with your name on it?
Of course, trade shows don't generate all that many sales on site. They are all about making contacts and building a base of leads to work from when you get home. Be sure you are able to do that! Gather email addresses, phone numbers, social media contacts, and even snail-mail information. Provide a little incentive to get them to provide the info by entering them in a drawing by posting with your hashtag, or even just handing out treats in exchange for signing in.
Then follow up soon, like as soon as you tear down the display. Tell them you enjoyed talking with them and you look forward to discussing their needs in the future. Don't push them to reply at that time, but after a little while, make an effort to get a deeper conversation going. Be careful to strike the right balance between being present and being annoying. Listen for their clues if they suggest you are going a little too far in one direction or the other.
Trade shows are a great opportunity to build your business. You can get right to the heart of your market without weeding through lots of worthless leads that don't have any serious interest in what you are doing. You can create a hands-on setup that gives much better interaction than even the best online presence can do, and you can really refine the abilities of your staff and partners to talk about and demonstrate your products by giving them lots of repetition with their sales pitch and engagement process. It's all about good planning and good follow-up.