NAGA Review: A Comprehensive Overview 2022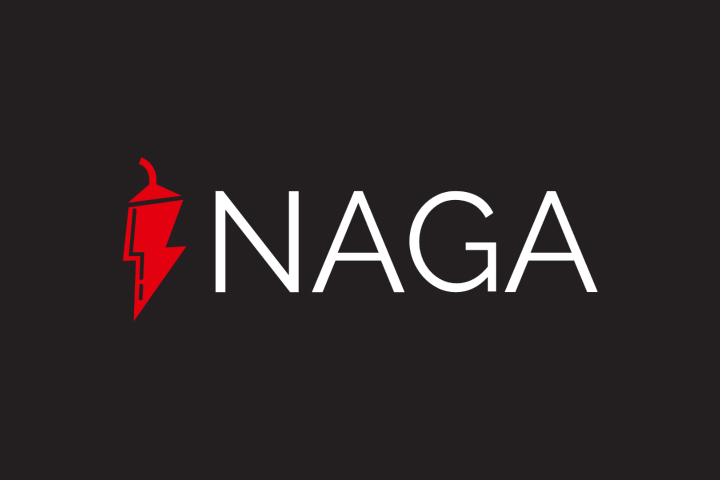 NAGA
One of the most innovative and secure exchange platforms for international users
Offers live support with several international calling options during weekday business hours
Features real-time order execution allowing for trades to be completed quickly and accurately
Pros
Easy-to-navigate website
No fees on any crypto transactions
Features a free educational blog
Cons
Not available to users located in the United States
Limited offering of 28 cryptocurrencies.
Relatively small exchange compared to others
NAGA Ratings and Reviews
NAGA is a multi-purpose exchange that specializes in crypto, stock, commodities, and NFT trading. With hundreds of investment options and numerous useful features, NAGA is an appealing choice for traders of different backgrounds.
NAGA offers a range of unique features not found on other popular exchanges, including:
Social Copy Trading

: An advanced social network that enables users to automatically copy the trades of highly-rated traders.

Combined Market Overview

: An easy way to view and trade every different asset type offered by NAGA.

NAGA Coin ($NGC)

: A decentralized cryptocurrency that enables users to trade in traditional markets without a centralized bank or FIAT currency.
NAGA is a European-based company that does not service U.S. traders. For international traders, NAGA offers several helpful trading tools and features not found elsewhere.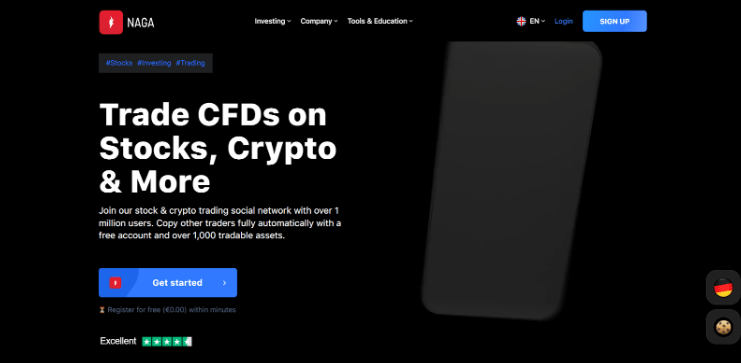 NAGA Pros & Highlights
Users are not limited to one type of trading; they can freely invest in crypto, stocks, and other popular markets.
NAGA is a publicly traded company on the Frankfurt Stock Exchange, meaning it has a high level of confidence from investors. [1]
Features a free educational blog with engaging articles to help new users learn about investing in different markets. [2]
No fees on any crypto transactions except for withdrawal fees to centralized banks. [3]
Features real-time order execution allowing for trades to be completed quickly and accurately. [4]
Easy-to-navigate website enables users to navigate the many different markets and trading tools without confusion.
Offers live support with several international calling options during weekday business hours. [5]
NAGA Cons & Risks
NAGA is not available to users located in the United States. Only select international users are eligible to trade on the platform.
NAGA is a relatively small exchange. As U.S. users are not eligible to use the platform, the user base is limited.
Only 28 cryptocurrencies are listed on NAGA, which is significantly lower than other top exchanges. Many popular alt-coins are not available to trade on the platform.
The minimum deposit to trade on the platform is $250 USD. Some traders with small portfolios may be excluded. [6]
NAGA Features
NAGA Pay: NAGA Pay is a comprehensive mobile payment app that allows users to manage online subscriptions, make online payments, and invest in crypto on the go. It even offers a companion debit card to make physical purchases with funds stored on NAGA.
NAGAX: NAGAX is a division of NAGA that offers additional cryptocurrency and DeFi services. Through NAGAX, users can buy, stake, and earn NAGA Coin as well as join a social community of crypto enthusiasts that also trade on NAGA.
NAGA NFT Marketplace: The NAGA NFT Marketplace offers comprehensive resources for collectors and creators of NFTs. Creators can build customized storefronts to display their NFTs, and collectors can browse and shop trending collections through this marketplace.
NAGA Learn: NAGA Learn is a program that offers free courses and walkthroughs in several areas of knowledge. NAGA users can take courses on technical analysis, crypto tokenomics, and countless more topics for free, simply for being a platform user.
NAGA Prices and Withdrawal Fees
NAGA makes up for its limited crypto offerings by eliminating the vast majority of fees for crypto transactions. Unlike most exchanges, NAGA does not charge users for executing a cryptocurrency trade or transaction.
However, NAGA does impose fees on currency withdrawals to major banks. The fee structure and minimum withdrawal amount are as follows: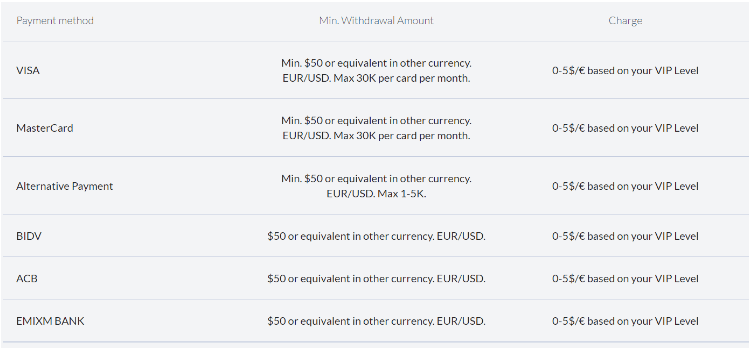 To reduce these fees, NAGA offers a VIP membership program that scales based on the minimum amount deposited by users. In other words, users who deposit more assets on NAGA are rewarded with a higher membership tier and lower fees.
Company Background & History
NAGA is a European-based trading platform that was established in 2015 and went public in 2017 after its rapid growth. The exchange was founded by Benjamin Bilski, a German entrepreneur who founded several successful e-commerce ventures before founding NAGA. He works alongside Market CEO Michael Milonas and Head Legal Director Andreas Luecke.
NAGA's company mission is to create the world's most powerful comprehensive finance platform. [7] Rather than focus on a single niche like cryptocurrency or the traditional stock market, NAGA seeks to eliminate the need for using multiple exchanges by consolidating multiple markets under one site.
Trader Tools & Trading Experience
NAGA has several valuable trading tools that enhance the trading experience of novice and veteran users alike.
Traders receive highly accurate asset prices in the market view section. They can also set up automatic alerts to trigger after specified price actions and create custom trading signals based on market conditions.
To better understand current events in the cryptocurrency market, traders can browse the market buzz, economic calendar, and live feed tabs. These tabs allow traders to discuss and analyze relevant economic news and the effect it may have on the market as a whole.
What Cryptocurrencies are Available on NAGA?
There are 28 different cryptocurrency assets available to trade on NAGA. While this number is smaller than many other exchanges, most major cryptocurrencies with high market caps are offered. A few examples are:
Bitcoin (BTC)
Dogecoin (DOGE)
Solana (SOL)
Ethereum (ETH)
Litecoin (LTC)
Cardano (ADA)
Chainlink (LINK)
The complete list of cryptocurrency offerings is maintained by NAGA on its website. [8]
Security: Is NAGA Safe & Secure?
Regarded as a secure trading platform by its users, NAGA prioritizes the safety and security of all assets it manages. Transparency is a key value for NAGA, as clearly outlined in the legal terms of business.
Beyond this, NAGA employs multiple firewalls, alternating cloud-based systems, and load balancers to ensure their network is secure from outside interference. [9]
Users have the option to take greater control of their security by enabling multi-factor authentication (MFA).[10] After enabling MFA, users must scan an additional QR code with an authentication app to access their accounts. This extra step makes unauthorized access to users' accounts much less likely.
Customer Support: Contacts & How to Get Help
NAGA offers responsive customer support available 24/7 for 5 days a week. Common questions can usually be resolved by browsing the content in the NAGA Help Center.
For more complex issues, live phone chat is available around-the-clock Monday through Friday. Through the Contact Us service, users can select their local region and obtain a phone number to call to connect with a support specialist.
Other comparable exchanges offer only email or ticket-based support systems. NAGA's extensive customer support service displays a high level of commitment to user satisfaction and problem resolution.
KYC, Taxes & IRS Reporting Details
To begin trading on NAGA, users must complete the KYC (Know-Your-Customer) identification process. This process involves submitting documents like a driver's license, passport, and proof of address so NAGA can accurately confirm the identity of its users.
NAGA does not serve U.S. customers and does not report financial information to the IRS. However, any capital gains resulting from cryptocurrency transactions over $600 must be reported to the IRS regardless of the trading platform.
Who It's Best For?
NAGA is one of the most innovative and secure exchange platforms for international users. The exchange is geared toward investors with diverse portfolios or users who are planning to diversify their assets. NAGA allows users to navigate and trade multiple markets without switching platforms.
Unfortunately, U.S. users are not eligible to trade using NAGA.
However, the crypto exchange is a valuable option for international users because of its features and trading tools. Users can explore DeFi options through NAGAX and chat with other users on the built-in social feed.
Inexperienced traders benefit from in-depth training courses, while professional traders can utilize a host of automated trading alerts to execute accurate plays. In addition, significantly reduced trading fees make NAGA an attractive option to traders of all backgrounds.
NAGA is an excellent exchange for international users looking to explore a wide variety of investment options and strategies.