NBA Top Shot Marketplace Review: Pros, Cons, and More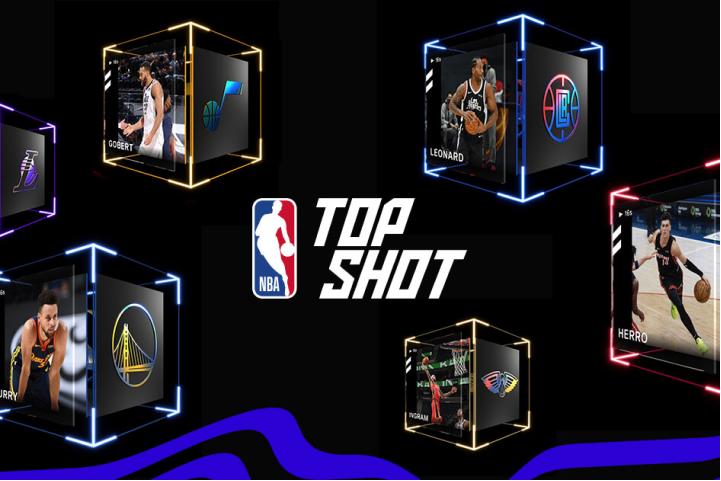 NBA Top Shot Marketplace
Officially licensed by the NBA
Cost-efficient blockchain transactions via Flow
Mainstream appeal
Pros:
Wide-range of price tiers
Intuitive and familiar user experience
Does not require the use of cryptocurrency
Cons:
Explicitly catered to NBA basketball fan
Centralized marketplace
Limited cryptocurrency support
NBA Top Shot Ratings and Reviews
NBA Top Shot is an NFT marketplace that features officially licensed NBA player highlights as digital collectibles. Created by Dapper Labs, the platform offers a cost-effective and beginner-friendly platform for NBA fans, NFT enthusiasts, and those new to the NFT landscape.
With multiple fiat onboarding options, a high range of price tiers, and features such as challenges, Top Shot Score, and the peer-to-peer marketplace, NBA Top Shot provides a familiar and engaging NFT experience.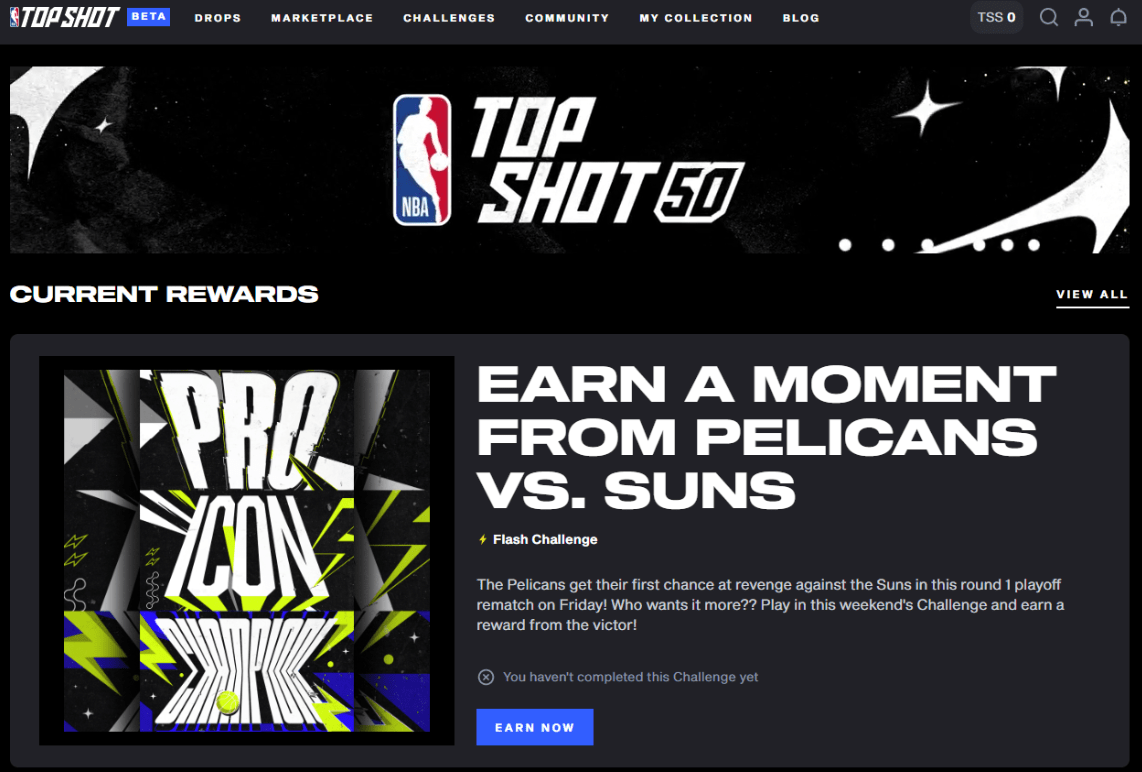 Highlights of NBA Top Shot
NBA Top Shot is

officially licensed by the NBA

with

access to players' name, image, and likeness

.

NBA Top Shot is built on the

cost-efficient blockchain, Flow

, to provide a

cheap transactional experience

.

Users of all financial levels

have access to a

range of price tiers

with varying levels of benefits

The

intuitive marketplace interface

and

simple blockchain mechanics

provide a

familiar user experience

.

NBA Top Shot accepts a variety of payment forms

, including fiat, indicating that

cryptocurrency is not required

for purchase.
Risks of using NBA Top Shot
NBA Top Shot is a

centralized marketplace

with

only NBA Top Shot NFTs available

NBA Top Shot

explicitly caters to NBA basketball fans

and

does not support NFTs for any other sports

.

The Dapper Wallet and NFT marketplace

only supports six cryptocurrencies
The platform is the only place users can buy or sell NBA Top Shot

.
NBA Top Shot Features
Top Shot Score: The Top Shot Score is a metric that calculates the value of a user's collection. The more NFTs a user collects, the higher their score. Users will have access to special experiences, exclusive packs, and other collectibles as their collections grow. 
Challenges: A gamification and quality control mechanism that provides an opportunity for users to exchange their common NFTs for those with a higher rarity. Through time-based objectives, challenges not only serve as a way to burn existing NFTs to control supply but also increase perpetual engagement on the platform. 
Community: A collector community platform where users can discover other individuals with similar interests and collector strategies. Beyond making friends, the community hosts an incentivized leaderboard where collectors can compete to earn exclusive rewards. 
Blog: The informational hub of all things Top Shot. The blog consists of NBA Top Shot news, feature announcements, how-to guides, and other insightful content.
NBA Top Shot Pricing and Fees
NBA Top Shot is built on the cost-effective Flow blockchain to minimize network fees, but the fees collected throughout the platform can be expensive. 
There is a 5 percent exchange fee for every transaction on the peer-to-peer marketplace that is paid by the seller [1]. If a Top Shot is sold for $100 USD, the seller will receive $95 in their Dapper Wallet. There are no transaction fees for purchasing packs or individual Top Shots on the marketplace. 
Users can deposit fiat and supported cryptocurrencies into their Dapper Wallet through credit cards, ACH transfers, wire transfers, or cryptocurrency transfers. ACH transfers are the quickest and cheapest option.
Withdrawals are completed via Crypto, wire, and ACH transfers. Credit card withdrawals are not supported.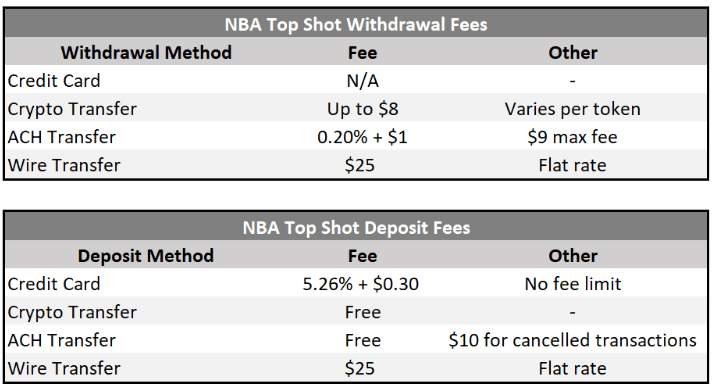 NBA Top Shot Company Background
NBA Top Shot was launched in October 2020 and quickly became one of the first mainstream NFT marketplaces. It was founded by Dapper Labs, the creators of one of the first popular NFT collections, CryptoKitties [1]. 
NBA Top Shot was also one of the first NFT projects to become officially licensed by a major brand such as the NBA.
Dapper Labs also created Flow blockchain, the layer one chain on which the NBA Top Shot is built. The Flow chain provides high settlement speeds and low transaction costs at the expense of being largely centralized. Flow allows projects like NBA Top Shot to handle thousands of microtransactions at low cost for average consumers.
How does NBA Top Shot work?
NBA Top Shot provides a user-friendly and engaging experience for NFT enthusiasts and traditional collectors to exchange NBA-based collectibles. 
Collectors deposit funds into their Dapper Wallet through a variety of onboarding options. Once funded, users can obtain NBA Top Shots through limited pack drops or through the peer-to-peer marketplace. 
New users can purchase the starter pack for $9 USD but must patrol the platform for limited-release drops if they want to avoid the marketplace. NFTs on the marketplace range from common rarity cards priced below $5 USD to the most exclusive cards sold for over $100,000 USD.
NBA Top Shots consist of visual displays of highlights from NBA players, such as a Zion Williamson Dunk or a Stephen Curry three-pointer.
As users' collections grow, they can choose to hold their NFTs and enjoy them, participate in challenges, or resell them on the marketplace.
Trading Tools & User Experience
Trading on the platform takes place exclusively in the peer-to-peer marketplace, where users may choose to list their NFTs for auction. The marketplace is the only location where users can sell their NBA Top Shots, as Dapper Labs does not allow them to be taken off the platform. 
Collectors can search for individual NBA Top Shots through a set of filters such as price, rarity, sets, and even specific teams. Priced in either USD, ETH, or FLOW, there is a wide price range of NFTs that make the experience enjoyable at all financial levels.
What Types of NFTs can you trade on NBA Top Shot?
NFTs on NBA Top Shot are categorized by their set, clip tier (rarity), and serial number. 
A Top Shot set refers to the collection of similar NFTs released at the same time. For example, the 2022 Rookie Debut set consists of high-performing rookies from the current season.
The clip tier of an NBA Top Shot defines its rarity and scarcity. Clip tiers include common, rare, legendary, and ultimate rarity levels. Common tier NBA Top Shots are frequently seen and typically hold the lowest value. Ultimate rarity NFTs are 1/1 and garner the highest price at auction. 
An NBA Top Shots serial number is the unique identifier of the NFT. This is how collectors can differentiate between identical NFTs. For example, there may be NFTs of a specific NBA Top Shot moment, but the serial number identifies which a collector owns.
NBA Top Shot Supported Wallets
NBA Top Shot is a centralized NFT marketplace that holds all user NFTs and funds on the platform. For this reason, collectors must use the platform native Dapper Wallet to hold their funds and NFTs. No other crypto wallets are supported.
Although this may go against the nature of NFTs and decentralization, it introduces ease of use and efficiency for collectors. The Dapper Wallet is also compatible with other Dapper Labs platforms, such as NFL All Day and UFC Strike [2]. 
Dapper wallet supports NFTs, fiat currency, and six cryptocurrencies that include:
Flow (FLOW)

Bitcoin (BTC)

Ethereum (ETH)

Dai (DAI)

USD Coin (USDC)

Bitcoin Cash (BCH)
Security: Is NBA Top Shot Safe & Secure?
Dapper Labs and NBA Top Shot have an impressive history of being free of security breaches, although they do not disclose the specific features of the platform's security infrastructure. 
At the account level, they provide industry-standard features such as two-factor authentication and mobile/email binding. However, it is unclear what advanced measures Top Shot employs to protect user data.
KYC verification is required before users can deposit or transact on the platform. The required documents for KYC include official identity proof, personal information, and a photo of the user. The process is quick and easy, taking under 15 minutes to complete if all required documents are available.
Who is NBA Top Shot Best For?
NBA Top Shot is an NFT and digital collectible marketplace for NFT enthusiasts and sports collectors. The centralized nature of the platform provides an intuitive experience for users and is friendly for those new to the NFT trading experience. 
The Flow blockchain enables fast and cost-effective transactions providing an advantage over slow and costly layer-one alternatives. With low-cost packs and a wide range of auction prices, users of all investment levels can enjoy moments from their favorite NBA superstars. 
NBA Top Shot is unique as it promotes engagement by appealing to the personal interests of NBA fans. Users can collect players from their favorite teams to complete sets and earn rewards. The community feature also incentivizes the more competitive players to continuously participate with the transparent Top Shot Score monitoring their progress. 
Catered towards NBA fans, NBA Top Shot provides an avenue for mainstream consumers to understand the NFT experience while navigating a familiar environment.