Nifty Gateway Review: Pros, Cons, and More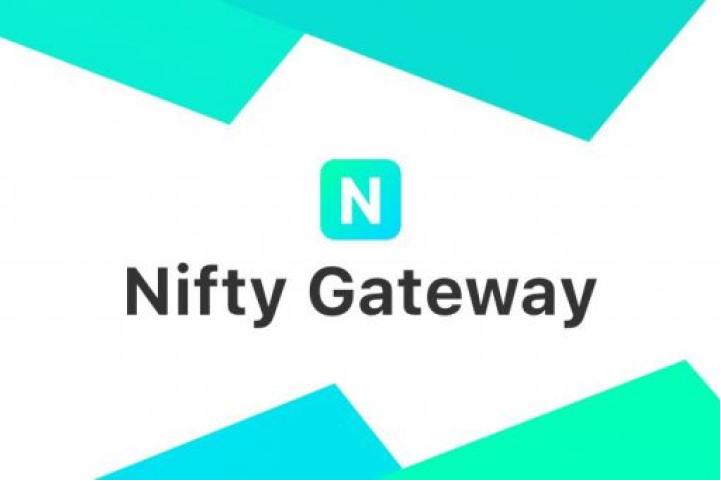 Nifty Gateway
Curated Drops from Verified Artists
Quick and Easy Transactions
Purchase NFTs from Verified Collections
Benefits for Dedicated Collectors
Pros:
Features Exclusive NFT Artists
User-friendly Marketplace Design
Buy NFTs with fiat
Trusted by Industry Professionals
Cons:
Small User Base
Limited Supply of Popular NFTs
Strict Process for Artist Verification
Nifty Gateway Ratings and Reviews
Nifty Gateway is a popular non-fungible token (NFT) marketplace that focuses on buying and selling artistic NFTs. It is unique as it features an extensive curation process before NFTs can be sold on the platform. The Nifty Gateway curation team ensures that only high-quality NFT collections are featured on their marketplace.
Some notable Nifty Gateway features are:
Creator Application Process: To become a verified Nifty Gateway creator, artists must complete a questionnaire and submit an artwork portfolio to the Nifty Gateway curation team. This application helps to filter out potential spam, stolen, or offensive NFTs from being listed on the platform. [1]

Featured Drops: Following the curation process, Nifty Gateway highlights upcoming NFT releases from featured artists prominently on its home page. [2]
Nifty Gateway is a popular marketplace for established artists to release curated NFT collections to fans.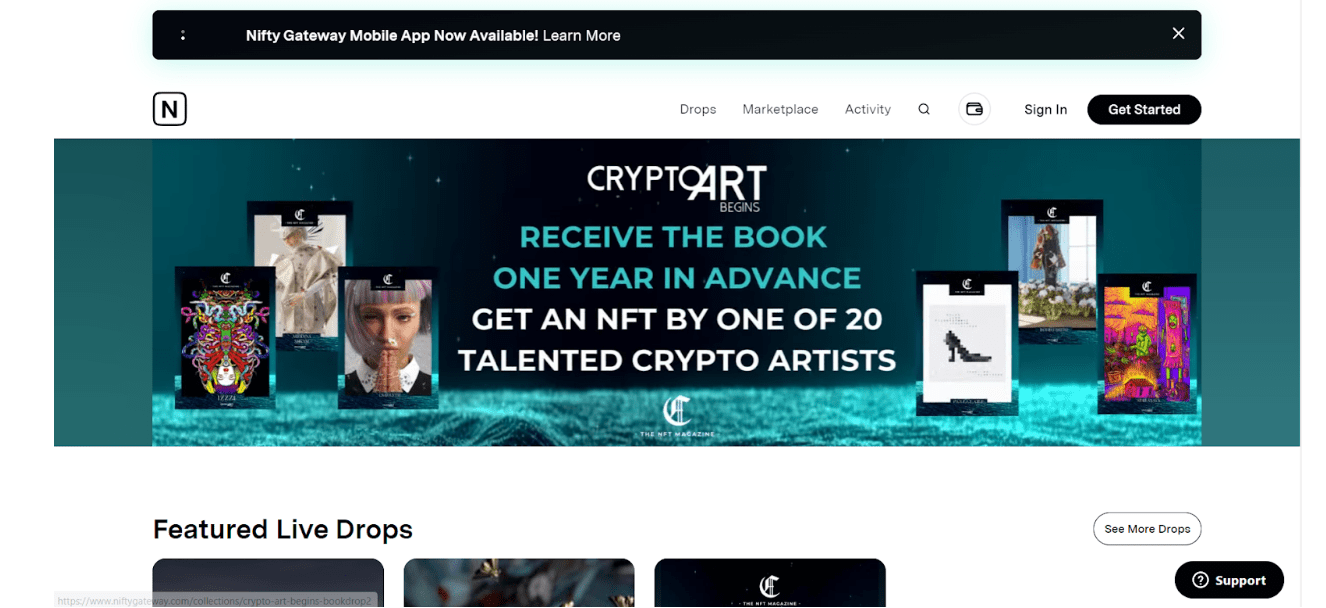 Nifty Gateway Highlights
Nifty Gateway allows users to purchase NFTs with fiat currency using a credit card, meaning new users can trade NFTs quickly without needing to own cryptocurrency first. [3]

Nifty Gateway features exclusive NFT drops with high-profile artists not found on other marketplaces.

Features several beginner-friendly guides to answer FAQs about account creation, transactions, NFTs, and more. [4]

The Nifty Gateway mobile app is available on

iOS

and

Android

with average ratings of 4.8 and 4.4 out of 5 stars, respectively.

Nifty Gateway is an established marketplace founded in 2018 and maintains a positive reputation with the NFT community.

Nifty Gateway does not require users to have a cryptocurrency wallet.

Nifty Gateway features a live support team and a dedicated ticket center

to help users resolve issues within 12 business hours.
Risks of using Nifty Gateway
Nifty Gateway does not feature NFTs from collections that are not verified or curated.
Users may be unable to purchase NFTs from popular releases because supply is often limited and demand is high.
Small artists may struggle to be selected through the curation process in favor of more established artists.
Due to the strict curation process, Nifty Gateway has a relatively small user base and overall volume.
Nifty Gateway Features
Nifty Gateway Advisory: Nifty Gateway offers advisory services to investment firms, decentralized autonomous organizations (DAOs), and other finance groups seeking to add NFTs to their portfolio. 
Nifty Gateway Custodial System: Nifty Gateway uses a custodial system to eliminate gas fees for users. Under this system, Nifty Gateway stores all NFTs on its marketplace and distributes them to buyers without the need for a blockchain. 
Nifty Gateway Publishers: The Nifty Gateway Publishers system is a set of tools creators can use to enhance their NFT releases. Creators can customize factors such as criteria for buyers, payout types, and how the NFTs are made available to Nifty Gateway users.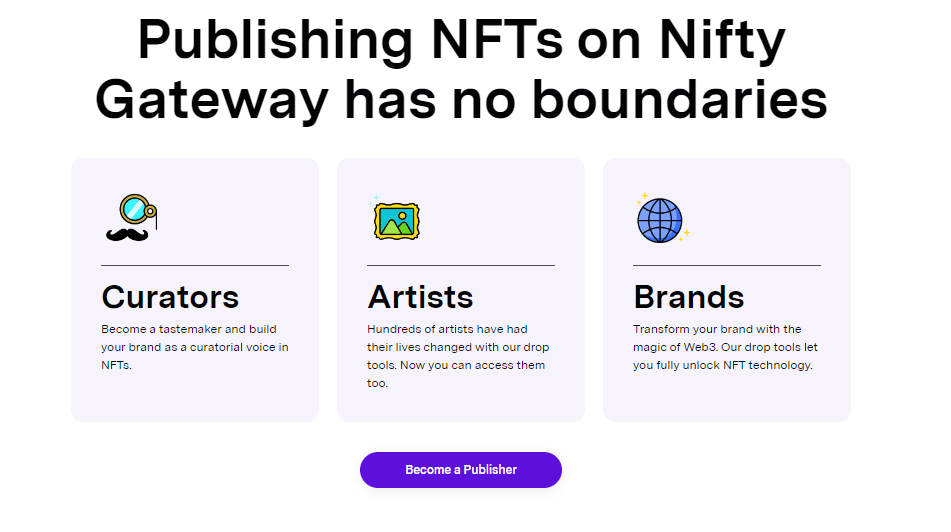 Nifty Gateway Pricing and Fees
Nifty Gateway has a standard fee system composed of two different models. 
The first model applies to verified sellers listing NFTs held in the Nifty Gateway custodial model. In this model, Nifty Gateway collects a 5% fee from the final sale price, and the payment can be through a credit card, Ethereum wallet, or Gemini account. Additionally, these transactions do not incur gas fees.
The second model applies to any seller using an Ethereum cryptocurrency wallet to list an NFT for sale. These transactions must be paid for using Ethereum, and Nifty Gateway imposes a 2.5% fee on the final sale price. [5] These transactions also require users to pay an additional gas fee when completing the sale.
This fee system is inexpensive, especially considering that the majority of sales do not incur additional gas fees.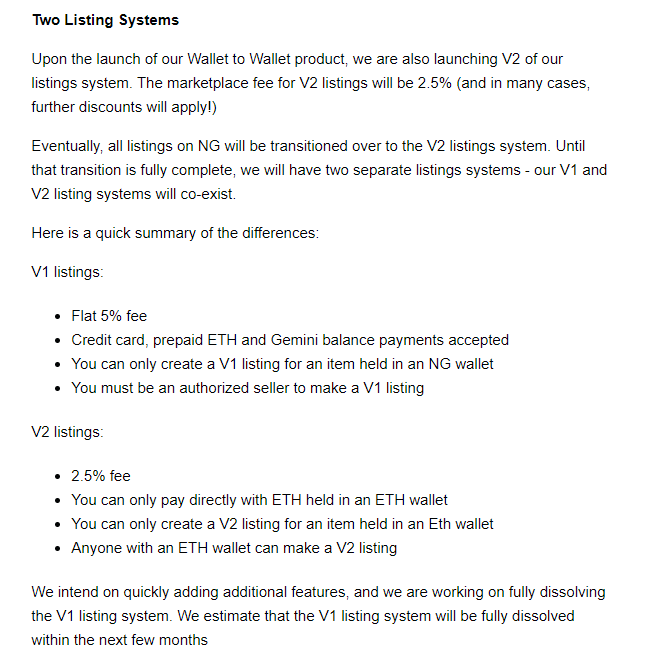 Nifty Gateway Company Background
Nifty Gateway was founded by twins Griffin Cock Foster and Duncan Cock Foster in 2018. One of the earliest NFT marketplaces, Nifty Gateway was eventually acquired by the cryptocurrency exchange platform Gemini in 2019. [6] Gemini combined its reputation for security and safety with Nifty Gateway's mission to onboard new users to the NFT ecosystem.
The mission of Nifty Gateway is to promote NFTs until at least one billion users are collecting NFTs. [7] While this is quite an ambitious goal, this mission shows that Nifty Gateway is committed to onboarding new users to the NFT community.
Nifty Gateway continues to evolve as an NFT marketplace, allowing users to buy and sell NFTs from verified collections in addition to their curated drops.
How does Nifty Gateway work?
Users can create a free Nifty Gateway account to begin trading NFTs on the marketplace. Users must select a valid payment method such as a fiat credit card, Ethereum wallet, or Gemini account balance. Once completed, users can browse popular and trending NFTs and complete purchases.
To sell NFTs as independent artists, users must apply for approval through the artist curation process. Artists seeking to release an NFT collection through Nifty Gateway can complete an application to be considered by the curation team.
To sell NFTs from a verified collection, users must connect their Ethereum wallet to Nifty Gateway. Some NFT collections verified on Nifty Gateway are: [8]
Bored Ape Yacht Club

Bored Ape Kennel Club

Mutant Ape Yacht Club

Clone X

Pudgy Penguins

Azuki

Renga

World of Women
Users can list NFTs from verified collections on the Nifty Gateway marketplace after connecting an Ethereum wallet that contains a verified NFT.
Trading Tools & User Experience
Nifty Gateway simplifies the NFT trading experience by sorting NFTs into categories based on popularity, price, and subject matter. [9] This feature allows users to quickly search and find NFTs that are most relevant to their interests.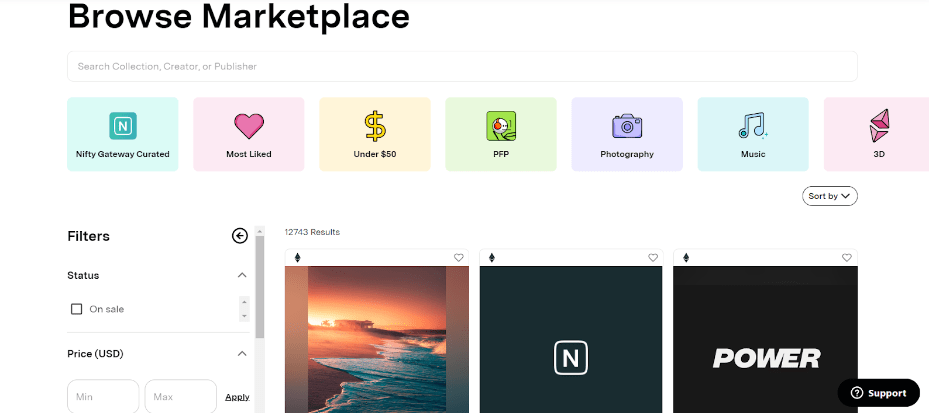 Nifty Gateway also displays data on all selling transactions. Under 'Activity', users can view a complete list of all NFTs sold on the marketplace from most recent to oldest. This is an extremely useful tool as it allows users to see which NFT collections have high trading volume and popularity and which have lower interest.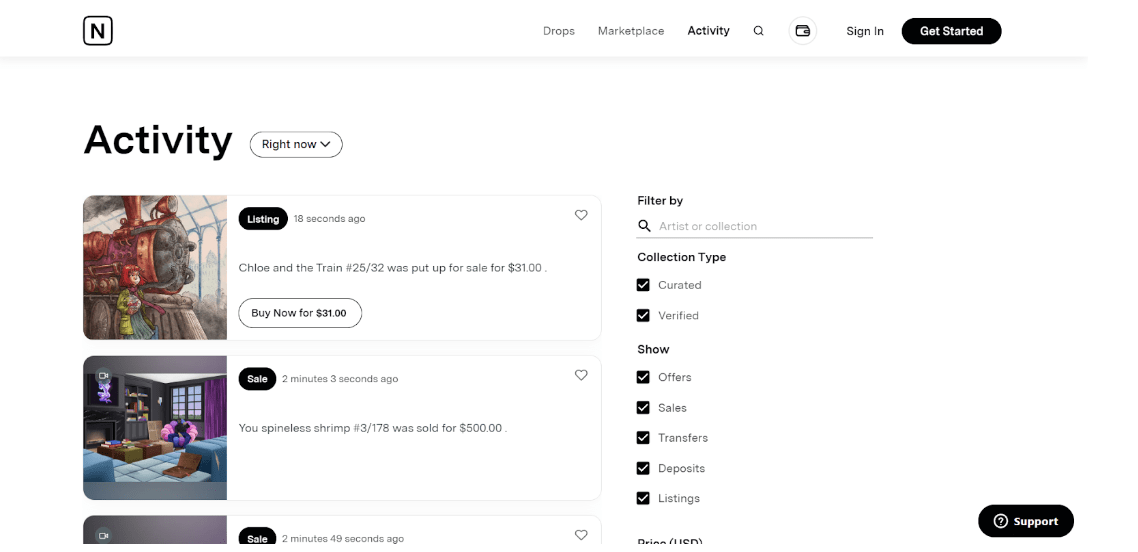 These trading tools help users quickly gather information on popular NFTs and navigate to them on the platform. Nifty Gateway creates a simple and smooth NFT trading experience for users.
What Types of NFTs can you trade on Nifty Gateway?
Recently, Nifty Gateway increased the types of NFTs users can trade on the marketplace. On October 28th, 2021, Nifty Gateway allowed users to trade NFTs from collections that are verified as authentic [10]. Before this, users could only trade NFTs that originated from curated collections vetted by the Nifty Gateway curation team.
Expanding the types of NFTs that users can trade on Nifty Gateway is a positive strategy that potentially increases the total user base. Users who may have previously traded NFTs on other marketplaces now have the option to sell verified NFTs on Nifty Gateway.
What Wallets are Supported on Nifty Gateway?
Currently, Nifty Gateway only supports MetaMask wallets connected to the Ethereum network. Users must transfer the NFTs they wish to sell to a MetaMask wallet to trade them on the Nifty Gateway marketplace. [11]
Other popular wallets like the Coinbase wallet, Trust wallet, and Ledger are not supported by Nifty Gateway.Connecting a MetaMask wallet to Nifty Gateway is a straightforward process. To help new users with this process, Nifty Gateway has created a step-by-step guide. After linking a MetaMask wallet, all NFTs eligible to be sold on the marketplace will automatically be displayed.
Security: Is Nifty Gateway Safe & Secure?
Nifty Gateway uses a custodial system in which the marketplace has ownership of all NFTs listed on the platform. This system means that security is of utmost importance to ensure users feel confident in Nifty Gateway to protect their assets.
Nifty Gateway is owned by Gemini, a trading platform that features many of the most secure practices in the cryptocurrency industry. Gemini completes routine bank exams and follows all stringent regulations under the New York Department of Financial Services. [12]
Gemini uses hardware security modules to maintain the security of the Nifty Gateway wallet with custody of all NFTs on the marketplace. These modules are physical devices that encode digital keys to protect them from malicious hacks.
Nifty Gateway is an extremely safe and secure platform thanks to the extensive security standards upheld by parent company Gemini.
Who is Nifty Gateway Best For?
Nifty Gateway is a better marketplace option for aspiring artists as well as NFT collectors. Nifty Gateway creates an easy trading experience for users to buy and sell curated and verified NFTs.
Nifty Gateway allows established artists to customize NFT releases for their audience. This system enables artists to avoid common problems with NFT drops and gain new buyers who are interested in purchasing NFTs.
For traders, Nifty Gateway enables users to discover trending popular NFT collections and sell NFTs from verified collections they own. Nifty Gateway's curation system prevents stolen and scam NFTs from being offered to users.
Nifty Gateway is a great option for users looking to buy and sell NFTs from reputable, trustworthy collections.