Okcoin Review: A Comprehensive Overview 2022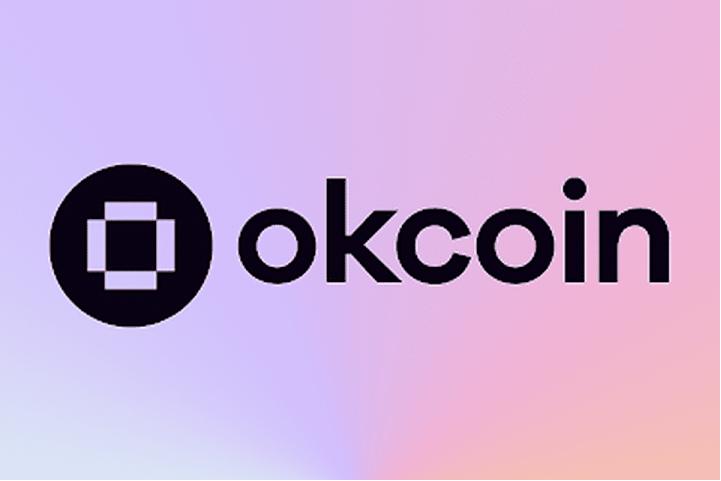 Okcoin
Regulated crypto exchange having licenses in the United States, Canada, Europe, and Singapore
An easy-to-use platform suitable for beginners
Employs strict security measures for protecting its users' digital assets
Pros
Available in 192 countries worldwide
Inexpensive fee structure
Allows withdrawals and deposits in fiat currency
Cons
Limited number of tradeable cryptocurrencies
Poor customer service channels
Not available in HI, NV, NY, WV, and all U.S. territories
Okcoin Ratings and Reviews
One of the world's oldest crypto platforms, Okcoin is a globally licensed exchange with offices in San Francisco, Miami, Malta, Hong Kong, Singapore, and Japan. Serving over 1M customers in 190+ countries, the centralized exchange makes crypto investing and trading accessible to anyone worldwide thanks to its user-friendly interface.
Okcoin offers over 75 tradable cryptocurrencies to beginners as well as advanced traders and provides various features from margin trading to staking. The cryptocurrency platform employs a low-cost fee structure and enables various passive income opportunities.
Okcoin uniquely lists promising projects such as CityCoins where people can support their favorite city's treasury, like Miami ($MIA) and New York City ($NYC), to earn rewards and use the Citycoins as a currency in applications.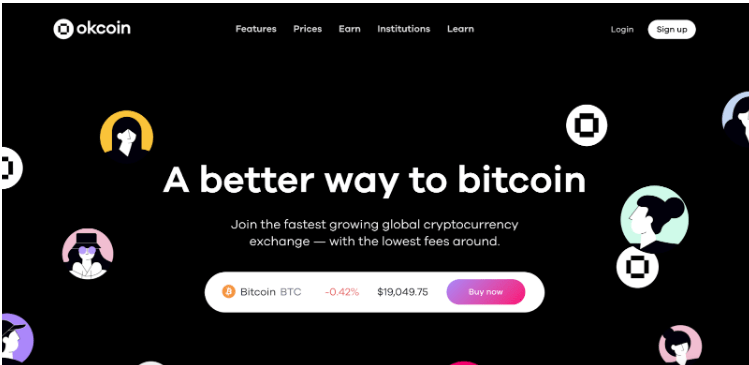 Pros & Highlights
Okcoin offers an easy-to-use platform suitable for beginners.
Crypto traders in Okcoin pay relatively low fees for their transactions.
The crypto exchange is available in 192 countries worldwide.[1]
Okcoin has an affiliate program and staking and DeFi rewards.
Okcoin allows withdrawals and deposits not only in cryptocurrency but also in fiat currencies.
The platform has high liquidity, meaning Okcoin can quickly meet its users' needs in large trades without vulnerability.
Okcoin is a regulated crypto exchange, having licenses in the United States, Canada, Europe, and Singapore.[2]
Cons & Risks
Okcoin has a limited number of tradeable cryptocurrencies.
The exchange isn't available in every U.S. state. It doesn't provide services to residents of the following restricted states: Hawaii, Nevada, New York, West Virginia, and all U.S. territories other than Puerto Rico.
The platform's customer service isn't as strong as its competitors. Customers can get support via the help center or by submitting a ticket. However, as of writing, the submit ticket feature isn't working.
The educational content and learning center proposed under the blog aren't sufficient for crypto traders.[3]
Okcoin Features
Okcoin offers limited and simplified features to its users, including:
Okcoin Prices and Withdrawal Fees
Okcoin proposes a tiered fee structure with a maker/taker model. The tier is based on each user's 30-day trading volume. Okcoin's prices are easy-to-understand and well-explained on the company's website.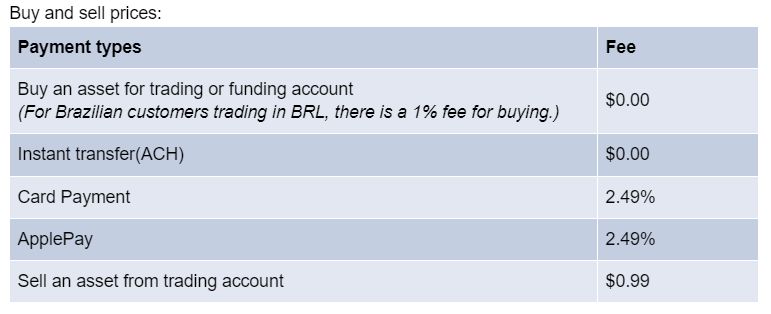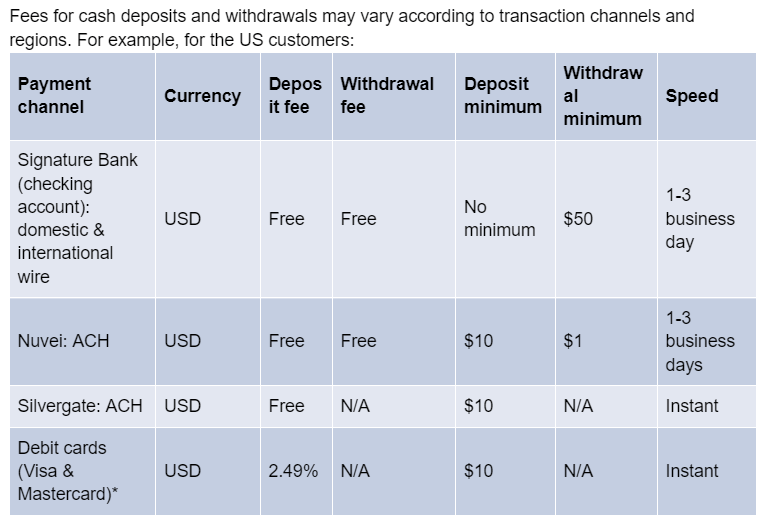 Company Background & History
Founded in 2013 by Star Xu (Mingxing Xu) in China, Okcoin grew quickly with a mission to make crypto investing and trading easily accessible to anyone around the world. Shortly after its foundation, Okcoin received $10 million of Series A funding from investment institutions and venture capitalists such as Ceyuan Capital, Venture Labs, and Silicon Valley's famous investor, Tim Draper.
In 2014, Chanpeng Zhao started working for Okcoin as the chief technology officer before establishing the world's leading cryptocurrency exchange, Binance.
In 2017, Xu also founded Okcoin's sister platform OKX (formerly OKEx), which isn't available to US customers. In the same year, Okcoin dealt with several legal and regulatory issues, including being flagged by the People's Bank of China for operating a trading platform without appropriate Know Your Customer (KYC) and Anti-Money Laundering (AML) systems[5], Suspended USD deposits[6], Stopped Yuan-to-Bitcoin trading[7].
In 2018 and 2020, Okcoin founder Star Xu was held by police on fraud charges due to a system crash allegedly orchestrated by OKX.[8] Despite the status of its founder, Okcoin continued its activities.
In 2021, Okcoin became the first US-based exchange to launch support for Polygon to allow faster and less costly access to decentralized finance protocols.
As of 2022, Okcoin has over 300 remote employees in its six global offices, aiming to create a pathway to a new financial system.
Trader Tools & Trading Experience
Okcoin offers trading and funding accounts to its users. A funding account can be used to store, receive, send assets, and deposit and withdraw funds, whereas a trading account is used for active trading.
Okcoin supports margin trading and staking programs to diversify its users' trading experience. Knowledgeable traders can also benefit from charts and trading tools in the Pro feature.
In margin trading, Okcoin users can trade with up to 3x leverage.
Okcoin promotes its staking program, Earn, which allows its users to earn interest on their crypto assets by staking with DeFi. Depending on the cryptocurrency, traders can earn up to 49% APY.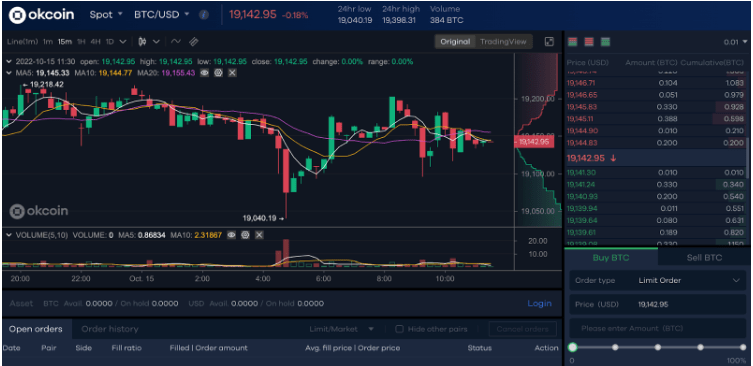 What Cryptocurrencies are Available on Okcoin?
Okcoin doesn't have a wide range of tradable cryptocurrencies, but the platform holds Bitcoin, popular altcoins, stablecoins, and Citycoins, including:
Ethereum (ETH)
Tether (USDT)
Cardano (ADA)
Solana (SOL)
Dogecoin (DOGE)
Tezos (XTZ)
Algorand (ALGO)
MiamiCoin (MIA)
Security: Is Okcoin Safe & Secure?
Okcoin has very strict security measures for protecting its users' digital assets. The platform enables two-factor authentication (2FA) and uses encryption techniques.
Okcoin stores its users' crypto assets in offline cold storage. The exchange ensures that its users' funds are safe since it is inaccessible, with a single key requiring multi-signatures for any transaction.
As of 2022, Okcoin has never reported hack issues or loss of its users' funds or information.
Customer Support: Contacts & How to Get Help
Okcoin provides customer support via its Help Center, allowing users to solve account problems with the help of blog posts and FAQs.
For further assistance, Okcoin users can email support@okcoin.com or use the chat bubble when signed in on a desktop.
Users can also reach Okcoin by submitting a ticket through their login or via Okcoin's official Twitter account operating for the sole purpose of customer support.
KYC, Taxes & IRS Reporting Details
Okcoin requires the KYC process to verify customers' identities across all regions. There are two levels of verification: Level 1 is an obligation, and Level 2 is the option that enables access to higher trading limits. [9]
Okcoin asks its customers to take responsibility for paying crypto taxes by consulting a tax professional and informing its users about the importance.[10] The crypto exchange partners with Taxbit to make filing taxes with the IRS easier for crypto-invested individuals and institutions.
Who It's Best For?
Okcoin is primarily designed to attract beginner traders with its user-friendly interface. However, experienced investors can enjoy the pro feature with advanced charting tools and the platform's 'Earn' staking program.
Okcoin is well-suited to those looking for a minimalistic design interface to trade popular cryptocurrencies at low fees.
Okcoin can satisfy investors who prioritize security measures and crypto exchanges regulated by the United States government.