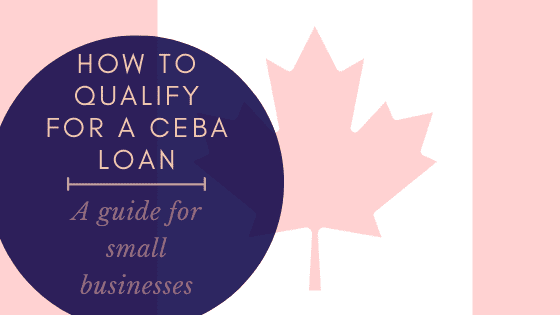 Many small to medium business owners in Canada face difficulties due to the COVID-19 pandemic. After all, not everyone has enough savings to continuously sustain their business in the face of lockdowns and other restrictions. The good news is, the Canadian government has launched the Canada Emergency Business Account (CEBA) to aid businesses in need of loans to keep themselves afloat while adjusting to the Coronavirus situation.
Overview 
The Government of Canada launched the Canada Emergency Business Account in April 2020 to help small business owners who lost most, if not all, of their income because of the COVID-19 pandemic. Under the program, small businesses and non-profit businesses can loan up to $40,000 with zero to minimal interest. 
Who is qualified for the CEBA?
To qualify for a CEBA loan, you must be a Canadian that owns either a small- or medium-sized business with registered operations on or before March 1, 2020. CEBA also allows non-profit organizations to apply for CEBA loans. Other requirements include:
The business must have paid between $20,000 and $1,500,000 in total wages and salaries in 2019.

Non-profit organizations must have filed a T2 income tax return for the 2019 tax year.

Charities must have filed a T3010 charity return for the 2019 tax year.
Those who would like to apply for a CEBA emergency loan through National Bank must comply with the following qualifications:
You must have an active Business Current Account with National Bank on or before March 1, 2020. 

Businesses shouldn't have outstanding debts from existing borrowing facilities and National Bank for 90 days or more as of March 1, 2020. 

You should be using National Bank as your primary financial institution. To know which bank is your primary financial institution, check which bank you're using for your employees' payroll, payment to suppliers, and other cash management transactions. Those who have several accounts under National Bank, check if you already have an active Business Current account.
As of May 19, 2020, Prime Minister Justin Trudeau expanded the qualifications for CEBA. If your business has a payroll lower than $20,000, you can still apply for CEBA if you comply with the following:
Get Started
Claim up to $26,000 per W2 Employee
Billions of dollars in funding available
Funds are available to U.S. Businesses NOW
This is not a loan. These tax credits do not need to be repaid
The ERC Program is currently open, but has been amended in the past. We recommend you claim yours before anything changes.
Applicants should be a business operating account at a participating financial institution.

Applicants must have a Canada Revenue Agency business number and should have filed a 2018 or 2019 tax return.

Applicants have eligible non-deferrable expenses such as rent, property taxes, and utilities between $40,000 and $1.5 million. \
They also added the following businesses:
Businesses run by a sole owner/operator.

Businesses that rely on contractors, and

Family-owned businesses that pay employees through dividends
In short, businesses such as beauty parlors and gyms (that are owned independently) and other businesses that have to rent to operate are now eligible.
Who isn't qualified? 
Some organizations are not qualified to avail of these services, such as management companies, government organizations, and those owned by a Federal Member of Parliament or Senator. Organizations that promote violence and discrimination in any form (such as sex, gender identity or expression, race, and religion) are also not eligible.
It's understandable why applying for CEBA can be a great choice, as the program offers zero to minimal interest rates. However, if your application gets denied or your business turns out to be ineligible for CEBA, you may opt for other loan options. For more info about Canada's best loan rates, you may visit Rate Genie.
Canada Emergency Response Benefit (CERB)
For sole proprietors, they may apply for a Canada Emergency Response Benefit (CERB). This program is intended for individuals who have lost income because of the pandemic. They will receive up to $2000 a month for approximately four months. To qualify:
Applicants should have proof of work suspension and have an income of at least $5,000 in 2019. 

They should also make sure that they will not be receiving any income for at least two weeks over the initial four-week time frame. 

Businesses that have multiple owners should designate a primary signatory who will apply for the said loan on behalf of the company. 
How to apply?
The application process varies for every financial institution. Currently, 232 financial institutions are participating in the CEBA program. In general, you need to provide the following information:
Your Summary of Remuneration Paid statement (T4 slip)

Your Canada Revenue Agency business number

Your business bank account details, such as business account number and business bank branch number
Most of the applications are made online. Some banks require you to have an online banking account and a business bank account. After applying, your application will be reviewed by the government. Approved clients will receive an email and will receive the loan directly to their business account. The overall process will take approximately five business days. 
Loans for Small Businesses: CEBA Might Be For You
If you're currently seeking loans for your small or medium-sized business, you might find CEBA an attractive option. You can apply for CEBA easily, provided your business fits the criteria indicated above. Remember, just because there's a pandemic doesn't mean you have to sacrifice your business. Thanks to CEBA and other business loans, you can find ways to keep operating and help your business operations to survive during the Coronavirus crisis.