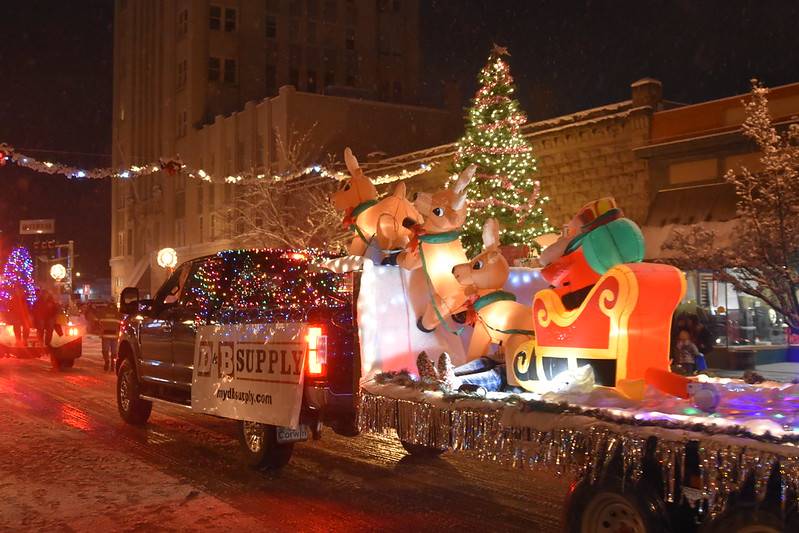 One of the busiest times of year for businesses is the holiday season. During this time of year, businesses work hard to offer sales, deals, and other attractive offers that hope to bring in customers and move them from the red into the black. One of the ways that businesses can attract customers is through the use of light-up signs and decorations. Businesses spend a significant amount of money on these decorations in an effort to market themselves to the general public. Furthermore, experts in light-up signs say that these tools are critical for helping a business separate itself from the pack. When it comes to Christmas decorations and marketing, there are a few points that everyone needs to keep in mind.
There were a few trends in the world of Christmas marketing and sales that everyone in the business world should note. Across the world, the early projections showed that holiday sales were expected to go up. In France, the United Kingdom, and the United States, businesses everywhere expected their sales to jump by around 50 percent. Much of this optimism comes from the fact that the idea surrounding Black Friday (the first Friday after Thanksgiving) has started to gain traction outside of just the United States. This means that there is a tremendous opportunity for nearly every business to capitalize on these sales. Retail was expecting the biggest boost from last year to this year. Capitalizing on light-up signs is important in this industry.
Another big trend is that businesses are starting to plan for the busy holiday season even earlier than usual. Nearly a quarter of marketers indicated that, in a recent survey, they start their holiday planning all the way back during the second quarter. This means a lot of time and resources are poured into trying to capitalize on this one, very important part of the year. Without a doubt, one of the critical points that marketers are going to think about during this time is how to take advantage of light-up signs to try to advertise sales and offers while also standing out from the rest of the crowd. The holiday planning season starts months in advance for numerous business.
Finally, it stands to reason that if the marketing season for the holidays is starting earlier than ever before, then the spending spree on holiday and Christmas marketing is going to grow as well. A large percentage of advertisers indicated in a recent survey that they expected their marketing sales to grow. Close to half of advertisers in the United States indicated exactly that. This is because these industries know that this time of year is incredibly important for the bottom line of their businesses. In the United States, advertisers expect the competition to be stiffer than ever, meaning that they need to work hard to stay ahead. With strong sales expectations on the horizon, the focus is going to be placed on marketing. This means taking a well-rounded approach to the holiday marketing season, including light-up signs.
Early reports from the marketing world are showing that the retail industry alone spent close to $4 billion on advertising. This reflects nearly 13 percent of the overall advertising budget. This advertising comes in numerous forms including media ads, radio ads, newspapers, magazines, and more. Some of the largest retailers in the world were spending record dollars in an effort to attract more customers to try to boost their sales. Furthermore, the increased competition in the online world makes Christmas marketing even more important. One of the key parts of a Christmas marketing campaign comes in the form of light-up signs.
Get Started
Claim up to $26,000 per W2 Employee
Billions of dollars in funding available
Funds are available to U.S. Businesses NOW
This is not a loan. These tax credits do not need to be repaid
The ERC Program is currently open, but has been amended in the past. We recommend you claim yours before anything changes.
This idea is backed up by another recent poll that was published. This poll showed that the average consumer spent more than $1,000 on Christmas, including Christmas decorations. This is a significant increase from last year. Many of these Christmas decorations come in a light-up form. This is a great way for companies and businesses to stand out from their competition, encouraging customers to come in and check out the products and services that might be on sale for the Christmas season. When it comes to light-up signs and decorations, there are a few strategies that every marketer should keep in mind.
First, light-up signs and decorations are a great part of Christmas marketing because they are able to appeal to the emotions of the consumer. The Christmas season is a happy time of year. Simply browsing social media will show that most people feel a bit happier and more excited than usual. This should come as no surprise, as the anticipation of time off from work, time spent with family friends, and gift-giving should make anyone happy. At the same time, when customers are happy, they tend to purchase more items. Therefore, many of the light-up signs are going to be positioned to capitalize on the festive feelings that many people have during this time of year. Signs are going to be used to elicit a sense of cheerful nostalgia from people who view this time of year in a positive light.
Next, marketing and light-up signs can be used to build up a sense of anticipation. Think about the idea behind the Advent Calendar gives someone something to look forward to on every day during the month of December. Light-up signs can be used in the same way. Light-up signs can be used to advertise deals and sales that are going to take place tomorrow, next week, or even on Black Friday specifically. For many people, this is better than the actual reward itself. Using light-up signs to build up a sense of anticipation among the general public is another reason why light-up signs are so widely used during the Christmas season. Even the Santa tracker can be used in the form of a light-up sign.
In addition, light-up signs are used as a critical part of a marketing campaign to make it known that these campaigns are finite. There is an expiration date. This technique is known as loss aversion. Most people feel like they own a piece of Christmas because they have a series of traditions they like to go through. When this idea is taken away, such as when a sign advertises an expiration date, people will naturally want to avoid losing it. Signs might be used to show the number of days or minutes until a campaign ends. Maybe they advertise that the deal is during the Christmas season only. These techniques are used to build up a sense of ownership and loss among potential customers. Then, they will rush into the store and buy items in an attempt to avoid this loss.
Furthermore, light-up signs are great because they allow businesses to personalize their messages and products. The holidays are a season for sharing gifts and content. Individuals will want to share things that are going to add some value to their network. That is where personalized light-up signs are important. The flashier they are, the more they are going to encourage customers to take pictures of them, with them, and share them on their social media platforms. In essence, this doubles as another form of free advertising. The more creative light-up signs are designed, the more likely it is that they are going to be shared on social media and other networks.
Lastly, light-up signs at Christmas time can be used to appeal to one's sense of reciprocity. When someone receives a gift, he or she is likely to feel compelled to purchase a gift in return. This is a psychological principle. Customers who see a light-up sign are going to adhere to this principle because they are going to view a free giveaway or sale as a gift to them from the business. As a result, they are going to feel compelled to buy something else from that business. This is marketing at work. Light-up signs can be used to tailor these messages in this manner, encouraging customers to visit the store, browse the shelves, accept a gift, and purchase something else. This is the customer's way of returning the generosity of the brand.
These are only a few of the numerous important points that everyone needs to remember about the Christmas season, Christmas marketing, and light-up signs. With the increased amount of business being handled in the online world, it is critical for companies to maintain a strong presence on the streets. This is the area where businesses can separate themselves from the rest of the pack. Light-up signs are an easy, cost-effective and far-reaching way that businesses can market themselves and their products and services. At the same time, it is important to make sure this is done carefully. There are lots of ways companies can use a light-up sign and it is important to put these marketing principles to work. This will ensure that everyone gets as much as they can out of each light-up sign.