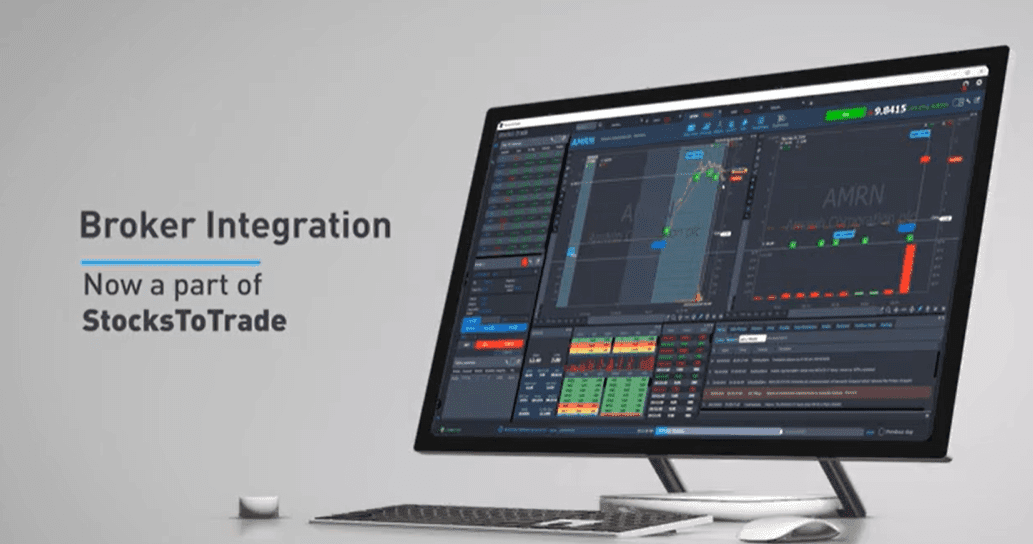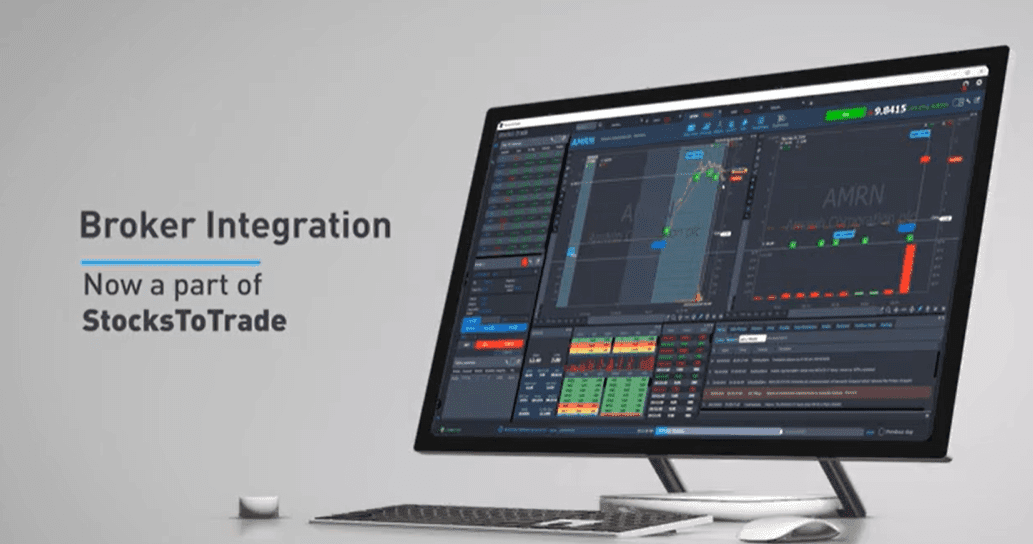 The stock market is no longer within the exclusive preserve of finance professionals on Wall Street. A large number of products and services now provide access to anybody interested in the stock market inasmuch as they have a computer or smartphone. Yet, for traders, the quality of your trading platform, market intelligence tools, and technical analysis software is important and it could make or mar the success of your stock trading activities. 
However, what if you could access a trading platform that gives you the same quality of market intelligence, stock analysis, and order execution available to Wall Street professionals?
In this piece, we review StocksToTrade, a stock market analysis and trading platform that promises to outfit experienced stock traders with powerful trading tools while equipping beginner traders to learn how to trade instantly.
Introducing StocksToTrade
StocksToTrade is a full-featured market intelligence, technical analysis, charting, and stock trading platform. Founded in 2009, StocksToTrade has established itself as an all-in-one platform for both new and experienced traders. The software cuts down the time and effort it takes to understand the market so that traders can focus on the actual business of trading. 
StocksToTrade provides traders with powerful scans and market screeners, it presents thousands of complex search variables in a simple and intuitive UI/UX setup and it has a custom-built trading algorithm, called ORACLE that alerts users to enter and exit trades at the most profitable prices based on their trading strategies. 
StocksToTrade is a desktop application built for Windows and macOS, it is not available for smartphones or tablets. Likewise, the software is not available on the web, you'll need to download the file and run the program on your computer. 
Thankfully, you probably won't need to shell out a fortune on a new laptop to use the StocksToTrade software if you have a computer that meets the minimum requirement of 4GB memory and 200MB of disk space. However, you may need to upgrade your internet connection to get download speeds of at least 30Mbps for peak performance.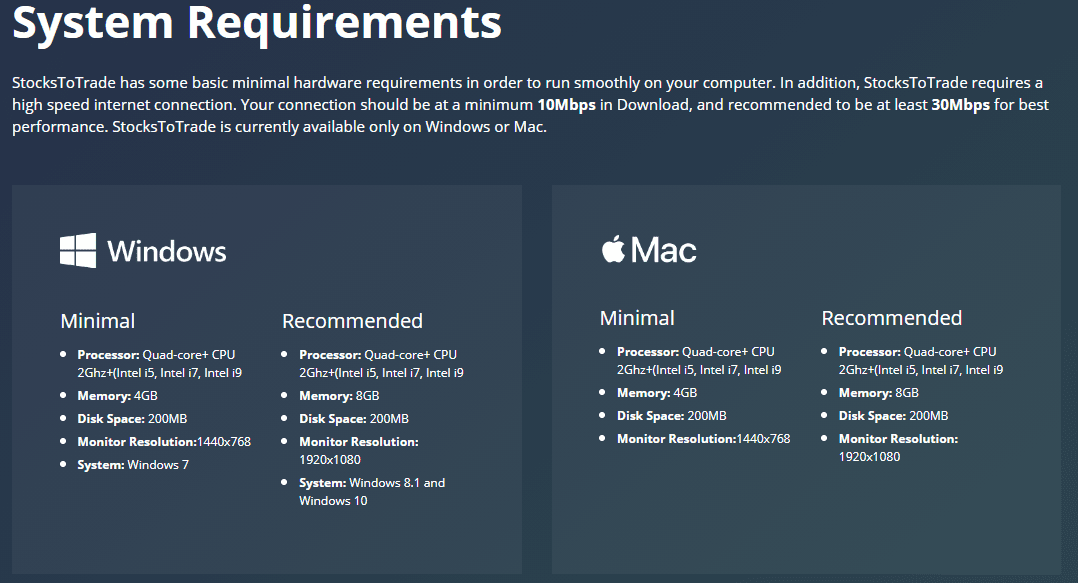 StocksToTrade is a simplified solution that gives you a professional-grade market intelligence and trading platform; hence some new traders might still be intimidated. Thankfully, StocksToTrade has a fully serviced Tutorial Center filled with videos, handbooks, and other learning resources that will teach you how to use the software. Your StocksToTrade subscription comes with access to the Tutorial Center.
StocksToTrade Features
StocksToTrade is a fully-featured charting, technical analysis, and stock scanner platform. The software is designed to put all of the features you need to make trading decisions in a single place.
Get Started
Claim up to $26,000 per W2 Employee
Billions of dollars in funding available
Funds are available to U.S. Businesses NOW
This is not a loan. These tax credits do not need to be repaid
The ERC Program is currently open, but has been amended in the past. We recommend you claim yours before anything changes.
Scans and Stock Screener
The NYSE alone has over 3,000 publicly traded companies. The NASDAQ also has more than 3,300 publicly traded companies. When you add in the stocks from other exchanges such as the CBOE, CME, CBOT, and the OTC boards, the numbers could easily reach 20,000 stocks. It is practically impossible to manually sift through 20,000 stocks to find the best stocks to trade and most traders tend to spend their energy on the same set of stocks within a narrow industry.
StockstoTrade makes it easier to cast your trading net far and wide by providing a market scanning tool that gives you a wide coverage of stocks. The predefined stock scans can let you know the top gainers, top losers, stocks breaking out, stops pulling back, stocks rebounding, and the stocks that have the largest recent gains among others. This broad view could then generate a list of stocks that you could further analyze.
If you want to find specific kinds of stocks with more granular precision, StocksToTrade has a stock screener that helps you find stocks that meet the specific parameters of your trading strategy. The screener has a simple interface to find and define the screening parameters you want. You can add more screening parameters using the "AND" "OR" tags and you can visually monitor the parameters that you've previously defined all on the same screen. The best part is that you can save your custom screens for future use so you don't need to start from scratch again. 
Charting tool
StocksToTrade provides traders with the best-in-class charting tools for conducting technical analysis around which you can build your trading strategies. A single click allows you to overlay the charts with a large subset of preset technical analysis. Hence, even if you are new to technical analysis, you can still leverage the work of trading professionals with ready-made analytics. 
If you are experienced in technical analysis, you'll find the charting tool on StocksToTrade incredibly versatile with its large degree of customization that allows you to build innovative technical analysis. Unlike other stock charting software that restricts your view to a small range of timescales, StocksToTrade allows you to choose between bar charts, line charts, and candlesticks across a wide variety of interval lengths and time scales. 
StocksToTrade Level 2 Data
One of the key market intelligence tools that give professional traders an edge over amateur traders is the access to Level 2 market data, also known as Market Depth data. Level 2 data generally refers to market data containing the bid and ask prices for a stock. The Level 2 data list all the quotes that traders are submitting to an exchange for the stock and it can be a powerful tool for understanding how the demand and supply dynamics of the stock is influencing the price. 
StocksToTrade is one of the few trading platforms that offer Level 2 data to all subscribers – most platforms tend to keep Level 2 data exclusively for professional or institutional traders. Another great point is that StocksToTrade allows you to display the Level 2 data alongside any other chart. When you reference the price book and the order book embedded within the Level 2 data against your technical analysis, you'll find it much easier to identify the support and resistance levels of the stocks and you can make informed trading decisions. 
StocksToTrade ORACLE
One of the key features that differentiate StocksToTrade from other platforms is that StocksToTrades is intentional about giving you tools that reduce the time you spend researching stocks. One such tool is its proprietary ORACLE technology, which is an algorithm-powered scanner that is constantly searching for stocks that are about to make big moves.
ORACLE is designed to analyze the moments before and after past big winners make their moves and identify the market dynamics that might have triggered those big moves. ORACLE then searches through the market for other stocks that are displaying similar favorable conditions. The result is a snapshot of stocks that you might have never found on your own but which are primed to make big moves that could result in large trading gains. 
Of course, you are still ultimately responsible for your trading decisions but ORACLE gets you started in the right direction by providing you with a pool of potential big movers to explore.
Broker Integration
Thousands of traders play the zero-sum game called stock trading every day. For you to make money in a trade, a counterparty is bound to lose money on that trade. In a market where all traders have access to the same market information, the speed with which you can enter and exit trades has a significant impact on your trade. 
Many traders conduct their stock analysis on one platform and go on to execute the trade on another platform. However, the stock market is dynamic and always moving and every minute you spend outside the market erodes the time value of the market data that formed the basis of your trading decisions. 
StocksToTrade makes it easy to conduct your market analysis, find the stocks to trade, and place those trades on a single platform through its broker integration system. StocksToTrade is currently integrated with brokers such as Interactive Brokers, Just2Trade, E*TRADE, Ally Invest, Capital One, Robinhood, and it is working with integrating with other brokers down the line. Also, if you'd like to set up a brokerage account with Tradier, your StockToTrade membership qualifies you for unlimited commission-free trading capped at $14.99.
Pricing Options
To use the StocksToTrade software, you'll need to purchase a subscription priced at $179.95 per month. If you choose to be billed annually, you'll enjoy a $250 discount to pay $1899.50 per year. For people who may want to test the waters before committing to a monthly or annual plan, StocksToTrade offers a 14-day trial billed at $7.
So far,  StocksToTrade claims to have about 32,821 traders on its platform and that large number provides social validation that the traders are finding the platform useful. However, we found out that if you'd like to have add-ons such as Breaking News Chat, Small Cap Rockets, TipsRanks, and Oracle Direction Alerts, you can expect the add-ons to cost anything between $8.95 and $97. 
Pros &  Cons
| | |
| --- | --- |
| Pros | Cons |
| Powerful ORACLE to show you what to trade | Might be pricey compared to other platforms |
| Extensive line of charts with many inbuilt popular technical analysis  | Broker integration not as extensive as expected |
| Stock screener with incredible visualization and ability to save screens for future use | Unavailability on Mobile and Web |
| Ability to measure social sentiment across Twitter and news reports | |
| Stock summary, watchlists, and news presented alongside trading charts | |
| Access to Level 2 Data  | |
| A highly resourced tutorial center and trading university | |
Final words
Whereas you don't have to be a Wall Street professional to participate in the stock market, the quality of tools available to Wall Street professionals still gives them a huge edge over the average amateur trader. Interestingly, whether you like it or not, stock trading is a zero-sum game, for you to make money on a trade, a counterparty must lose money on that trade immediately or soon afterward. 
StocksToTrade gives everyday traders access to the same professional trading tools that Wall Street professionals use. However, these tools have now been simplified, presented in user-friendly interfaces, and presented in intuitive setups. 
If you are interested in trading stocks but haven't quite gotten around to starting because you can't seem to wrap your head around all the different tools you'll need to learn, StocksToTrade is the one-stop-shop powerhouse that does everything for you. 
If you are an experienced trader and you want to cut down the time it takes searching for stocks, the combination of ORACLE, Watchlists and Alerts, and Broker Integrations on StocksToTrade will most likely provide you with a superior trading experience on a dedicated portal.