Swan Bitcoin Review: A Comprehensive Overview 2022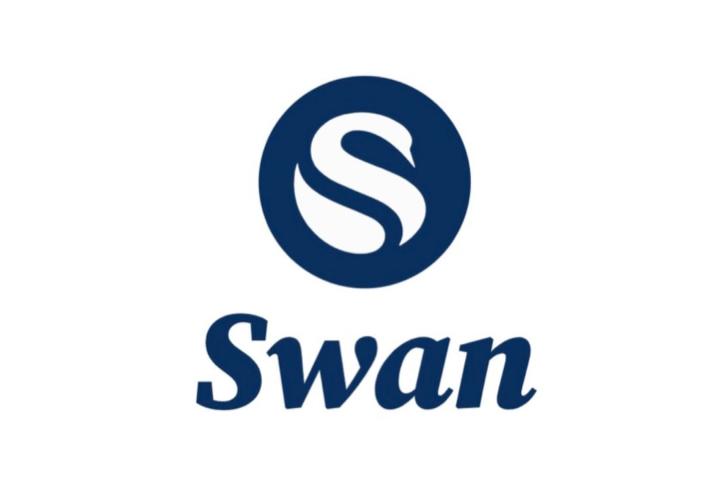 Swan Bitcoin
A centralized exchange that provides financial services to users through Bitcoin investment strategies.
Offers investment models for a diverse set of clientele: businesses, investment groups, and individual users.
Pros
Available in 120 international countries and 47 U.S. states.
Uses a competitive fee model, cheaper than other exchanges.
Features curated blog posts from industry experts.
Cons
Does not support the trading of cryptocurrencies other than Bitcoin.
Lacks advanced trading tools featured on other exchanges.
Lengthy signup and verification process.
Swan Bitcoin Ratings and Reviews
Swan Bitcoin is a US-based, centralized exchange that provides financial services to users through Bitcoin investment strategies. Specializing in all things Bitcoin, Swan Bitcoin brings profound expertise to help users grow and manage their cryptocurrency portfolios. 
Unique financial services offered by Swan Bitcoin are:
Comprehensive Business Tools: The Swan Bitcoin Business Center provides tools for growing businesses to integrate Bitcoin into their financial system. Business users can automate Bitcoin payment plans, effectively convert business assets to Bitcoin, and more. [1]

Daily Savings Plan: Swan Bitcoin's daily savings model allows users to automatically buy $10 worth of Bitcoin every day to grow users' Bitcoin portfolios quickly and consistently. [2]
Swan Bitcoin services customers from roughly 120 international countries and 47 US states, excluding New York, Hawaii, and South Dakota. [3] Swan Bitcoin offers highly-specialized knowledge on integrating Bitcoin into investment portfolios.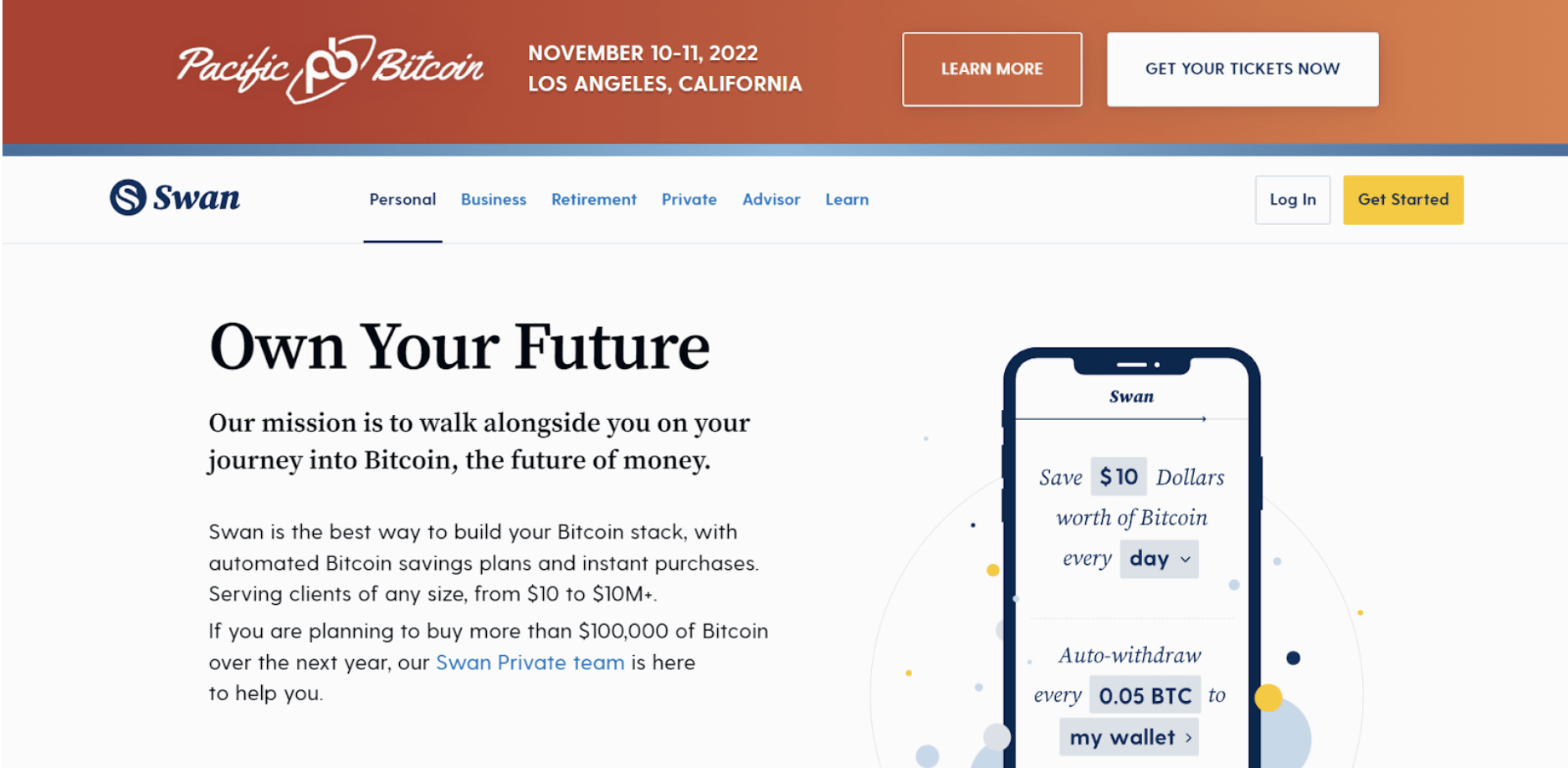 Pros and Highlights
Swan Bitcoin supports large-scale transactions, allowing users to transfer up to 10 million $USD for Bitcoin purchases. [4]

Features curated blog posts from industry experts through

Swan Signal

.

Swan Bitcoin offers investment models for a diverse set of clientele: businesses, investment groups, and individual users.

Users can purchase Bitcoin with cash through a single click once connected to an eligible bank account.

Features a competitive fee model, cheaper than other exchanges. 

Swan Bitcoin offers an extensive customer service hotline, operational during business hours, and a dedicated customer support page. [5]
Cons and Risks
Swan Bitcoin does not support the trading of cryptocurrencies other than Bitcoin, meaning that users cannot diversify their cryptocurrency holdings.
To view the exchange interface, users must first sign up and complete a lengthy verification process.
Swan Bitcoin lacks advanced trading tools like price charts and order history, featured on other popular crypto exchanges.
Swan Bitcoin does not accept many payment options. Direct transfers from centralized banks are required to make Bitcoin purchases. [6]
Swan Bitcoin Features
Swan Private Guide: Swan Private is an exclusive service tier for users purchasing over $100,000 worth of Bitcoin or individuals purchasing Bitcoin on behalf of a large commercial business. Users of Swan Private gain 1-on-1 access to a personalized Bitcoin consultant as well as other perks like tax assistance and mentorship meetings.
Swan IRA Retirement: The Swan IRA Retirement Plan is a strategic investment structure that allows users to take advantage of low taxes through the long-term holding of Bitcoin. Swan IRA members gain access to Bitcoin experts and other IRA community members.
Financial Advisory Platform: Swan Bitcoin offers an advisory framework for financial advisors. Using Swan Bitcoin's advisory tools, advisors can better consult and manage the Bitcoin assets of their clients.
Learning Center: The Swan Bitcoin Learning Center is a free, collaborative center featuring written educational content about cryptocurrency-related topics.
Swan Bitcoin Prices and Withdrawal Fees
Swan Bitcoin has a simple, competitive fee structure that only imposes fees at one point in the transaction process. When buying Bitcoin, users incur a 0.99% fee of the total value of the Bitcoin purchased. [7]
Unlike other exchanges, Swan Bitcoin does not impose a withdrawal fee and even covers the Bitcoin network fee for users. As Swan Bitcoin caters to users and organizations purchasing large quantities of Bitcoin, this model is highly beneficial to a wide set of investors.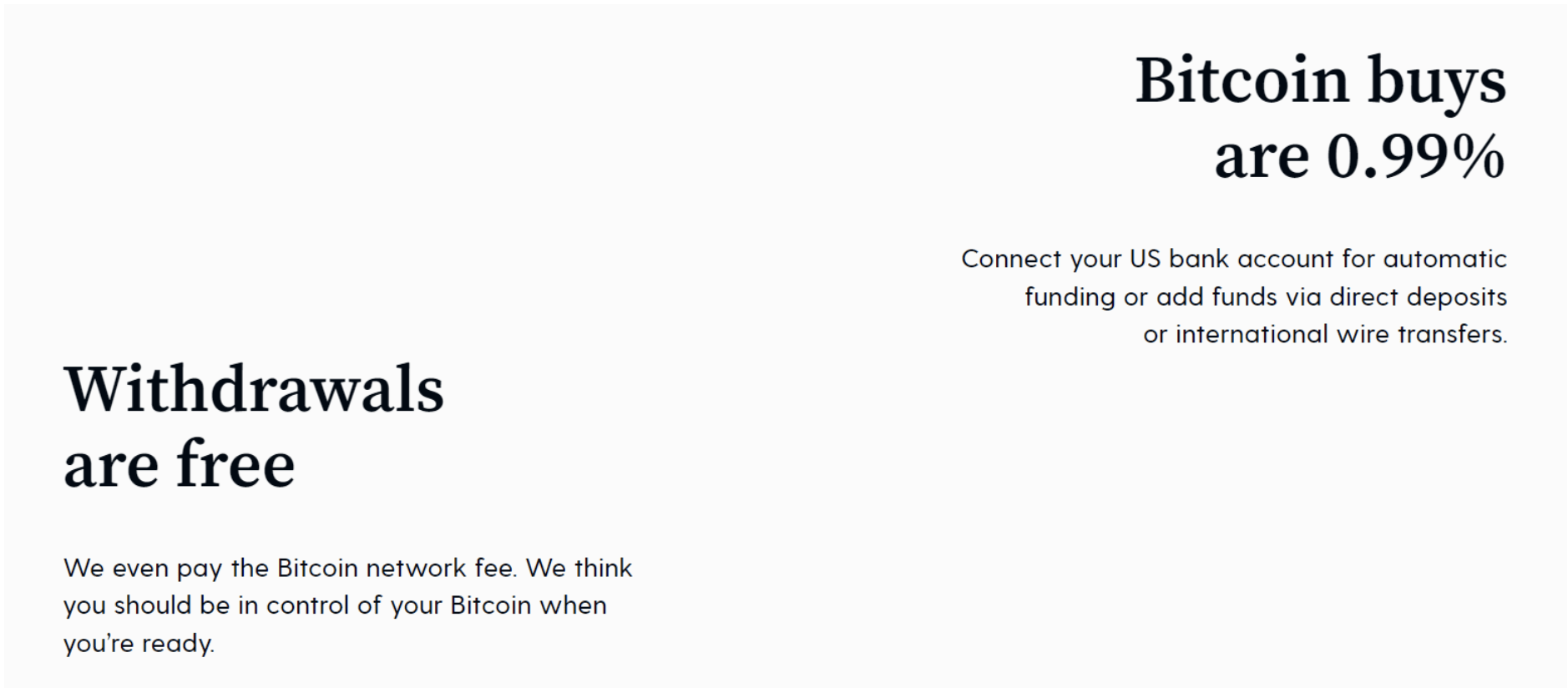 Company Background & History
Swan Bitcoin is a California-based Bitcoin exchange platform founded by Cory Klippsten and Yan Pritzker in 2019. Both founders are tech-startup veterans with significant experience in cryptocurrency markets. They leveraged this knowledge to rapidly grow Swan Bitcoin into a top-ranked Bitcoin exchange in just a few years since its founding.
The mission of Swan Bitcoin is to create the best way for users to buy Bitcoin through a centralized exchange. [8] The team invests heavily in Bitcoin-based companies focusing on creating media, like books and podcasts, aiming to adopt Bitcoin.
Additionally, Swan Bitcoin leverages a team of market experts and advisors to help users make smart financial decisions about Bitcoin. [9]
Trader Tools & Trading Experience
Swan Bitcoin prioritizes long-term investing to mitigate the risks associated with high volatility in cryptocurrency markets. The exchange believes that owning Bitcoin for longer periods can help users get a profitable return on their investments. [10]
Users seeking to buy large quantities of Bitcoin and hold them for significant lengths of time are well-aligned with Swan Bitcoin's mission. However, traders who frequently buy and sell cryptocurrency assets in the short term may not benefit from the platform. 
For these highly active users, Swan Bitcoin also lacks to provide helpful trading tools like price charts and order trackers and does not allow the operation of perpetual or leveraged trading through the exchange.
What Cryptocurrencies are Available on Swan Bitcoin?
As the name suggests, Swan Bitcoin only supports the trading of Bitcoin.  Users are eligible to buy, sell, and transfer only Bitcoin on the platform. 
Swan Bitcoin is unlikely to offer other cryptocurrencies because they believe Bitcoin investments will offer significantly better returns than other assets. [11] 
Although users do not have access to other top cryptocurrencies, they gain a high level of expertise and security when making Bitcoin transactions, a trait not found at other exchanges.
Security: Is Swan Bitcoin Safe & Secure?
Swan Bitcoin utilizes several security protocols to ensure the safety of all assets handled by the exchange.
All Bitcoin stored on the platform is managed by Prime Trust, a trust company that handles assets for some of the biggest companies in the world. [12] The Bitcoins are stored offline in cold-storage wallets to ensure that malicious contracts cannot interact with users' assets. Swan Bitcoin cannot move these assets unless the user approves the transfer.
Additionally, Swan Bitcoin uses a strict verification process before allowing users to trade in order to minimize illegal activities like money laundering and tax evasion on the exchange. New users must provide a valid driver's license, social security number, address, and phone number to verify their identity at signup.
Customer Support: Contacts & How to Get Help
Swan Bitcoin offers a live customer support hotline available on weekdays during business hours. Users can call +1 (218)-379-7926 to connect with a support member and get direct help resolving issues related to the exchange.
For complex issues, Swan Bitcoin also provides a Support Center where users can submit a help ticket and expect an email response within 12 business hours.   
Due to its rapid support system, Swan Bitcoin maintains higher customer satisfaction than other exchanges. By investing in a dedicated live support team, the exchange can quickly remedy any problems users may face.
KYC, Taxes & IRS Reporting Details
Swan Bitcoin requires users to complete the Know-Your-Client (KYC) process before using the platform. To complete KYC, users must submit a valid form of photo identification, such as a driver's license, passport, or green card, in order to get verified. 
Swan Bitcoin complies with all IRS reporting requirements. Users who accrue over $600 of capital gains from cryptocurrency investments must report their profits to the IRS. Although Swan Bitcoin employs tax specialists to assist with this process, it is still recommended that users independently record all cryptocurrency transactions they make.
Who It's Best For?
Swan Bitcoin is one of the most accomplished cryptocurrency exchanges specializing in Bitcoin transactions. International and U.S. users can use expert advising and investment services to strategically grow their Bitcoin investments.
Advanced traders, corporations, and users with significant portfolio sizes can take advantage of the wide variety of account management strategies offered by Swan Bitcoin. The exchange is best suited for users who plan to accumulate Bitcoin in a multi-year investment strategy. This strategy is suited for Swan Bitcoin because purchasing large quantities of Bitcoin through other exchanges would incur hefty fees that can be avoided by using Swan Bitcoin.
New users can use Swan Bitcoin to gain exposure and knowledge of Bitcoin technology. Although most investment plans are tailored to large investors, new users can grow their Bitcoin holdings through Swan Bitcoin's automatic savings tools.
Low fees, expert management, and quality customer support are all factors that make Swan Bitcoin an ideal choice for any cryptocurrency investor interested in Bitcoin.