Sofi Credit Card Review: Pros, Cons, and More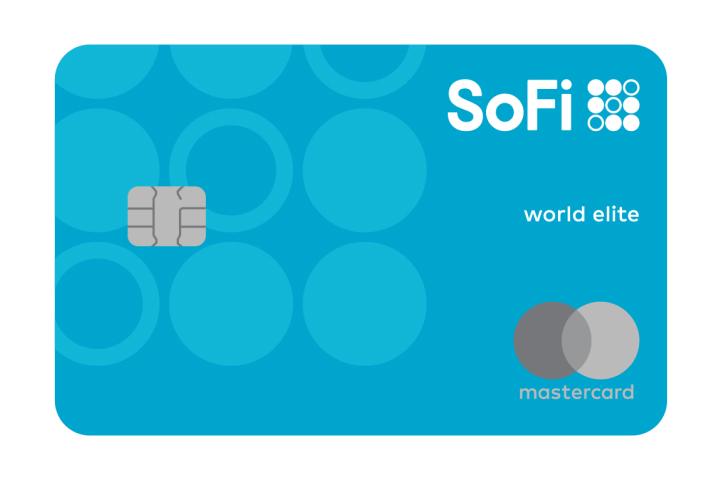 SoFi Credit Card
$0-annual-fee credit card
Give 2% cashback on all eligible purchases
Include cryptocurrencies in its credit card offerings
Pros:
1% APR for 12 monthly on-time payments
Access to helpful financial services
No annual or foreign transaction fees
Cons:
Cashback restrictions
A good-to-excellent credit score to qualify
SoFi Credit Card Ratings and Reviews
SoFi Credit Card was launched by Social Finance, Inc. (SoFi), operating as an online personal finance company and online bank. Providing financial products, including student loans, mortgages, and crypto investing through mobile app and desktop interfaces, the company also offers SoFi Credit Card as a $0-annual-fee credit card that earns 2% cashback on all eligible purchases.
The card provides exclusive rewards, cashback, and no annual fees. It also has a 1% APR promotional period for those who make 12 monthly on-time payments, making it an attractive option for people looking for a short-term loan.
Additionally, the card has no foreign transaction fees, making it an ideal option for those who travel internationally.
The SoFi Credit Card is also among the first to include cryptocurrencies in its credit card offering. Credit card users may transfer their SoFi Rewards Points under the SoFi Member Rewards Program to their SoFi Crypto Account as a cryptocurrency with no commission or transaction fees.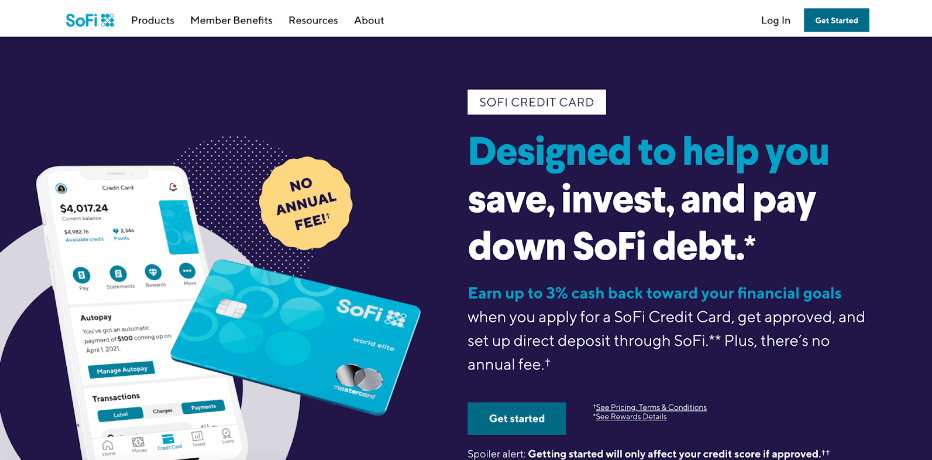 SoFi Credit Card Pros
Zero fees:

There are no annual or foreign transaction fees associated with the SoFi Credit Card. This allows credit card users to avoid unnecessary charges that could negatively affect their overall finances.

1% APR for 12 monthly on-time payments:

The SoFi Credit Card offers a 1% APR for on-time payments, allowing users to save money on interest payments and pay down their balance faster.

Generous rewards program and access to

World Elite Mastercard Benefits

:

The SoFi Credit Card offers a special rewards program, including a generous cashback rate on all purchases and bonus rewards for select categories, such as dining and travel. The SoFi cardholders earn 2 SoFi Rewards Points for each dollar ($1.00) they spend on their SoFi Credit Card. Users can redeem those points for cash back, crypto, gift cards, travel, and more.

Access to helpful financial services:

As a member of the SoFi community, cardholders can access useful financial tools, such as budgeting tools, educational courses, and career counseling.

Security:

Users can enjoy peace of mind knowing that SoFi Credit Card is protected by advanced security features such as

Mastercard ID theft protection

™
SoFi Credit Card Cons
No 0% APR:

The SoFi Credit Card does not offer a 0% APR promotional period. Any purchases or balance transfers made with the card will begin accruing interest immediately.

Cashback restrictions:

The SoFi Credit Card offers 3% cashback for a year when setting up direct deposit with SoFi. After that, the company gives 2% cashback on every purchase, but not every cardholder can redeem at that rate. This rate is only available when users redeem their purchase rewards for cash into a SoFi savings, investment, or crypto account or put them towards a SoFi loan. If users use rewards to pay off their credit bill, the cashback rate drops to 1%.

Credit Score Barrier:

The biggest con of the SoFi Credit Card is that it requires a good-to-excellent credit score to qualify. It's unlikely that someone with a poor credit score can obtain this card. Users just starting or who have had financial hiccups in the past might not be able to access the rewards and benefits of this card.
SoFi Credit Card Features
A few key features of the SoFi Credit Card make it a great choice for those looking for a credit card option with a flexible reward program and no annual or foreign transaction fees. 
The SoFi Credit Card offers a SoFi

Rewards Program.

When SoFi Credit Card holders set up direct deposits through SoFi, they can earn up to 3% cashback. Rewards Points can be redeemed for a statement credit to users' SoFi Credit Card Accounts, digital currency credited to users' SoFi Crypto Account, cash deposited into users' SoFi Money Accounts or users' SoFi Bank Checking or Savings Accounts, shares credited to users' SoFi Invest Account, cash to be applied to the outstanding balance of users' SoFi Student Loan Refinances or SoFi Personal Loans, or for promotional rewards offered under the SoFi Rewards Program. Details can be found on the company's

website

.

Sofi Credit Cardholders benefit from

cell phone protection

and get up to $1,000 of complimentary cell phone insurance coverage. They also receive World Elite Mastercard® Benefits, including $5 monthly credits from Lyft, free annual membership to Shoprunner, a 3-month free trial of DashPass, and

more rewards.

Partnering with

Mastercard

, SoFi Credit Card users' personal information is safeguarded against fraud within

Mastercard ID theft protection

™.

SoFi offers an all-in-one mobile app that is easy to use and provides a convenient way to manage users' credit card accounts and pay their bills easily.

Tap to pay feature:

Sofi Credit Card has a contactless payment feature on its card. Additionally, users can win a welcome bonus between $10–$10K in rewards points with a credit card's

Tap to Play

feature.

SoFi Rewards Program members can redeem points into digital currency by opening

SoFi Invest and SoFi Crypto accounts.
SoFi Credit Card Pricing and Fees
There is no annual fee for SoFi Credit Card, but other fees apply for different transactions. 
For example:
Cash advance charges are subject to a 5% or $10 minimum fee for each transaction, plus any ATM fees. 

There is a minimum withdrawal amount of $40 and a daily limit of $1000 per day.

SoFi assesses a fee for each crypto transaction outside of automatic direct deposit purchases.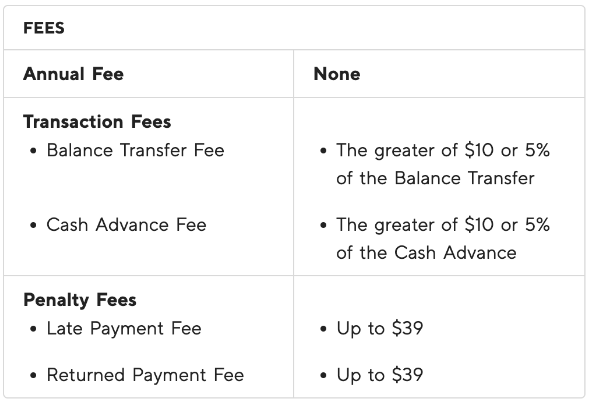 SoFi Credit Card Company Background
California-based SoFi is a technology-driven company that provides financial services to small businesses and individuals. The company was founded in 2011 by four students from Stanford University: Mike Cagney, Daniel Macklin, Ian Brady, and James Finnigan. The four founders initially developed their lending platform to help graduates of elite universities refinance student loans. After extensive market research and utilizing their backgrounds in technology, the company grew substantially over the next decade. 
At the start of 2015, SoFi raised its largest round of funding to date, earning a $1 billion investment from Softbank Group¹. With this additional funding, the company was able to expand further into insurance services, career coaching, and investing.
In 2016, SoFi acquired Zenbanx², a fintech bank, to offer customers other financing options beyond loan refinancing. This included checking and savings accounts with access to international payments, currency exchange, and debit cards. 
Most recently, in 2020, SoFi began offering its customers an online stock trading service. By signing up for SoFi Invest, they could buy and sell stocks and crypto assets without commission fees or account minimums. 
SoFi has over 4M members who earned $35M in rewards. The company continues to offer a wide range of products and services, including loans, investments, savings accounts, student loan refinancing, and more. It has a significant market presence and offers customers convenient digital access that allows instant approval loans, personalized credit advice, straightforward fee structures, and other unique features. The company's technology platform is built on consumer insights, allowing it to deliver the best product to its customers while improving their financial health and overall financial literacy. SoFi's mission is to help its members achieve financial success and provide an incredible customer experience.
How does SoFi Credit Card work?
SoFi's Credit Card works like any other traditional credit card. Cardholders can make purchases, transfer available funds from their SoFi Money account, and pay their bills. Users receive monthly statements with their purchases, payments, and balance due. With the SoFi Credit Card, users also get financial benefits such as no annual fees, no foreign transaction fees, cashback rewards, and access to the SoFi Invest program. Additionally, the card is embedded with a Mastercard® for added convenience during checkout.
SoFi Credit Card User Experience
The SoFi Credit Card user experience is designed to be simple and straightforward. The website and mobile app have clean and modern designs, and the various options available for cardholders are easy to navigate. Upon logging in, users can view their spending history, manage their accounts, redeem rewards points, check their credit score, and apply for additional credit cards. 
Users can apply for the card directly on the SoFi website or the mobile app. However, there will be a hard credit pull as part of the application for SoFi Credit Card, impacting the users' credit score.
What coins are supported on SoFi Credit Card?
With SoFi Invest and SoFi Crypto accounts, users can trade Bitcoin, Ethereum, Dogecoin, Cardano, and 26 more coins—24/7.
The SoFi Rewards Program allows members to redeem points into digital currency by opening SoFi Invest and SoFi Crypto accounts. Users must have a minimum balance of 500 points in order to redeem. Currently, only Bitcoin and Ethereum are available as redeemable options. Digital currency redemption is unavailable in Hawaii, Nevada, and West Virginia³.
Security: Is SoFi Credit Card Safe & Secure?
SoFi credit cards are safe and secure. All transactions made with a SoFi credit card are encrypted for users' safety and security. Additionally, SoFi utilizes 128-bit Secure Socket Layer (SSL) security technology to ensure that all users' private data is never shared or accessed by any third parties. 
SoFi also uses two-factor authentication to protect access to users' accounts through the SoFi website or mobile app.
SoFi provides fraud protection to protect against unauthorized charges on users' accounts within Mastercard ID Theft Protection⁴ (IDT) accessing a number of Identity Theft resolution services. For this service, Mastercard monitors the surface, dark and deep web, searching for compromised credentials and potentially damaging use of SoFi credit cardholders' registered personal information to detect fraud at its inception.
Customer Support: Contacts & How to Get Help
SoFi Credit Card Customer Support is available 24/7 to answer users' questions and provide assistance. 
The best way to get in touch with them is by calling their Customer Service number at (844) 945-SOFI (7634).
Users can also contact them via email at help@sofi.com or chat with a representative online by visiting their website and selecting the "Chat Now" button on the left column of the screen. SoFi Credit Card has a Support page for users' questions.
Customer support can also be contacted on the company's social media accounts, including Facebook and Twitter.
Who is SoFi Credit Card Best For?
SoFi Credit Card is best for people looking for a competitive interest rate, rewards with spending flexibility, and low fees. The card also offers a competitive 1% APR promotional period for those who make 12 monthly on-time payments, bonus categories for rewards, no foreign transaction fees, and exclusive access to SoFi perks and networking events.
SoFi credit card also offers a tap-to-pay feature, a more preferred payment method, as they require less physical interaction and are more secure. Additionally, SoFi utilizes 128-bit Secure Socket Layer (SSL), two-factor authentication, and Mastercard ID Theft Protection to protect access to users' accounts through the SoFi website or mobile app.
SoFi enables Rewards Program members to redeem points in digital currency. SoFi Credit Card is ideal for students, recent graduates, people who prefer to redeem their rewards into cryptocurrencies, and those with fair to good credit scores.