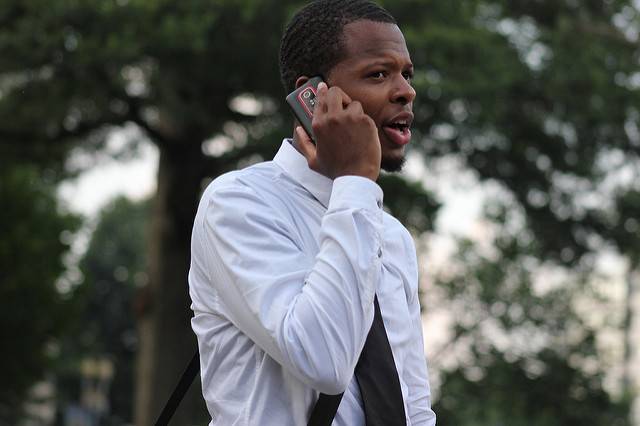 In the landscape of the modern office setting, mobile devices are as commonplace as desktop computers and laptops. Where businesses once gave laptops to valuable employees, now they often provide cell phones and tablets as well. Doing so increases productivity and encourages teamwork, but you can't just sign up for a phone plan before comparing carriers, figuring out which features you need, and assessing the habits and needs of your employees and co-workers.
Research Calling Habits
What are the mobile habits of your employees? Are most of the business calls they make local, or do they frequently call other cities, states, and even countries? That affects how you choose a calling plan. Most cell phone plans no longer differentiate between local and long-distance domestic calls. In other words, it doesn't matter if you're in Massachusetts and call someone in California. There still aren't any long distance charges.
Placing calls abroad is another matter, however, and might require add-ons to your plan, or something altogether different. Talk to different providers about what they offer. Some have options for free international calls, while other carriers have low-cost plans. It's worth checking into if only to avoid the risk of exorbitant fees should an employee have to call someone in another country.
Think About a Texting Plan
Not so long ago, people thought texting was unprofessional, or at least too casual. In the modern office setting, however, texting is as common as emailing was in the late 1990s and early 2000s. Bosses text their employees now. Colleagues stay in touch and have answers within seconds. Many clients appreciate working with businesses that text because of the convenience.
Get Started
Claim up to $26,000 per W2 Employee
Billions of dollars in funding available
Funds are available to U.S. Businesses NOW
This is not a loan. These tax credits do not need to be repaid
The ERC Program is currently open, but has been amended in the past. We recommend you claim yours before anything changes.
Bearing all that in mind, not only should you figure out how often your employees send messages and to whom, but you may also want to encourage the practice. Finding phone plans with unlimited texts is practically a given these days. As the medium becomes increasingly popular as a means of communication, everyone's doing it.
Check the Data
Data is another matter. You use data when you browse the internet and open apps. Not surprisingly, apps have a place in today's workspace. Slack and similar platforms enable teams of employees to have group chats where they can share information, upload files, and brainstorm together. Going over data allowances can result in hefty charges. You can reasonably assume that giving phones to your employees will involve app usage, so be proactive from the onset. Make sure your plan includes a reasonable amount of data based on typical work data usage by your employees. Ask employees to use Wi-Fi when available and to monitor their data usage.
Consider Company Travel
Do your employees travel often? Even if you have only one or two workers who go abroad for business, think about not just calling overseas, but also being overseas. Check international cell phone plans from carriers such as T-Mobile, which offers the T-Mobile One Plus International Plan. Plans like this allow users to make calls, send texts, and browse the internet with a reliable 4G LTE connection in another country. That's essential for several reasons, including safety. In dealing with clients, your employees may also need to reach you quickly. They shouldn't have to worry that their plan won't let them.
Double-Check Coverage Maps
What kind of coverage does each carrier offer? Not only should you compare coverage maps to see if a particular provider even offers service in your area, you also need to dig deeper to verify a strong and wide network. Just because a carrier says your area will have a reliable network, it doesn't mean you won't find yourself in an inexplicable dead spot. According to a report from OpenSignal, T-Mobile now has the fastest network in the nation.
To a lesser extent, you should also consider where your employees live. If they can't use their phones at home as well as at work, there's little purpose in having the phones.
It makes perfect sense to have a company-wide cell phone plan, especially if your employees and colleagues already often use their personal cell phones for work. Just make sure to pick a plan that also makes sense for your office. Consider all the contingencies before coming to a decision, and talk to your employees about what they want to see in an office plan.