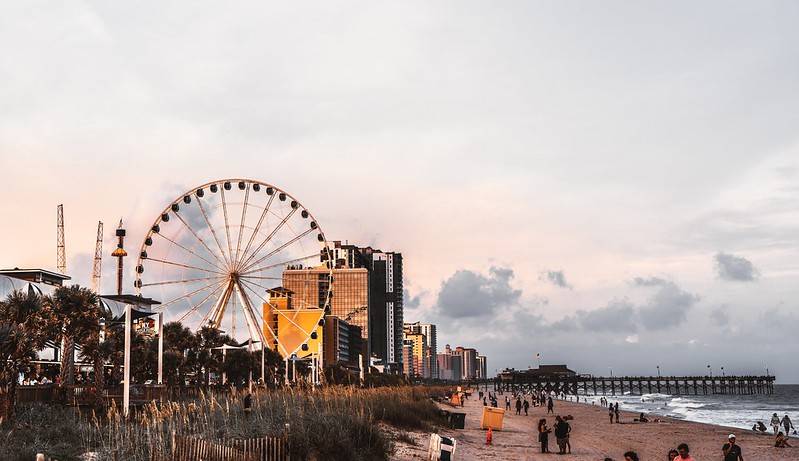 Investments are always a big decision. There are many factors to consider before you can make any investment decision.
Deciding on investment is sometimes downright difficult – especially for new investors. When it comes to investing in real estate properties, the choice and decision are even tougher to make.
The real estate industry is ever-changing. Factors like cost, interest rate, and demand are essential to analyze before jumping in..
Of course, you would not want to buy a property and get low returns from it.
So, to help you see the bigger picture, we are here with some of the reasons and some tips to invest in Myrtle Beach.
Rental rates are on the rise.
Myrtle Beach, the coastal city in South Carolina, is a hot spot for tourists and a great vacation spot. Millions of tourists come to relax or merely to see it's beauty every year.
Those who come here to spend vacations can afford it and get their own beach house and condos. And others prefer to stay in rentals or hotels.
For vacationers and tourists, rental is always a better choice than hotels when it comes to Myrtle beach.
So if you own a house within the 65 miles area of what Myrtle beach covers, your home will hardly stay unoccupied if you know the right tactics to attract tenants.
It will be an excellent opportunity for you to earn some rental income from your property. It's a stable income. You can pay your mortgage loans, if there is any, with this income.
And what's more interesting is rental prices are also on the rise. Given the rising demand for beach houses in the real estate industry, it is no surprise.
Get Started
Claim up to $26,000 per W2 Employee
Billions of dollars in funding available
Funds are available to U.S. Businesses NOW
This is not a loan. These tax credits do not need to be repaid
The ERC Program is currently open, but has been amended in the past. We recommend you claim yours before anything changes.
The declined interest rate on mortgage loans
First of all, you must know that, after the 2007-2008 fiasco of house and mortgage loans, this market has been brought under strict laws and is now very secure to invest. House construction and mortgage loans have lower risks now.
The correlation between house prices and interest rates is always negative. It is a general rule that when prices are down or stable, interest rates on loans are likely to be high and vice versa.
But this year, both interest rates and prices have been stable. In fact, mortgage interest rates are at a record low now. During June-July of this year, the interest rate on a 30-year fixed-rate mortgage loan was lower than 3% on average – something that has not happened in almost 50 years.
Therefore to avoid the burden of higher interest rates in the future, you might want to start looking for those Myrtle Beach townhome for sale ads now.
Remote work and the market of vacation homes
Though the coronavirus pandemic is gradually weakening now in various countries, it seems some of its trends will be here for longer or maybe forever. Such as remote working.
That being said, it is no wonder that people will choose quieter and close-to-nature places to hold their mental peace and balance their work. So, they will look for vacation homes, particularly the ones owned by individuals.
Generally, Myrtle Beach experiences a crowded summer and a quiet fall and spring with lesser tourists and traffic. But given everything is unprecedented this year, Myrtle Beach might also see an unparalleled fall season with more people than other years.
According to expert economists, the market for vacation homes will see a surge in the public interest if schools, colleges, and offices continue to run online in the coming year.
Security and management
As it is with every home-owner, taking care of the property and keeping it safe is a big concern.
It's a more significant concern if you own a property in Myrtle Beach. With popularity, Myrtle Beach also grew some uninvited phenomena; crimes.
According to an analytic report, Myrtle Beach became the 3rd most dangerous city in the USA. So you might want to recalculate your actual return considering the substantial expense gone into the security and management of your Myrtle Beach property.
Or are you altogether rethinking your decision already?
Well, keep in mind that you will also attract more tenants or renters if your property is safer.
Rising competition
If you have been dreaming of buying a property in Myrtle Beach, there may not be a better time for that.
Because the popularity and population of Myrtle Beach are increasing, the demand is going up too. And that, in turn, will drive the price up. It's evident from the last couple of years' data and the forecast.
Prices are only a little stable right now because of the Covid-19 situation. Experts predict the price will again rise within a couple of months.
If you were planning on buying a beach house or a condo, I think this is another reason to go for it this year. Or you will just have to be ready to compete with other buyers for your oceanfront beach house later.
Mind the Hurricanes too
Finally, hurricanes are a significant concern when it comes to living or investing in coastal areas.
Even though it's rare in Myrtle Beach to be directly hit by the storms, it does not hurt to take precautions. Hurricanes do make landfalls in Myrtle beach. But the outline of the coastline has made Myrtle Beach fortunate to avoid the storms.
Florida, Louisiana, and North Carolina are in more vulnerable positions compared to Myrtle Beach. In the passing decade, Myrtle Beach has gone through two semi-major hurricanes; Irene in August 2011 & Florence, 2018, both of which resulted in some heavy wind, rainfall, and floods in Myrtle beaches' part.
One good thing about investing in properties is that they tend to appreciate over time. Moreover, very few coastal and resort areas can boast the amenities Myrtle Beach offer in their wide range of properties.
With that being said, only more study and research can clear out any confusion you might still have and help you decide firmly.