Changelly Review: A Comprehensive Overview 2022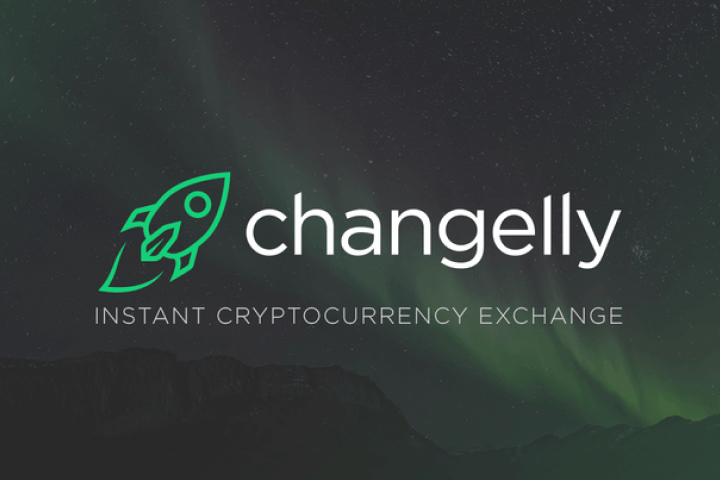 Changelly
Non-custodial cryptocurrency exchange that operates as an intermediary between crypto exchanges and customers.
One-stop experience for purchasing, selling, swapping, and trading cryptocurrencies with its user-friendly interface.
Offers two subscription plans for beginner and expert enthusiasts
Pros
Easy-to-use website and mobile app
24/7 live support available
Does not require KYC verification
Cons
Expensive transaction fees
Higher transaction time
Insufficient educational resources
Changelly Ratings and Reviews
Changelly is a non-custodial cryptocurrency exchange that operates as an intermediary between crypto exchanges and customers. By being non-custodial, Changelly does not have access to the private keys of its users and does not hold funds or assets for its customers. The platform provides more than 160 cryptocurrencies having 2M+ monthly traffic.
Changelly offers a one-stop experience for purchasing, selling, swapping, and trading cryptocurrencies with its user-friendly interface. The crypto exchange presents web3 services and products, such as Changelly Earn, Changelly Pro, and Instant Swap, to individual traders and businesses.
Except for Changelly Pro, the platform is one of the few exchanges that does not require KYC (Know Your Customer) verification for trading.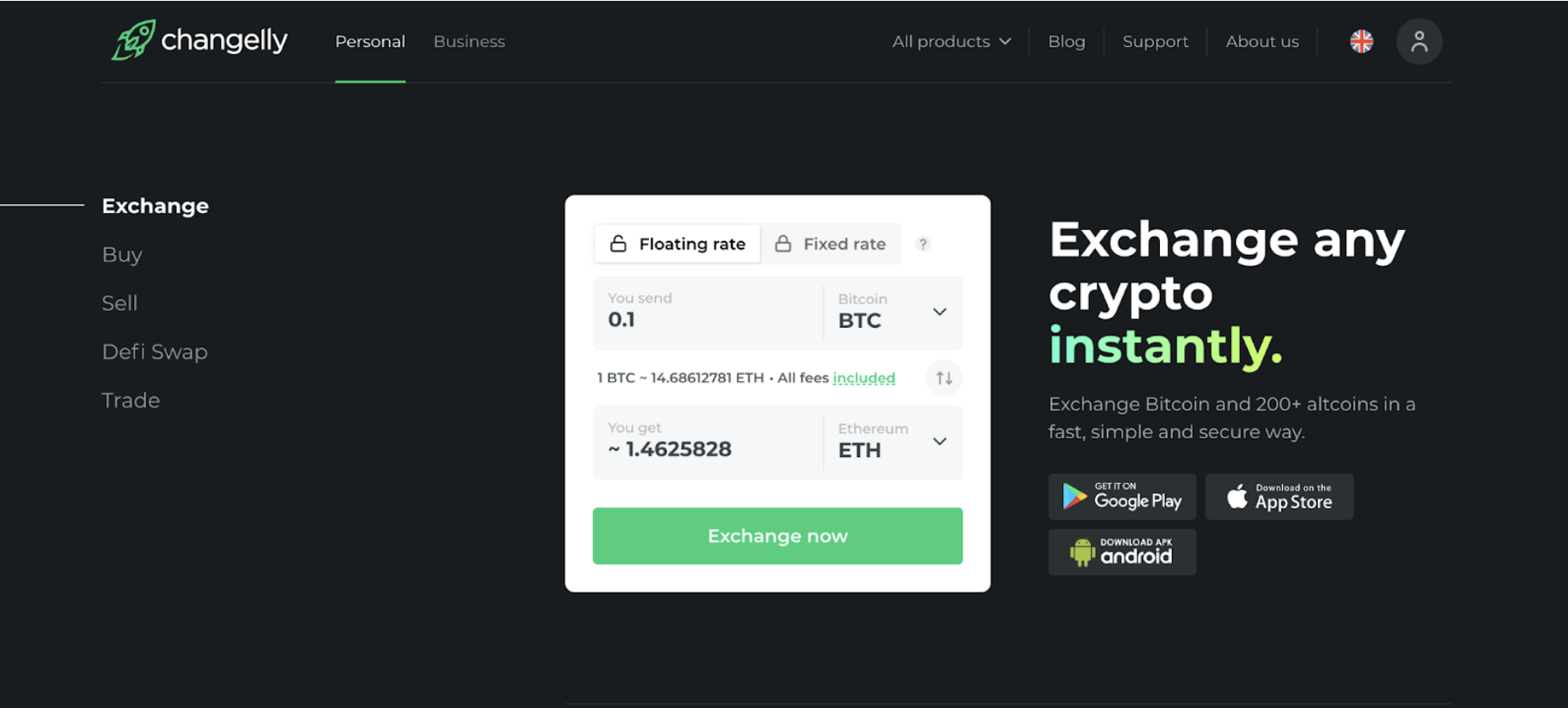 Pros & Highlights
The platform offers more than 160 tradable coins to its users.
Changelly users can use a credit card to purchase cryptocurrencies on its platform.
Easy-to-use UI: Changelly's website and mobile app interfaces are designed for beginner traders, allowing them to buy, sell and trade crypto without experience.
Anonymity: With its non-custodial structure, Changelly's users do not have to complete KYC verification to buy and sell crypto.
Integration: Since Changelly partners with several cryptocurrency exchanges and wallets, such as Binance, Bittrex, and Ledger, it integrates with them easily to provide a seamless trading experience for its user.
Customer service: Changelly offers 24/7 live support to its business users.
Cons & Risks
Transaction Fee: Changelly's crypto-to-crypto transaction fee is higher than most centralized exchanges. The platform charges a 0.25 percent transaction fee for a crypto-to-crypto swap.

Transaction Time: It may be higher than other centralized exchanges depending on the network of the requested transaction.

KYC: Changelly does not require KYC but may demand it if they flag a

suspicious

transaction.

Educational Content: Changelly has a curated collection of articles on various subjects in its blog

; however, it does not have a learning hub supported with video tutorials in foreign languages.
Changelly Features
The three most important features of Changelly allowing to stand out from its competitors are:
Fiat-to-crypto gateway

: Changelly allows users to buy cryptocurrency directly with a credit/debit card on its platform.

Cross-chain swaps

: On the platform, users can swap crypto tokens with

the DeFi Swap

feature between different blockchain networks. For example, Changelly customers can exchange ETH with BTC.

Affiliate program

: Changelly offers businesses its

affiliate program

and shares up to 50 percent of their revenue from crypto-to-crypto and fiat-to-crypto transactions. Businesses can also benefit from 24/7 live support from their personal affiliate managers.
In addition, the company offers distinct features in two different versions of the exchange: 
Changelly Instant Exchange
In Changelly Instant Exchange, users can access an easy-to-understand platform for buying, selling cryptocurrencies, and swapping DeFi assets. It is non-custodial, and users can reach the simple interface via its website or mobile app, available on iOS and Android, with an average rating of 4.7 out of 5. 
Changelly Pro 
Changelly Pro allows experienced users to trade, read signals from trading charts, and place a margin trade. The main difference between Changelly Pro and Changelly Instant Exchange is that Pro is a custodial full-featured exchange platform. Changelly Pro is a fully-equipped trading platform where users can take advantage of a multi-currency wallet to store various coins.It has a separate mobile app available on iOS and Android, with an average user rating of 4 out of 5.
Changelly Prices and Withdrawal Fees
On Changelly, the platform has two different types of fees and exchange rates:
Changelly applies a fixed fee of 0.25 percent for exchange cryptocurrencies, which is also included in the exchange rate. There is also a network fee option known as a floating rate. When users choose a floating exchange rate, the amount could change depending on the market conditions.
On Changelly Pro, there are three types of fees. On the custodial exchange, cryptocurrency deposits are free, but fiat currency deposit fees will vary from 1% to 7%, depending on the payment method and fiat provider. For the trading fees, Changelly employs the maker/taker model.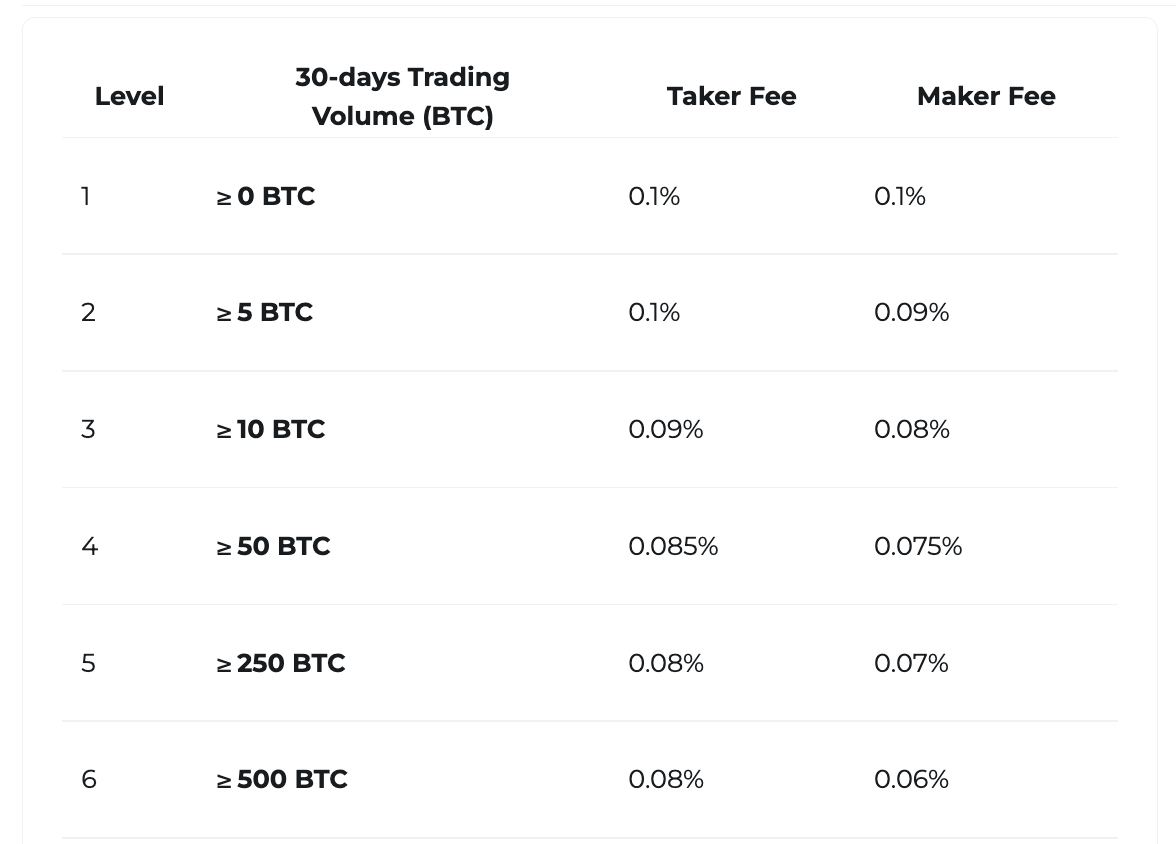 Regarding withdrawal fees, Changelly Pro states that they offer the lowest withdrawal fees in the industry, but the fees may vary depending on network, transaction, and withdrawal volume.
Company Background & History
Changelly was founded in 2015 in Prague, the Czech Republic, by Konstantin Gladych. Before launching Changelly in 2014, Gladych founded one of the oldest mining pools, MinerGate. 
From 2015 to 2018, Gladych served as Changelly's CEO and helped the platform's growth. By 2017, Changelly had grown 20x times since its launch and maintained a growth of 30 percent each month. 
To become one of the major swap platforms, Changelly partnered with various leading web3 companies, wallets, and exchanges such as Binance, Ledger, OKEX, Bittrex, Exodus, MyEtherWallet, and NEXO.
Over the years, Changelly expanded internationally by launching the Changelly Earn program, Changelly Pro, and other DeFi products. The crypto exchange platform is available in most countries worldwide but does not operate in countries where crypto assets transactions are explicitly prohibited, like the United States of America (including all USA territories like Puerto Rico, American Samoa, Guam, Northern Mariana Island, and the US Virgin Islands (St. Croix, St. John, and St. Thomas)
Trader Tools & Trading Experience
Trading features in Changelly Pro have a straightforward design interface, suitable even for first-time traders. Its intuitive terminal appeals to experienced traders, making it easy to place orders and read signals. 
The exchange provides crypto trading tools just as in every other exchange, including Price Chart, Sections for Market Price Order and Limit Order, Buy and Sell Sections, Order Book, Time & Sales Section, Market Depth, and TradingView.
The interactive terminal can also be customized according to traders' preferences. 
Traders wishing to place a margin trade need to verify their identities via the KYC (Know Your Customer) process. The highest leverage for margin trading is 10x in Changelly Pro.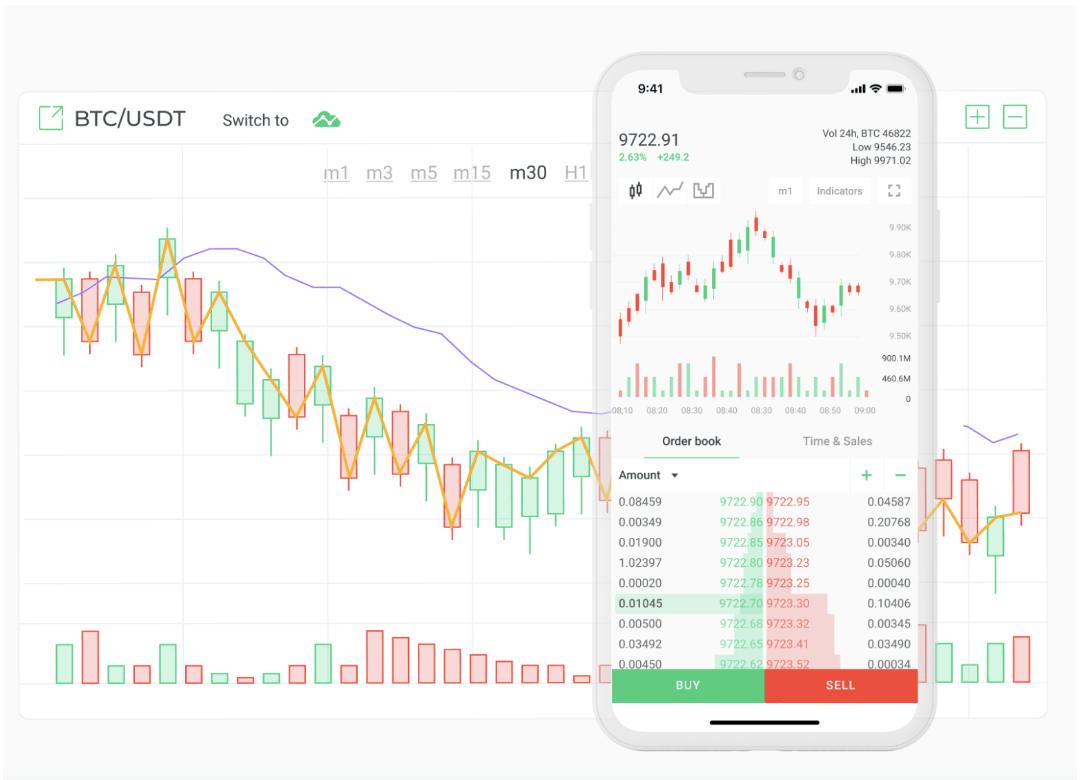 What Cryptocurrencies are Available on Changelly?
Changelly offers trading capabilities for popular cryptocurrencies such as Bitcoin, Ethereum, Dogecoin, and Ripple, but also supports low-market cap cryptocurrencies and DeFi tokens:
Zcash

Dash

K21

YFI

Aurora

Snow

AC Milan Fan Token

Alpaca

Dodo

GRT
A complete list of tradable cryptocurrencies can be found on their website.
Security: Is Changelly Safe & Secure?
Since Changelly Instant Swap Exchange is non-custodial, it is highly secure. The platform does not hold customers' funds, making it unprofitable for hackers to steal digital assets. 
On the other hand, Changelly Pro has a custodial structure. Custodial exchanges may be considered less secure than non-custodial exchanges since a third-party provider controls the private keys and funds of the users. In this case, Changelly Pro users must trust the company to secure their digital assets.
Changelly strongly suggests using a 2-factor authenticator (or 2FA) to safeguard crypto assets and guide its users through the process.
Changelly has never been hacked since its operation began, thanks to its strict security measures and solutions.
Customer Support: Contacts & How to Get Help
Changelly prioritizes customer support by providing a comprehensive knowledge database and FAQ section for users to troubleshoot any issues by themselves. 
For critical issues, users can reach customer support by submitting a ticket, interacting with the chatbox, or emailing support@changelly.com. Changelly also guides the user if customer service does not reply.When contacting the platform, Changelly requests to use English as the language of communication as the customers' queries could be misunderstood in other languages.
When contacting the platform, Changelly requests to use English as the language of communication as the customers' queries could be misunderstood in other languages.
KYC, Taxes & IRS Reporting Details
Changelly's AML/KYC policies are designed to ensure compliance with all applicable regulations in the countries they serve. Within these regulations, Changelly states that even though they are positioned as a cryptocurrency exchange that doesn't require revealing identities, they may demand additional information for KYC procedures if they uncover any suspicious transaction. 
Completing KYC requirements before trading on the Changelly Instant Exchange platform is advisable but not mandatory. 
In Changelly Pro, the exchange encourages users to complete the KYC process to benefit from the lower fees and higher limits. Users willing to open a margin account must pass the KYC procedure.
Who It's Best For?
Changelly is a beginner-friendly platform for those who want to buy, sell and exchange more than 160 cryptocurrencies.
The crypto exchange is better suited for individuals and businesses outside the United States looking for a non-custodial exchange and prioritizing anonymity. 
Experienced traders looking to access advanced charting tools and trade directly from their wallets can benefit from Changelly Pro.
DeFi swaps with cross-chain swap features and rare cryptocurrencies differentiate Changelly in the crypto industry.