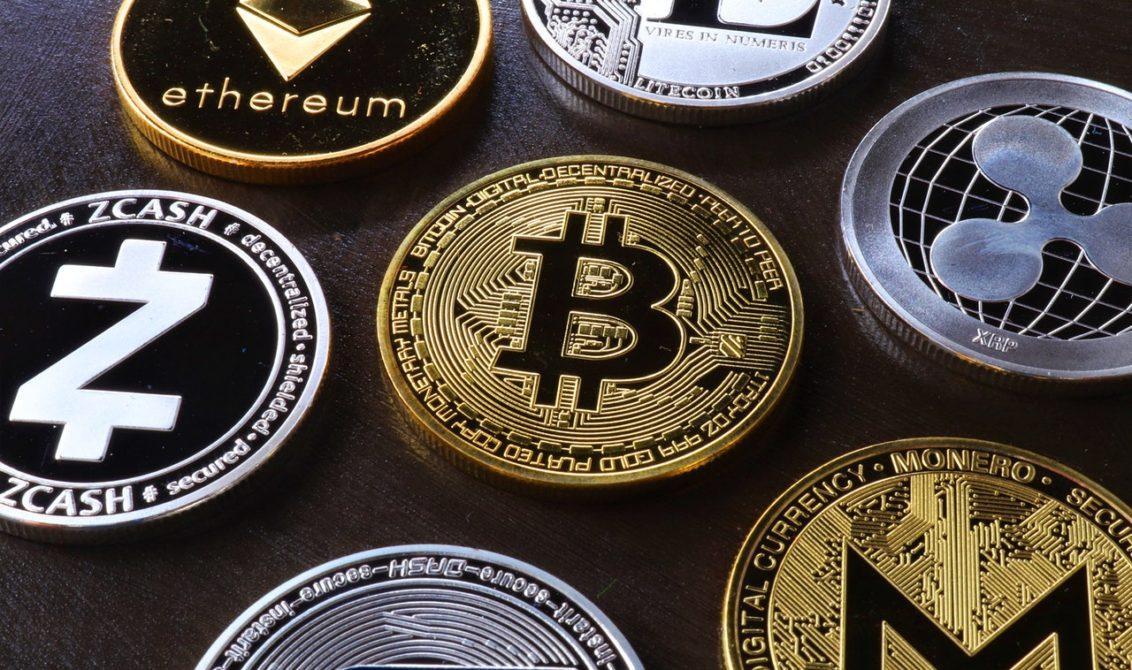 Nothing beats getting in on investment on the ground floor. If you can spot a winner before the rest of the pack catches onto its worth, you could be set for life. Investors have long searched for the next Microsoft (MSFT) or Amazon (AMZN) stock, but they may be looking in the wrong place. Take bitcoin. The leading cryptocurrency has made millionaires and even billionaires (think Winklevii) out of savvy early investors, its volatility notwithstanding. Now it is one of the hottest games in town, and investors want to know where the future of cryptocurrency will be.
Key Findings
There are many different types of cryptocurrencies, while somewhere between 4,500 and 5,130 of them have flooded the market.
Smart contracts are the wave of the future in the cryptocurrency and blockchain industry.
The most popular cryptocurrencies are not necessarily the ones that made the list of the most important ones.
Different types of cryptocurrencies made it onto the list, representing DeFi, privacy coins, green energy and more.
Thanks to the rise of markets like decentralized finance (DeFi) and non-fungible tokens (NFTs), which have thrust the cryptocurrency industry into the spotlight,  there has never been a better time to spot opportunities in crypto that could pay off in spades. This is especially true when you consider the future of cryptocurrency awaits. According to on-chain analyst Willy Woo, only 2% of the world is in crypto, which is a reminder of how "niche and small crypto is," he said.
The penetration of the market, however, is not necessarily a reflection of how many cryptocurrencies there are. In fact, there are thousands of them, depending on which crypto market data site you use. CoinMarketCap lists 5,130, while data site Statista says there are just over 4,500. Either way, you are sure to spot some gems — and maybe even spot the best cryptocurrency to buy in 2021 — if you look in the right place.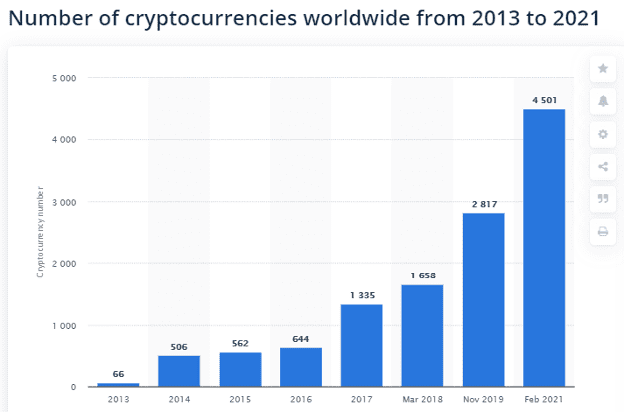 Source: Statista
We've compiled a list of the 10 most important cryptocurrencies other than bitcoin to help you on your journey:
1. Ethereum (ETH)
Ethereum: Even though Ethereum is well known, it bears repeating, given its role in the market. Ether, the cryptocurrency that fuels the Ethereum network, is the second-biggest cryptocurrency based on market cap. Its value ballooned about 170% through the first six months or so of 2021, solidifying its role as a high-growth investment and one of the most popular cryptocurrencies.
Ethereum has been the network of choice for projects comprising some of the biggest trends in crypto, from initial coin offerings (ICOs) to the DeFi and NFT markets. While ICOs have come and gone, Ethereum has stood the test of time.
Ethereum is dubbed a super-computer known for the emergence of smart contracts, which are the digital rendition of normal contracts that are settled on the blockchain using code in a trustless way, meaning there is no need for a third-party provider.  Smart contracts are used in markets like DeFi, where code is stored on the blockchain and terms are executed when the preset conditions are met.
As of May 2021, there was USD 77.3 billion in total value locked on Ethereum, representing the dollar amount of the tokens secured on smart contracts in DeFi on the Ethereum blockchain. DeFi has led to the rise of more sophisticated crypto instruments, giving market participants the opportunity to bolster their returns through various activities such as staking and yield farming, all of which have been a game-changer for investors.
Ethereum developers are also in the process of building ETH 2.0, the first phase of which was launched in December 2020, which will bolster the scalability of the network and lead to speedier and cheaper transactions on the blockchain. This is widely expected to increase the network's role in the industry among individual and institutional market participants alike, which stands to benefit the cryptocurrency that powers the network, Ether.
2. Dogecoin (DOGE)
Dogecoin may have started as a joke back in 2013, but investors are having the last laugh. DOGE has evolved into one of the most popular cryptocurrencies ever to come on the scene, thanks largely to the endorsement of billionaire entrepreneur Elon Musk. The Tesla chief is working with Dogecoin developers to make it more sustainable, making DOGE one of the cryptocurrencies to watch in 2021.
When you consider that DOGE returns have outpaced those of almost every other asset in the first five months of 2021, it's clear that it is one of the cryptocurrencies to watch. In fact, so far, DOGE has been the best cryptocurrency to buy in 2021, having generated returns of more than 6,500% through May 21, exceeding the returns of both BTC and Ether.
Now that Dogecoin, whose mascot is a Japanese Shiba Inu dog breed, has the stage, its use cases are also on the rise, fueling its importance. Below are some of Dogecoin's finest moments:
Elon Musk is considering accepting DOGE as a payment method for Tesla vehicles.
The American Cancer Society accepts tax-deductible DOGE donations.
A Jamaican bobsled team raised more than USD 30K in DOGE through the Dogecoin Foundation to finance their trip to the Sochi Winter Olympics in 2014.
DOGE is a popular tipping method.
Dogecoin has one of the strongest community backings.
One risk to DOGE is that it is an inflationary coin, considering that there is no cap on the amount of supply that can be created. This differs from bitcoin's inflation schedule, where there is a cap of 21 million coins ever to be mined.
Now that energy consumption has become a sticking point in the cryptocurrency industry, energy-efficient cryptocurrencies are becoming all the rage. That is why the next two cryptocurrencies, CSPR and EWT, made our list of the 10 most important cryptocurrencies other than bitcoin.

3. Casper (CSPR)
Casper calls itself the "future-proof blockchain" and the "blockchain for the builders." The project was touted by cryptocurrency analyst Mati Greenspan as an energy-efficient blockchain. CSPR, the digital currency that powers the network, made our list as one of the top 10 most important cryptocurrencies other than bitcoin. Casper Labs touts its green model for giving organizations the ability to get the "best of both worlds" in terms of decentralization and sustainability.
The project uses a proof-of-stake (PoS) consensus algorithm and relies on the "Casper CBC specification." It touts itself as being a greener alternative with a "lower carbon footprint" than the Bitcoin and Ethereum networks. In fact, the Casper team states that it is as much as 136,000% more energy efficient than other blockchains, most notably Ethereum and Bitcoin, consuming far less energy in a year than its peer networks.

Source: Casper Labs
Casper had its public sale in March 2021, and it remains in the early days for the project and the coin. It has won the support of crypto investment firms such as Evangelion Capital, which said it "invested significant capital" in the project at that time. Casper is surely one of the cryptocurrencies to watch.
4. Energy Web Token (EWT)
Energy Web also falls into the green energy investment bucket, as it participates in the global power sector. Energy Web is behind the Energy Web Decentralized Operating System (EW-DOS) designed to accelerate low-carbon energy transmission via open-source digital technology. The project is powered by the Energy Web Token (EWT), which has a number of use cases, including:
Rewarding validators with transaction fees and block rewards
Payment for EW-DOS middleware services ("key management, name services, messaging, and storage that streamline and enhance front-end applications," according to the project.)
Energy Web counts among its members and project partners companies like Shell, Engie, Elia Group, and PTT Group, to name a few, and it is likely to have a role in the future of cryptocurrency.
The project was included in Bloomberg NEF's report dubbed "Blockchain Opportunities in Power Still Abound," which determined that the total addressable market for blockchain in the power sector could potentially exceed USD 100 billion in less than a decade. The market growth will be fueled by apps for "renewable energy certificates, power purchases agreements, cybersecurity, AI and transactive energy," as a result of which startup Energy Web Token is positioned to benefit. Energy Web Token is another cryptocurrency to watch.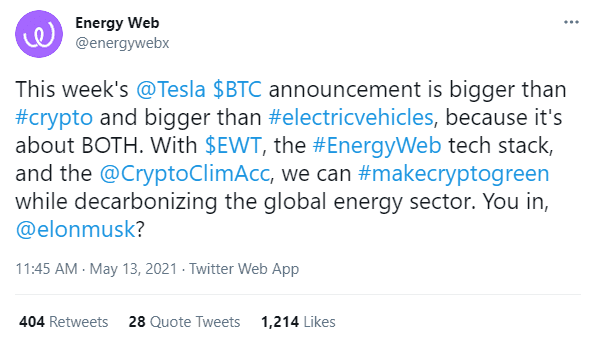 Source: Twitter
5. Polkadot (DOT)
Polkadot is a protocol that supports the interoperability of blockchain networks in the burgeoning DeFi space. The shared multi-chain network is powered by the DOT token, which has muscled its way into the top 10 cryptocurrencies by market and whose trio of use cases include:
Governance — DOT holders control the protocol, including upgrades and fixes.
Staking —Polkadot uses a nominated proof-of-stake (NPOS) system to choose validators who can engage in the protocol and keep the network secure.
Bonding — A component in the PoS system in which new parachains are added by bonding tokens, which is akin to a lock-up period and strengthens the token holder's relationship with the project.
Polkadot has achieved cult-like status in China, thanks in part to the project's founder, Gavin Wood, who counts China as part of his dual-residence. The Polkadot ecosystem in China comprises developers, investors and influencers alike, who support the project's decentralized technology as well as its investment potential.
Polkadot experienced more than a 40% jump in the number of developers building on the protocol in the 12-month period leading up to May 2020 while the Bitcoin and Ethereum networks both suffered declines. Meanwhile, Outlier Ventures has dubbed Polkadot as an up-and-coming project for smart contracts and decentralized applications (dApps).
Based on its popularity and role in the DeFi space, Polkadot is one of the most popular cryptocurrencies and also appears to have secured a spot in the future of the cryptocurrency market.
6. Zcash (ZEC)
Zcash (ZEC) is a privacy coin, a different type of cryptocurrency, that was "built on the original Bitcoin codebase." One key difference, however, is that Zcash, which was created by scientists from the likes of MIT and Johns Hopkins, harnesses zk-SNARKs, a type of zero-knowledge cryptography, to protect a user's privacy.
Zcash's charm is that it is able to provide shielded transactions via encryption on the blockchain while also verifying transactions as per "consensus rules" through zk-SNARK proofs. Considering that blockchain transactions, in general, are mostly public, Zcash's ability to shield user information makes it important to a cryptocurrency community that appreciates anonymity. That's why Zcash is also one of the most popular cryptocurrencies.
7. Aave (AAVE)
Aave is an open-source and non-custodial DeFi protocol of which AAVE is the native cryptocurrency. Users have the ability to generate interest on deposits and borrow assets via smart contracts, all without the need for a bank. Built on the Ethereum network, Aave supports numerous cryptocurrencies and stablecoins for borrowing and lending, such as Ethereum (ETH), Basic Attention Token (BAT), and Decentraland (MANA), all different types of cryptocurrency. Aave is important to the cryptocurrency ecosystem because it is one of the DeFi protocols, paving the way for the unbanked or underbanked to gain access to financial tools that would otherwise be out of reach to them. Aave is sure to play a role in the future of cryptocurrency.
8. Solana (SOL)
Solana is a high-speed blockchain, the native cryptocurrency for which is SOL. Solana technologists, who hail from tech giants like Intel, Google, and Twitter, are known for their innovation while the Solana Foundation has been able to attract millions of dollars in funding rounds as well as to support projects in the SOL ecosystem. Its uniqueness is in its ability to scale transaction throughput with greater efficiency than leading blockchains Bitcoin and Ethereum. Solana can complete more than 50,000 transactions each second and can continue to scale without having to rely on security-compromising sharding. This makes Solana one of the cryptocurrencies to watch for sure.
9. Tether (USDT)
Tether (USDT) is the first and most popular stablecoin, and it is likely to play a role in the future of cryptocurrency. Considering that it is pegged 1:1 to the U.S. dollar, Tether makes a good replacement for fiat currency, giving traders the ability to move funds between exchanges or individuals without needing to rely on slow and cumbersome banks.
This feature also makes Tether a popular choice for institutional investors. While Tether is a controversial stablecoin whose U.S. dollar reserves have been called into question, it is widely available to big investors on trading platforms like Coinbase Pro and therefore isn't likely to lose its prowess as one of the top cryptocurrencies any time soon.
10. Binance Coin
Binance Coin (BNB) is a good example of a cryptocurrency whose value can rise as the number of use cases for the coin increases. BNB, which has made itself a fixture in the top 10 cryptocurrencies and often hovers among the top five spots, is the native cryptocurrency of Binance, the largest cryptocurrency exchange in the world based on trading volume.
Binance not only operates a spot exchange but it also runs a decentralized exchange (DEX) as well as platforms Binance Chain and Binance Smart Chain, all of which rely on BNB Coin to pay for trading and transaction fees. Token holders can also participate in token sales on Binance Launchpad using BNB Coin. In addition, BNB Coin could be used as a method of payment at certain merchants and while traveling. All of these use cases create greater demand for BNB Coin, making it one of the most popular cryptocurrencies to date.
Conclusion
Whether you are an individual or an institution, Bitmart will help you buy, sell, and store your cryptocurrency. Bitmart crypto exchange provides several finely tailored services, including listing numerous top-grade digital assets for our clients to invest and success, providing an industrial developer platform for advanced traders, and customizing the best-fit assets management solution for institutions of all sizes.
Clearly, there are many different types of cryptocurrencies, all of which contribute something unique to the broader crypto ecosystem. While the cryptocurrencies to watch are subjective, any of these coins could arguably be included on a top-10 cryptocurrency list. Just remember to do your own research (DYOR), as cryptocurrencies can be risky investments.