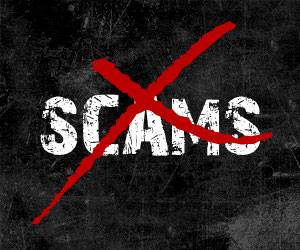 Even though the internet is one of the biggest inventions in the history of human civilization, it does have many flaws. One of those is that it's not too secure. Sure, online security is getting better all the time, but the fact is that cybercriminals are still a major threat. They steal hundreds of billions of dollars from users a year. Some use their software skills to rob unsuspecting users off their funds; others use wits to trick people into giving them the money.
The latter have become a serious problem lately in the world of online business, including everything from cryptocurrency mining to forex trading. If you're planning to start your forex trading journey, you need to be aware that there are some fraudsters out there, looking to take advantage of inexperienced users. That's why it's crucial to do business only with those brokers who carry a license issued in your country. If you live in the United States, you need to focus on finding US regulated forex brokers.
Finding such a broker is more difficult than you might have imagined. You can't just Google it, you need to actually do some research. And here are some things you need to investigate.
Make Sure the Broker Isn't Blacklisted by CFRC
The most important thing to do is to make sure your preferred FX broker is CFTC registered. CFTC or the Commodity Futures Trading Commission is a federal agency in charge of forex trading regulations. Every single broker that wants to do legit business with US citizens should be registered at CFTC.
Get Started
Claim up to $26,000 per W2 Employee
Billions of dollars in funding available
Funds are available to U.S. Businesses NOW
This is not a loan. These tax credits do not need to be repaid
The ERC Program is currently open, but has been amended in the past. We recommend you claim yours before anything changes.
The problem is that it's difficult to find a list of CFRC-registered brokers, even if you try to do it on the official website of the commission. But, there's one thing you can find there – a list of brokers operating illegally in the United States.
The so-called RED list (RED stands for Registration Deficient) has hundreds of entries and is regularly updates. Our advice is to check out the list and look for the FX broker you're planning to do business with. If their name is on the list, you should immediately dismiss any cooperation with them.
You can find the RED list at smartcheck.gov/redlist.
Is the FX Broker Registered at National Futures Association (NFA)?
The next thing you need to find out is whether the broker is a member of the NFA. If you're not familiar with this, NFA stands for National Futures Association, which is a self-regulatory organization dealing with everything related to the derivatives industry in the United States. If the broker is not its member, the chances are that there's something shady going on.
To check whether the FX broker is a part of the NFA, you should look for its NFA number which is usually found on the About Us page on the site of the broker. But, even if you find a number there, it's still wise to check it in NFA's register. To do that, go to the official site of the association, which is nfa.futures.org.
Author Bio:
Meet Morakhiya is a personal finance and investment writer from Mumbai, India. He has been investing since he was 15 and has learned a lot through the years. He specializes in creating passive income and financial security through value investing and real estate. To get in contact with Morakhiya, feel free to reach out to him via email.