ELLIPAL Titan Review: Pros, Cons, and More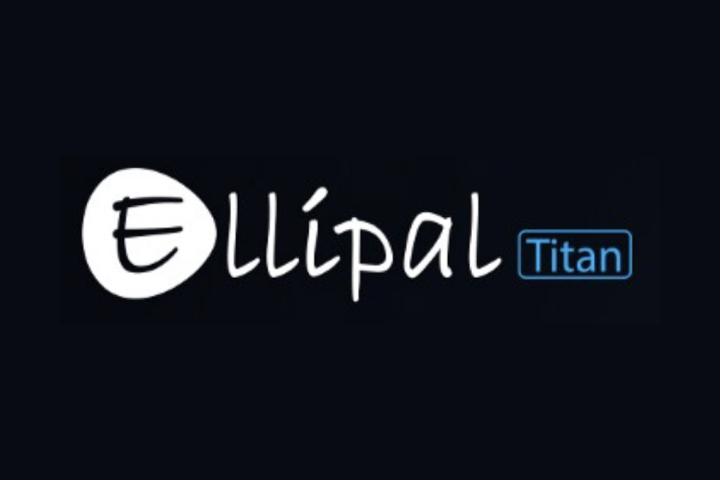 ELLIPAL Titan
Secured with proprietary air-gapped technology
Offers original and mini versions
Tough-screen guided interface
Pros:
Supports over 10,000 tokens
NFT support capabilities
Integration with MetaMask and WalletConnect
Cons:
Inefficient customer support channels
Lengthy delivery times
Tedious transactional process
ELLIPAL Titan Ratings and Reviews
The ELLIPAL Titan hardware wallet provides a unique approach to cold storage security through its proprietary "air-gapped" technology, keeping the device 100 percent isolated from the internet. With multiple size options, support for over 10,000 tokens, and NFT storage capabilities, ELLIPAL provides excellent accessibility to users. 
Complete with a feature-packed mobile app, useful accessories, and touch screen interface, the ELLPIAL Titan provides a comprehensive user experience for cryptocurrency investors.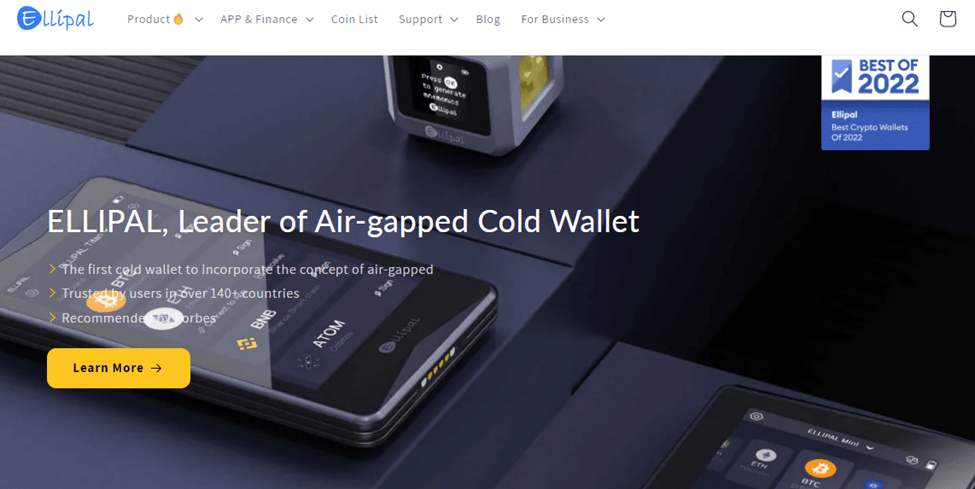 Highlights
ELLIPAL's

proprietary air-gapped technology

provides an

additional layer of protection

.

Users can choose from the

Original ELLIPAL Titan Wallet

or the more compact

Mini ELLIPAL Titan wallet

.

ELLIPAL provides a

user-friendly mobile app

available on

Apple App Store

and

Google Play Store

with an

average user rating of 4.6 out of 5.

ELLIPAL offers

NFT support capabilities

.

Users have

access to over 10,000 tokens

, including

many of the most popular cryptocurrencies

.

ELLIPAL wallets are

easily integrated with MetaMask and WalletConnect.
The ELLIPAL Titan wallet is intuitively navigated

through a

touch-screen guided interface

.
Risks
Users may experience

inefficient customer support channels

, but do have access to an

extensive FAQ section

.

The

delivery times for ELLIPAL products may be lengthy

depending on user location.

The transaction process may seem tedious

for beginners initially.
ELLIPAL Titan Features
Mobile App: ELLIPAL Titan wallets utilize the mobile app as a proxy to connect with the blockchain to initiate transactions from the wallet. In addition to transactional capabilities, the app also provides a number of features, such as swapping, staking, and MetaMask integrations, to provide a complete experience. 
ELLIPAL Blog: ELLIPAL provides its users with a reputable source of information through the ELLIPAL blog. Covering relevant industry narratives, safety tips, and project reviews, the blog seeks to educate its users so they can make the most of their crypto. 
Mnemonic Metal: A device designed to conveniently protect users' safety phrases. Allowing up to 24 words, the Mnemonic Metal device allows users to store their security phrase protected with mnemonic encryption, so only the owner can decode the phrase.
ELLIPAL Titan Pricing and Fees
The prices of ELLIPAL Titan products are largely in-line with similar hardware wallets available. The flagship ELLIPAL Titan Cold Wallet is priced at $169 USD, whereas the ELLIPAL Titan Mini Cold Wallet is priced at $99 USD.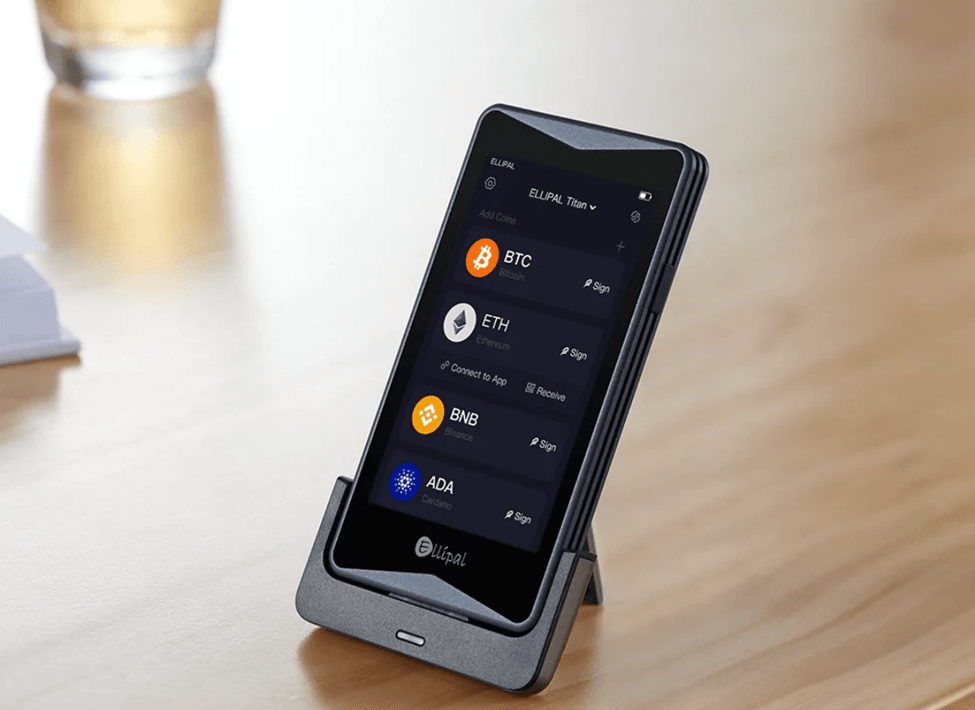 Delivery times for products range from 7-15 days, depending on the location of the user. All products have a 30-day return guarantee and free repairs with 12 months of delivery. Users can pay for ELLIPAL products via PayPal, credit cards, or cryptocurrency.
ELLIPAL offers additional products and accessories for the cold wallets, including a safety phrase storage Mnemonic Metal ($49), Mnemonic Generator ($49.90), and ELLIPAL Titan Case ($39.90).
ELLIPAL Titan Company Background
ELLIPAL was founded in 2018 by encryption technology experts David Tian, Tong Chen, and Hao Ning. Headquartered in Hong Kong, the idea for a cold wallet 2.0 was conceived during a blockchain meeting attended by the three founders.
ELLIPAL operates with the mission to "create the most secure cryptocurrency cold wallet and share a portable and fast cryptocurrency service system with all of mankind" [1].
ELLIPAL has continued to innovate on its air-gapped cold wallet technology, providing an intuitive self-custody solution for investors. 
How does ELLIPAL Titan work?
ELLIPAL wallets are equipped with air-gapped technology and, therefore, cannot connect to the internet or blockchain. To send funds to and from the wallet, the wallet is equipped with cameras to scan QR codes and send funds through the mobile app as a proxy. 
To send funds, users can create a transaction request on the mobile app. The app will generate a QR code for the transaction that can be scanned by the wallet to authorize the transaction. Once authorized, the wallet will generate another QR code to confirm the transaction. Once this QR code is scanned through the mobile app, the transaction will be initiated. 
ELLIPAL utilizes QR codes instead of direct internet connection to avoid the possibility of online attacks. Once funds are secured in the wallet, users can view their portfolio information on the wallet by entering the safety phrase and navigating the interface.
ELLIPAL Titan User Experience
ELLIPAL Titan provides an intuitive interface to easily navigate cryptocurrency holdings. Users can expect a more comprehensive and accessible experience through the ELLIPAL Titan Cold Wallet, whereas the ELLIPAL Titan Mini Cold Wallet provides more convenience through a more compact device.
Both devices utilize a touch screen to easily navigate the interface, a feature not widely available on the cold wallet market. Many of the features provided by ELLIPAL are accessed through the mobile app. This is where users can initiate transactions, buy tokens, and even stake supported tokens such as Cardano, Cosmos, and Polkadot.
The mobile app also integrates with Metamask so users can connect their wallet to a variety of decentralized applications (dApps) across web3.
ELLIPAL Titan Supported Coins
ELLIPAL Titan provides extensive support for NFTs and cryptocurrencies. With integrations for over 10,000 tokens and NFT management capabilities, users will find premier accessibility within the wallet.
Some of the popular tokens include:
Bitcoin (BTC)

Ethereum (ETH)

Solana (SOL)

Polygon (Matic)

Ripple (XRP)

Algorand (ALGO)
Security: Is ELLIPAL Titan Safe & Secure?
Cold storage wallets are designed to prevent online attacks, but the ELLIPAL Wallet has implemented additional security features to avoid physical attacks as well. The only way for someone to gain access to funds in the wallet is to physically have the wallet as well as know the safety phrase to unlock it. 
In addition to their air-gapped technology that keeps the wallet 100 percent isolated from the internet, they have implemented an anti-tamper security feature that will sense when the wallet is being physically hacked and will self-destruct, deleting all data on the device. With the user's safety phrase, they can safely gain access to their funds on a new wallet. 
They have also implemented an Anti-disassembly security feature that detects malware installed on the device if purchased from a third-party vendor. It is always recommended that users purchase their wallets directly from ELLIPAL to avoid this risk.
Customer Support: Contacts & How to Get Help
A trade-off evident in every hardware wallet is the increased level of security for increased responsibility. If a user forgets their password or safety phrase, the ELLIPAL team cannot help them retrieve it.
In terms of navigating the wallet and mobile app, they offer an extensive help center that includes a user manual and FAQs to help users resolve their issues. 
ELLIPAL does not currently provide options such as email or live chat for direct contact with the team.
Who is ELLIPAL Titan Best For?
ELLIPAL Titan offers a secure cold storage self-custody solution with an impressive experience complete with a touch screen, accessories, and multiple size options. Its user-friendly interface provides an easy-to-use hardware wallet for beginners while still providing the extensive token support for advanced traders.
ELLIPAL utilizes proprietary air-gapped technology that keeps the wallet isolated from the internet and online attackers. Its additional security features, such as anti-tampering and anti-disassembly, provide additional safety for users who experience attacks. The industry-leading security features provide a trustworthy cold wallet for users who require high-level security of funds. 
Beyond simple storage, the features provided through the mobile app provide an avenue for users to earn a yield on their tokens, buy tokens to add to their portfolio and connect to dApps throughout the ecosystem. The staking, swapping, and NFT management capabilities provide a complete experience for those looking for more than storage.