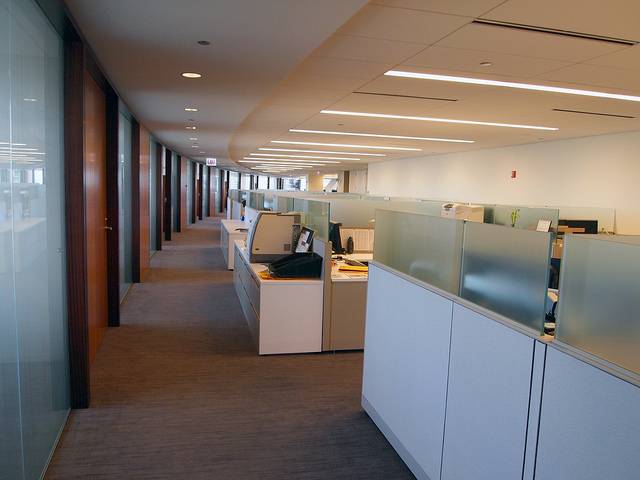 For a large majority of us an office is our place of work. With a typical day starting at 9 and ending at 5, there are many advantages of working indoors. Working in an office brings many benefits, heating, your own workspace, free amenities such as tea and coffee, as well as a host of other factors which is why most of us prefer the comfort of an indoor working environment.
For most of us, a job which requires you to work outdoors only seems appealing in the summer months when the sun is shining, music is playing and your lunch hour is enjoyed topping up your tan. Although all of this sounds very appealing, it's no secret that we don't have the privilege of seeing the sun on a regular basis. With both indoor and outdoor jobs carrying a number of good and bad factors, it's down to personal preference where you' choose to work.
With a large number of us working in an office environment and all the positives it brings, with the help from office furniture specialists Furniture At Work, we thought we'd look at the downsides of sitting at a desk all day and how it affects your mental and physical wellbeing.
Mind
Your mind is an important part of your body and plays a big part of how you go about your day to day life. It's no secret that we often find ourselves anxious and stressed when working and the mind picks up on sensations, sights and sounds which can often trigger these feelings.
Get Started
Claim up to $26,000 per W2 Employee
Billions of dollars in funding available
Funds are available to U.S. Businesses NOW
This is not a loan. These tax credits do not need to be repaid
The ERC Program is currently open, but has been amended in the past. We recommend you claim yours before anything changes.
Although you may find it hard to believe, there are certain changes and additions that can be made to an office environment to help boost the productivity of your mind. A great way to combat stress is to carefully consider the colour schemes used in the surroundings. As part of a survey which Furniture At Work carried out, a huge 43% of the 600 people surveyed, said that they associate the colour blue with relaxation.
A great addition to add into an office, especially if the job role is creative is indoor plants. Certain plants have been known to help aid creativity, productivity and even certain aspects of physical health.
Body
Working at a desk all day and not having the correct posture can affect you physically. The mind and body work in sync so if you're suffering from back pain as a result of poor posture, your mind will start to lose concentration, reducing your productivity levels.
It's really important to look after your body and not just if you work in an office. In order to avoid aches, pains and avoid a lack of concentration, make sure you take regular breaks from your desk, even if it's just to make a drink. Outside of work it's important to exercise as much as you can. In the survey carried out a huge 50% of people said they don't have time to exercise whilst working a full time job, but it's important to try and make the time.
Soul 
The final area to look after is the soul and how we look after it. What we consume on a day to day basis plays a big part towards how we work. Dehydration causes fatigue and a loss of concentration so it's important to keep drinking plenty of water throughout the day, to keep your body hydrated and your concentration levels up. When it comes to the food we consume, 48% of the 600 people surveyed said they find it hard to eat healthier when working in an office.
Although office workers may find it harder to eat healthier, it's important to try and snack on foods like nuts, fruit and yoghurt. If you struggle to exercise and sit at a desk all day, eating the sweeter treats will slowly start to affect your mental and physical health.
Sometimes simple but effective changes can heavily influence your output in the workplace. Making small tweaks to your surroundings can boost productivity, concentration, as well as combating stress and anxiety.