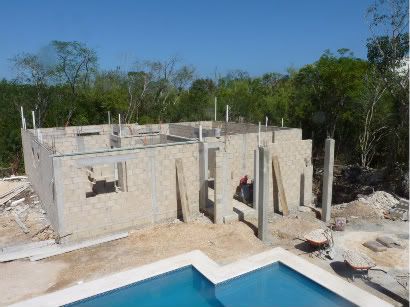 Mexico condos in the pre-construction phase are ideal for investors in many way. They offer excellent properties for considerably discounted prices, providing an "automatic" appreciation on the property as soon as the other condos are being sold at regular price, on top of the healthy appreciation seen in many of Mexico's leading tourist areas.
It is worth noting, however, that in Mexico, the market is less sophisticated than in the U.S., for example; this has two important implications for investors in pre-construction condos. One is that there is less large-scale information available for manipulation of larger organizations, leaving more opportunities for smaller investors to discover excellent opportunities.
The other is that there are fewer regulations defining pre-construction time lines and finances; for example, there is no requirement that a developer have 70% of the units sold before beginning construction, or that they need to have the funds available to complete the complex before beginning. This lack of regulations also creates more opportunities by allowing for slightly more "venture", but also leaves slightly more openings for risks.
The good news is that unnecessary risks above and beyond that of real estate purchases back home can be avoided by those who follow certain steps, while still taking advantage of the increased opportunities offered by this market.
Those investing in preconstruction in Mexico will want to take the following points into consideration:
Get Started
Claim up to $26,000 per W2 Employee
Billions of dollars in funding available
Funds are available to U.S. Businesses NOW
This is not a loan. These tax credits do not need to be repaid
The ERC Program is currently open, but has been amended in the past. We recommend you claim yours before anything changes.
Market Conditions
It is important to consider market conditions at the time of buying. If sales are slow, then pre-construction may present a greater risk than usual, since the likelihood increases that the developer may not be able to sell all units, or, in the worse case scenario, not finish the project. The reputation of the developer can also be taken into consideration (see below.)
Purchase Agreement
Carefully review the purchase agreement and look for plans and specifications of your particular unit and the common areas, construction calendar and penalty clause in case of non-compliance, and the rules and regulations for the condominium construction and payment schedule. If these items are included in the contract, you as the buyer are more protected in the case of non-compliance, and they indicate a stronger dedication from the developer.
Amenities
If you have been promised specific amenities, also ensure that they are included in the contract, with all relevant details. If they aren't in the contract, chances are they're not included.
The Developer's Construction Funding
In some cases, the developer is using the payments from the first unit purchases to fund the construction of the project. There is nothing wrong with this, and it is often one of the motivations for offering the first units at specially discounted prices (the kinds investors are looking for.) However, you as the investor will need to know what kind of security the developer will offer in order to ensure the project will be completed.
Escrow, etc.
It is important to be aware of how payments will be handled, and what kind of security is offered. Items to consider and ask about are an administrative trust or a completion bond. An escrow account offers a high level of security, but it is necessary to consider how they will be released, and ensure that this is favorable to you as a buyer.
*Release according to specific points of completion in the project protect your funds better than release according to calendar dates.
Reputation of the Developer
It is important to know if the developer has completed other projects in the area, and, when you are buying beachfront, if they have experience in this kind of area. In the case of previous issues, what steps have the taken to improve these?
Negotiation
While we rarely consider the idea of negotiating on a new development since we assume, and are sometimes told, the prices are fixed, it's important to remember that especially in the very early stages of the project, investors' money (like yours) is making the construction possible. This means it is entirely fair to make a reasonable offer, and negotiate points on the contract, including amenities and price; again, just be sure that they are included!
Buying pre-construction in Mexico can be an excellent investment opportunities; in some cases, like Playa del Carmen during the middle of the decade, investors "flipped" units while still during the preconstruction phase! This and many other locations continue to offer great discounts, very good potential for rental income, and high likelihood of good value appreciation. Following the basic safety steps, you as an investor can benefit from unique opportunities while minimizing unnecessary risks.