Phemex Review: A Comprehensive Overview 2022
Phemex
Comprehensive crypto exchange offering a unique and powerful set of features
Intuitive trading tools and multiple strategies for passive income
Industry-leading customer service and security features
Pros
User-friendly mobile app
Does not require KYC verification
Curated collection of educational resources
Cons
Slow crypto withdrawal times
Limited number of available cryptocurrencies
OTC trading restricted in many companies
Phemex Ratings and Reviews
The Phemex cryptocurrency exchange provides impressive features aimed at investors across all levels. It is currently supported in over 100 countries and is utilized by over five million traders.
With powerful and intuitive trading tools, multiple opportunities for passive income, industry-leading security, and quality customer support, Phemex has positioned itself as a formidable competitor among popular exchanges.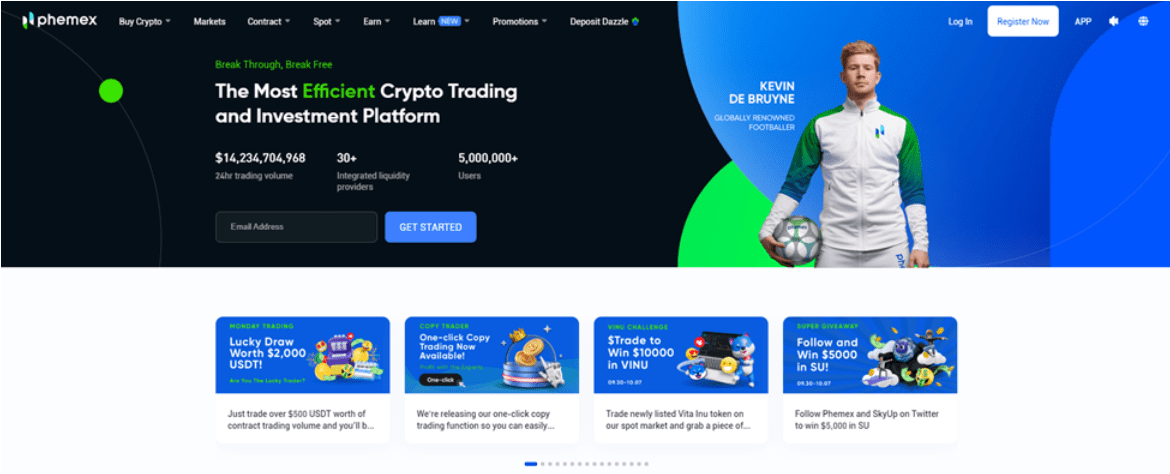 Pros & Highlights
Intuitive trading tools and multiple strategies for passive income.
More than five million users, transacting over $10 billion in daily trading volume.
User-friendly mobile app available on the Apple App Store and Google Play Store with an average user rating of 4.5/5.
Know Your Customer (KYC) verification is not required for depositing, withdrawing, or trading crypto.
Efficient trading engines with 300,000 transactions processed per second and order response times under one millisecond.
Educational resources available for beginners through Phemex Academy, trading simulators, and Learn & Earn features.
Industry-leading customer service and security features
Cons & Risks
Slow crypto withdrawal times
Inefficient fiat transactions executed by third-party services.
Over-the-counter (OTC) trading restricted in many companies.
Limited number of available cryptocurrencies.
Phemex Features
Phemex Earn: A comprehensive interface that provides users with several options to earn additional yields on their crypto. The crypto exchange also offers Phemex Savings, where users can stake their tokens for fixed and flexible periods to earn yields up to 12 percent APY.
Phemex Launchpool: The Phemex Launchpool provides a series of one-off staking opportunities through high-risk tokens that offer up to 500 percent APY.
Learn & Earn: Phemex provides an incentive to those new to crypto trading and the platform through Learn & Earn. It sends small rewards to users who watch help videos and complete quizzes.
Prediction Markets: A unique opportunity for users to speculate on real-world events and earn rewards. Those with a high-risk tolerance can enjoy the casino-like nature of the gambling process, where users can guess the outcome of events such as the 2022 Brazilian Election and the 2022 U.S. Open.
Phemex Launchpad: Users have the opportunity to invest in recently launched tokens that are exclusive to the Phemex exchange, like TokenBot (TKB), StepWatch (SWP), and Revoland (REVO).
Phemex Prices and Withdrawal Fees
Phemex offers competitive trading fees structured to decrease as 30-day trading volume and platform balances increase.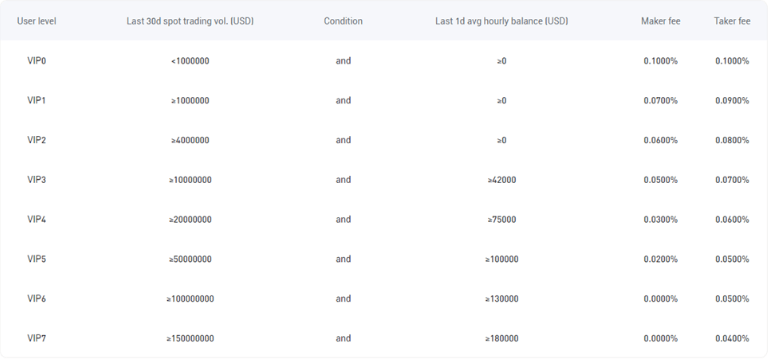 Most platform users will be subject to VIP0 fees of 0.1 percent maker (seller) and 0.1 percent taker (buyer) fees as their 30-day trading volume will be less than $1 million USD.
For larger investors and institutional customers with a 30-day trading volume over $10 million, it is essential to maintain a one-day average hourly balance of $42,000 USD to achieve VIP4, consisting of 0.05 percent maker and 0.07 percent taker fees.
Fiat transactions are handled by third-party services such as Legend Trading, POLi Payments, and Sofort, which provide multiple options for depositing and withdrawing fiats, such as credit card, ACH transfers, and wire transfers. However, these options can be more expensive than exchanges with proprietary fiat transaction methods.
It is important to note that Phemex only processes crypto withdrawals three times per day for security reasons. The cutoff time for withdrawal is 30 minutes before 8 am, 4 pm, and 12 am UTC.
Company Background & History
Headquartered in Singapore, Phemex was founded in 2019 by a group of former Morgan Stanley executives when they realized the limitations of traditional finance and learned the possibilities of blockchain technology.
After teaming up with individuals from blockchain and cybersecurity backgrounds, the founders set out to build the next great cryptocurrency exchange and named it after the Greek goddess of fame and fortune, Pheme.
Trader Tools & Trading Experience
Phemex provides a comprehensive trading experience with traditional and unique offerings for traders of all levels.
The spot, futures, and contract trading tools are typical to most exchanges, with charting capabilities powered by TradingView. These tools are more geared towards experienced investors, but beginners have the option to trade through the more intuitive Convert feature.

Phemex offers Copy Trading where users can follow the trades of successful traders as defined by metrics such as monthly return on investment (ROI) and total and monthly profit & loss (P&L). Beginner traders can use this function to learn from the best, whereas veteran traders can share their trades to earn additional rewards and personal exposure.
Another opportunity for beginner traders is the Simulated Trading feature. Users can learn the basics of crypto trading risk-free, or more experienced investors can test out new strategies before deploying them on the mainnet.
What Cryptocurrencies are Available on Phemex?
Phemex has around 300 supported tokens available on its platform, with many of the most popular cryptocurrencies included. However, they may not offer some of the small-cap altcoins such as Constellation (DAG), VeChain (VET), or Helium (HNT).
Some of the popular tokens offered include:
Bitcoin (BTC)
Ethereum (ETH)
Ripple (XRP)
Polygon (MATIC)
Solana (SOL)
Cardano (ADA)
Security: Is Phemex Safe & Secure?
Phemex provides an industry-leading package of security features, leading to an impressive track record of zero security breaches.
Phemex utilizes a proprietary Hierarchical Deterministic Cold Wallet System in which cold wallet addresses are assigned to each user and aggregated under a company-wide multi-signature cold wallet to ensure custodial safety.
It also employs two-factor authentication in tandem with a bank-level double-entry bookkeeping system to ensure that all actions taken on a user's account are done by them and executed accurately.
Phemex also integrates with twin trading protocols, CrossEngine and TradingEngine, that work together to efficiently power the trading platform while keeping it online and available 24/7.
Customer Support: Contacts & How to Get Help
Where the majority of cryptocurrency exchanges falter, Phemex exceeds in their quality of customer support channels. The platform offers traditional customer support options of email availability and extensive Help Center resources.
The crypto exchange uniquely provides a 24/7 live multilingual chat option where users can connect to a live agent in under five minutes.
Users can reach these support options via the Support page or find the chat box on the bottom right of the platform at all times.
KYC, Taxes & IRS Reporting Details
Phemex is supported in over 100 countries, including the United States, the United Kingdom, and China. However, many populous locations like Russia, Mexico, and Indonesia do not support the platform. A full list of supported countries is maintained on the Phemex website. [1]
Phemex does not abide by Know Your Customer (KYC) regulation, but instead relies on third-party fiat handling services to complete the process. KYC verification is not required to trade, deposit, or withdraw crypto but must be completed when transacting in fiat currency.
Phemex is regulated by the U.S Financial Crimes Enforcement Network (FinCEN), but does not report directly to the IRS.[2] It does not provide official tax documents to users or the IRS. However, users have the ability to export transaction history or link their API to third-party tax services such as Koinly and CoinTracking.
Who It's Best For?
Phemex is a comprehensive cryptocurrency exchange offering a unique and powerful set of platform features that can be utilized by beginners and experienced investors.
Advanced trading products such as spot, margin, and contract trading with up to 100x leverage allow professional traders to capitalize on their skillset. Beginner traders can compound their trading expertise through the intuitive Convert trading tool, extensive educational resources, and simulated trading features.
Although the benefits of the Phemex are plentiful, there are some notable drawbacks. The limited offering of 300 tokens is restrictive to some investors. Those looking for small-cap altcoins may benefit from alternative exchanges with a more extensive list of available tokens.
Due to security reasons, Phemex only processes withdrawals three times per day, meaning that investors need to be wary of the timing of their withdrawals. The handling of fiat transactions through third-party services is laborious and can be more expensive than exchanges handling these transactions themselves.
Many exchanges provide advanced trading tools and passive income opportunities but rarely package them with quality customer support and industry-leading security infrastructure. The extensive list of security features and 24/7 live chat support is a significant advantage of the Phemex platform, making it suitable for users who prioritize security and customer service.