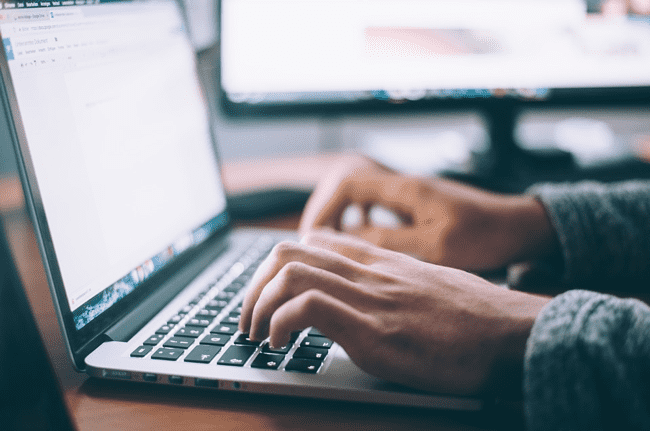 Whether you own a small business, run an e-commerce site, or are a weekend blogger, you want to make a good first impression when someone lands on your page. Similar to when guests visit your home, you don't want your website to be cluttered and difficult for people to navigate through. A clean site with useful information will leave visitors satisfied and coming back for more. If it's time to give your website a facelift, consider following these steps to get started!
1. Website Navigation
Let's face it, no one likes a website that is frustrating to use. Landing on a website that is bombarded with large chunks of text, difficult-to-read fonts, and dozens of pages lowers user experience (UX). Major search engines like Google take UX very seriously. A major pillar of SEO is "indexability," or how easy/difficult it is for Google's bots to crawl your website. If it's hard for these robo-crawlers to navigate through your site, it probably means it's hard for people like you and me, too. These crawlers search for relevancy and authority, so creating a website that's easy to navigate and has engaging content will rank better on Google.
Whether you coded your own website or hired a web developer, making your site easier to navigate isn't necessarily a difficult task. Take these tips into consideration and help consumers move more easily through your site:
For page labels, provide useful information. Instead of saying "products" and "services" on a label, write what your company actually offers, such as "Accounting" or "Bookkeeping."
Try to avoid drop-down menus as much as possible. It's hard for Google to crawl and it makes it difficult for users to decide where to go.
Clean up your homepage. Google gives most authority to your homepage because more people link to this. Reduce the number of menu items here. This will make remembering important information easier for users and will allow authority to flow to internal pages and help them rank better.
These SEO practices will let users take a journey through your site and will allow Google crawlers to do the same.
2. Links
Without a link, your website wouldn't exist. Therefore, links are extremely important. You never want site visitors to hit a dead end. Incorporating internal links is an SEO tactic that will keep users (and Google crawlers) moving throughout your website. Incorporating internal links will help boost conversion rates and send users to pages such as your products (labeled flowers, for example) and services (labeled tech support, for example).
Get Started
Claim up to $26,000 per W2 Employee
Billions of dollars in funding available
Funds are available to U.S. Businesses NOW
This is not a loan. These tax credits do not need to be repaid
The ERC Program is currently open, but has been amended in the past. We recommend you claim yours before anything changes.
Along with internal links, backlinks are just as important. Backlinks are the links used by other websites when they refer to your page. Google loves backlinks, especially when they're on authoritative sites such as news sources or famous blogs because it boosts credibility – think of a backlink as a vote for your webpage. When Google first rolled out in the late '90s and early '00s, many websites riddled their pages with backlinks in order to improve rankings, but these weren't actually providing users with helpful information. Now, Google penalizes sites that have a plethora of non-value adding backlinks. If you notice your site may not be ranking well, you can use link removal services; a specialist can perform an audit to discover both harmless and harmful backlinks that affect your ranking.
3. Content
The text on the page is what will bring consumers to your site—or turn them away. Regularly producing quality content will help your website rank better on Google. Give your site a facelift by creating a blog section where you can post how-to articles, product reviews, FAQs, and more for people to read. Doing so will allow Google to index more pages and give you more authority.
When writing content, it's crucial to use relevant keywords. Keywords are the words, phrases, and ideas that define what something is about. Conducting keyword research, then incorporating those findings into your content will tell Google and your customers what your blog or product pages are all about.
4. Call to Action
Your goal as a business owner is to convert people into buying your products or services. A call to action (CTA) is what will make that happen. A CTA is simply a button that tells a user what to do. So, if you run a plumbing business and want a customer to hire you, a CTA with the button, "Get A Quote" can send them to a form submission page. The CTA serves as a sales funnel and gives direction throughout the buyer's journey. If your business website needs help, the CTA will grab the attention of consumers and urge them to seal the deal.
If you're struggling to think of ideas, consider making a CTA for:
Downloading an eBook (Download Now!)
Calling your business number (Call Today!)
Subscribing to an email list (Subscribe Here!)
Visiting your blog (Go to Blog)
Following a social media account (Follow on Twitter)
Leave a comment (Comment Below!)
Starting a trial (Start Free Trial)
5. Mobile Friendly
With 95% of Americans owning cellphones, and 77% of those being smartphones, making your website mobile friendly is critical. People crave immediate gratification. Having to do the dreaded pinch and zoom or wait for a page to configure itself is no fun and will drive consumers away. And because Google strives to provide the best user experience, websites with these issues will rank lower than those with mobile friendly designs and better UX. So, whether you're starting a cooking blog or have a site for your tax consulting business, make sure your website design is both computer and mobile friendly.
The Bottom Line
There you have it—everything you need to know on giving your site a much-needed facelift. From simple cosmetic procedures like adding CTAs to more complicated operations like redesigning your website's navigation, these tactics will surely bring in more customers!