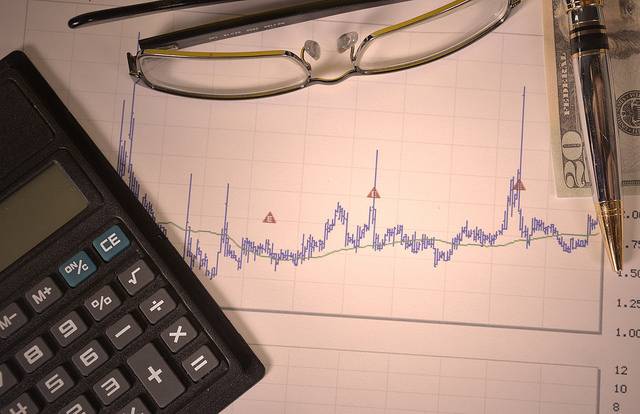 Penny stocks are generally low-priced stocks issued by small or emerging companies. Traditionally, penny stocks refer to stocks trading under $1 apiece, but the definition has now been expanded to account for stocks trading under $5. 
Some traditional Wall Street pundits tend to vilify penny stocks 2021 because they are often traded on OTC boards and they are not subject to stringent regulatory oversight. Also, many people who have lost money from dabbling into penny stocks 2021 trading without knowing what it takes to be a successful trader often have negative things to say about best penny stocks. 
However, penny stocks are not inherently bad, they might be riskier than stocks listed on major exchanges, but in the risk lies the opportunity for profit. The age-long financial advice rings true. Low-risk assets deliver low returns, medium-risk assets deliver mid-range returns, and high-risk assets deliver high returns.  
However, if you are willing to take the time to learn how to trade penny stocks, you'll be glad to know that there are strategies you can leverage to manage the trading risks and potentially make more profitable trades. If you are ready to explore the opportunities in penny stocks in 2021, here are two emerging industries from which you can begin your search for best penny stocks to trade.
Penny stocks to watch: Electric Vehicle Industry
The electric vehicle industry is already in the limelight, all thanks to Elon Musk's vision and Tesla Inc. (NASDAQ:TSLA)'s incredible success over the last decade. Analysts have forecasted that the market size of the electric vehicles industry will grow by a CAGR of 22.6% from $162 billion in 2019 to $802 billion by 2027. The market size forecast also complements the reports from analysts at Market and Markets who are predicting a 21.1% CAGR growth in the number of electric vehicles on the roads from 3,269,671 units in 2019 to 26,951,318 units by 2030.
Get Started
Claim up to $26,000 per W2 Employee
Billions of dollars in funding available
Funds are available to U.S. Businesses NOW
This is not a loan. These tax credits do not need to be repaid
The ERC Program is currently open, but has been amended in the past. We recommend you claim yours before anything changes.
One of the significant accelerants driving the growth of the EV industry is the growing consciousness of the effects of climate change and the need to decarbonize the earth. Many countries are ramping up the formulation of policies that promote green energy, electric vehicles, and other sustainable technologies. For instance, the UK is already working towards banning petrol and diesel cars by 2030 and many countries are towing similar paths.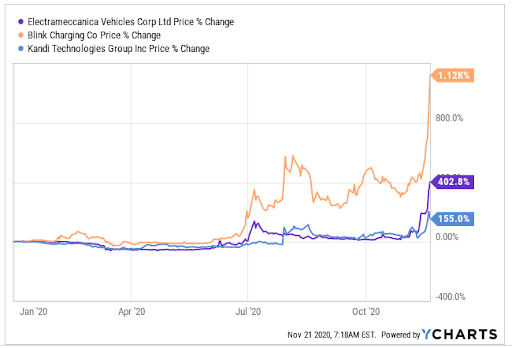 The electric vehicle industry is still in an emergent state and the EV players in that industry have the potential to give traders lots of opportunities to profit. For instance, Electrameccanica Vehicles Corp. (SOLO), Blink Charging co (Blink), and Kandi Technologies Group (KNDI) have all soared 1,120%, 402%, and 155%, in the year-to-date period already, all from 52-week lows around $2.50. 
Penny Stocks to Watch: Blockchain Technology Industry
Blockchain technology is here to stay and it appears that the world is yet to come to terms with the realities of just how disruptive decentralized technology will be. Blockchain technology is the underlying technology powering Bitcoin, and at least 4000 other cryptocurrencies. Analysts have estimated that the global blockchain market at about $5B in 2020 and they project that the industry will grow by a CAGR of 62.7% to more than $96B by 2027.
Bitcoin, the most popular application of Blockchain has over the last 10 years has shown immense potential in its ability to change the course of global economic and financial history by charting an alternate path to money beyond the direct control of governments and their agents.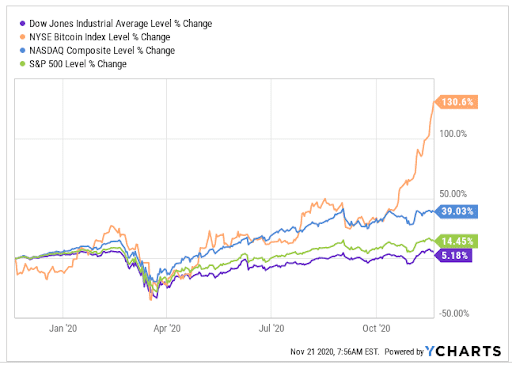 The first Bitcoin transaction saw BTC trading for fractions of a penny. but over the last 10 years. its price has soared beyond $19,000 apiece. And now, the price of BTC is now retesting its 2017 highs. In the year-to-date period, Bitcoin has delivered an incredible 130% gain to dwarf the performances of traditional equity indices such as the NASDAQ Composite, S&P 500, and the Dow Jones Industrial average as seen in the chart above. 
If you don't quite understand how blockchain or how to trade crypto assets, you can still piggyback on the growing popularity of blockchain by trading blockchain technology penny stocks. Some blockchain stocks are involved in the mining of cryptocurrencies, others could be involved in crypto custodial services, De-Fi, blockchain VC, or providing other core and ancillary services to the blockchain industry.
Conclusion 
Best Penny stocks fall into the categories of assets that have high risk-reward dynamics. Hence, you need to be sure that you know exactly what you are doing and not gambling money away in the name of trading penny stocks in 2021. 
Nonetheless, the low price of penny stocks to watch often allows for incredible upside potential. Also, share prices of the best penny stocks of companies in emerging technology sectors tend to accelerate rapidly as the emerging technologies deliver on their promise and start unlocking mass-market adoption.