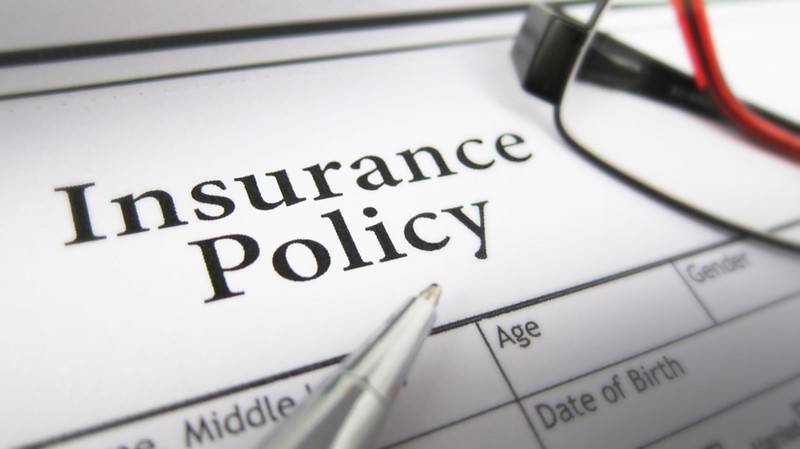 In the 1980s cult classic, Other People's Money, "Larry The Liquidator" tells an angry room of shareholders "I'm not your best friend… I'm your only friend." It's advice people often ignore when sitting down to speak with their friendly neighborhood life insurance salesman. 
For years, investment gurus and financial planners have sold speculative investments as "sure thing" investments. Meanwhile, they've derided tried and true insurance policies as antiquated and more — as verging on a scam. 
This, in spite of the fact that life insurance companies have delivered on their promises to policyholders for over a century and, in some cases, nearly two centuries.
Ah, but "the big commissions" the critics argue. How can you buy a whole life insurance policy when it comes saddled with those big commissions?
In many cases, it's true. Whole life insurance pays life insurance agents and advisors a large commission for the sale of a policy. This commission is used to offset marketing expenses, office expenses, and pays the agent for his time to design the policy and service it for as long as the policyholder keeps the policy. 
How much the agent is paid depends largely on the company but, let's be real. In most cases, that commission is very large. 
How large?
Get Started
Claim up to $26,000 per W2 Employee
Billions of dollars in funding available
Funds are available to U.S. Businesses NOW
This is not a loan. These tax credits do not need to be repaid
The ERC Program is currently open, but has been amended in the past. We recommend you claim yours before anything changes.
Consider that $1 million of whole life insurance could potentially come saddled with a total commission payout of over $18,000 spread out over 30 years, assuming the insurance agent is paid a generous commission payment. A breakdown of commission payments below shows how commissions are paid under two different scenarios — one for "street comp" (which is normal commission for an insurance agent) and one with high overrides (which is typically reserved for directly appointed insurance agents or agents with high annual production/sales):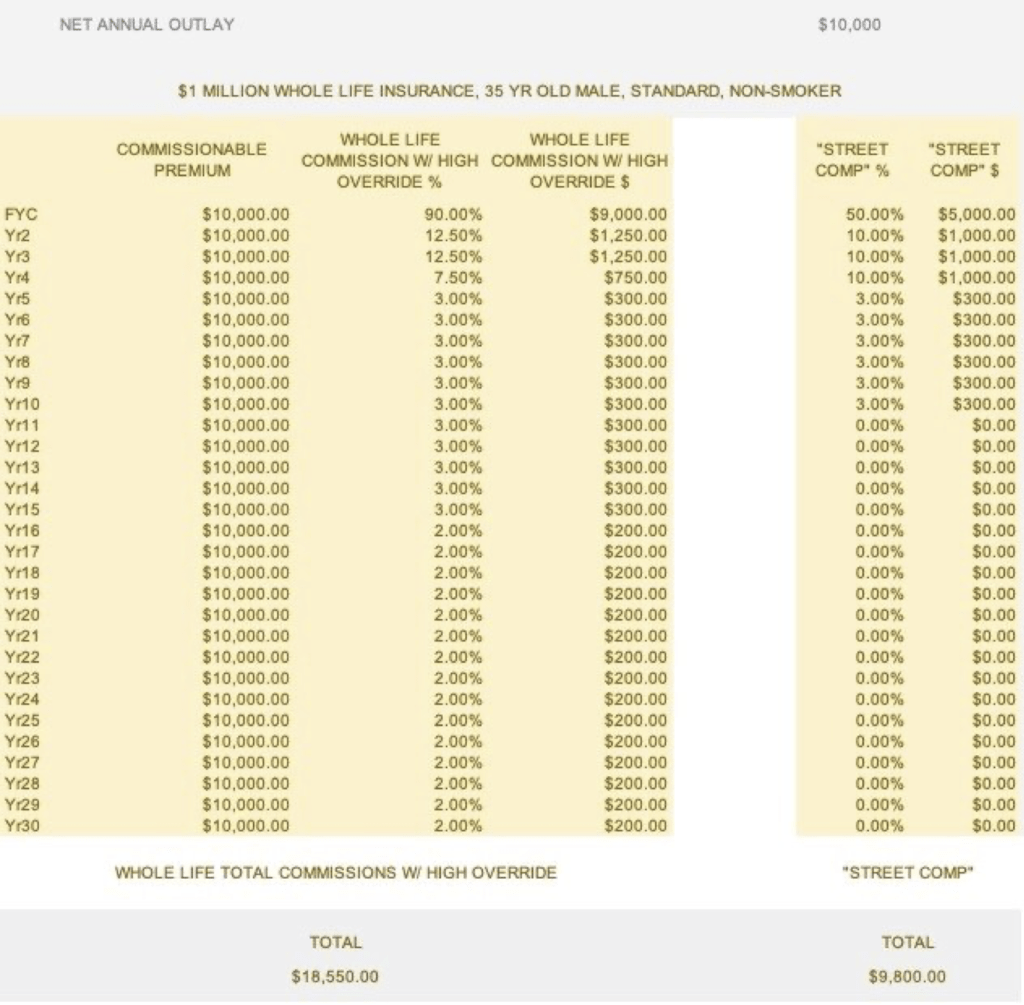 As described in Whole Life Insurance Critics Aren't Serious:
"Commissions on whole life insurance are typically paid one of several ways. The lowest compensation level for an insurance agent is sometimes referred to as "street comp." Typically this is 50% or 55% of the premium paid on a life insurance policy in the first year. Subsequent year commissions are substantially lower. An experienced agent may earn overrides, which increases his or her total compensation for selling the insurance. Overrides apply to both term life and whole life insurance, and they can substantially increase an insurance agent's income.
"If a 35-year old male, standard, non-smoker policyholder had $10,000 per year to allocate to whole life insurance or towards a "buy term, invest the difference" strategy, the tables above show that an agent earning "street comp" on whole life would net $9,800, amortized over 30 years. An agent earning high overrides on the policy, might earn total compensation of $18,550 over 30 years."
This seems to suggest whole life insurance is expensive, and term life insurance is cheaper. After all, while it's true that the commission payments drop considerably after the first year, they do stretch on for as long as you own the policy. And, the first year commission is quite substantial. Term insurance premiums are much lower than whole life insurance, which should translate into a lower commission. Additionally, commissions on term insurance are only paid for a limited number of years.
Here's how that breaks down: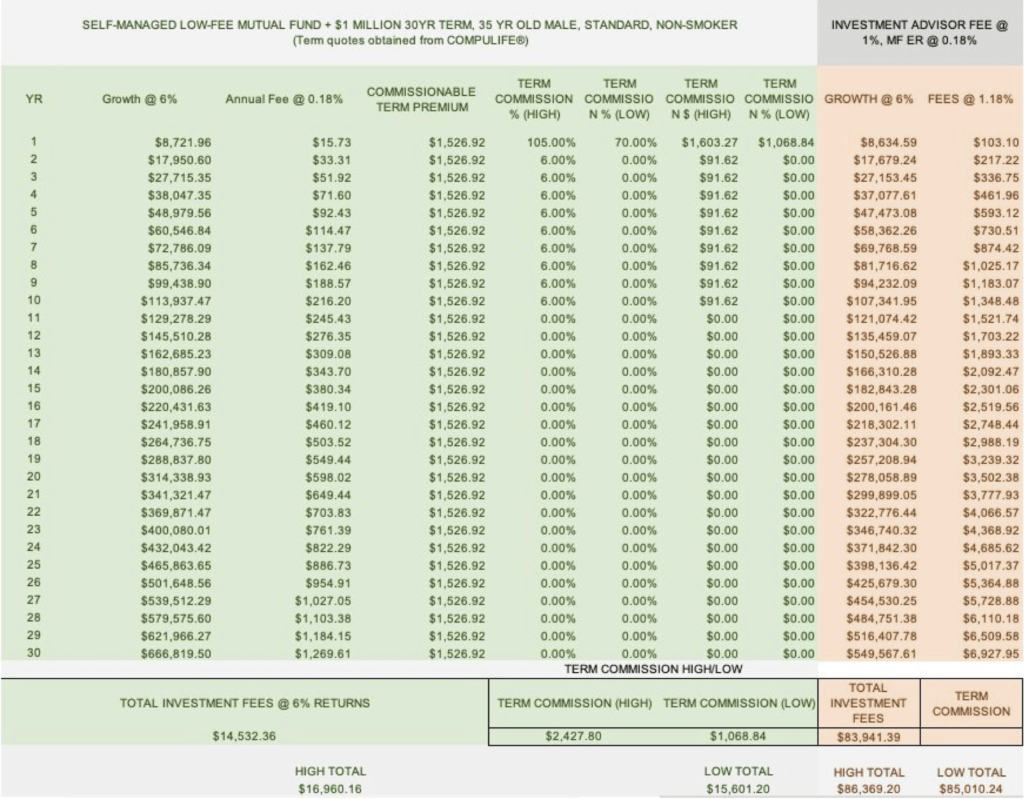 Commissions on a term life policy amount to a paltry $2,427 over 10 years, with no future commissions paid to the agent (assuming a high commission payout). But, rarely do financial experts recommend buying term insurance only. The classic debate is over buying whole life insurance versus buying term and investing the difference. When investment fees and commissions are added to the cost of this strategy, total expenses for buying term and investing the difference rise to $14,532, assuming ultra-low fund fees of just 0.18% (the average amount Vanguard says it charges its investors). Although it's still less than whole life insurance, it's not substantially so. If an investment advisor is hired to help manage your investment strategy, you'll pay upwards of $86,369.20, assuming you earn just 6% return on your investments. A higher return comes with higher fees since there's more money to assess the investment fee against. 
Investment moguls John Bogle and Warren Buffett are fond of saying that you should try to minimize expenses in your investments. Expenses decrease return. Likewise, "Rule # 1" for Buffett is to never lose money. "Rule #2" is to never forget rule #1. And, although neither would ever recommend buying whole life insurance, a whole life policy does, in fact, have relatively low commissions and policy charges. Likewise, the guaranteed cash values prevent policyholders from losing money as long as all required premiums are paid. 
Perhaps it's time to rethink the idea that whole life insurance is an expensive product with no real value to policyholders.
Author Bio
David C Lewis, RFC is an independent life insurance agent, a Registered Financial Consultant, and the founder of Monegenix®. For more information about his unique approach to life insurance and financial planning, go to www.monegenix.com.