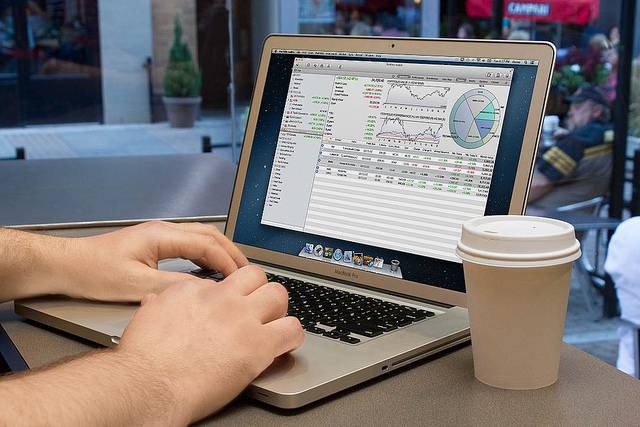 Interpreting data is a big part of being a wise investor. Follow these four strategies that will make it easier to quickly and accurately analyze stock charts.
Look at Key Patterns
Understanding each data point in a chart can be time-consuming and even unnecessary. It's often better to just know what certain patterns indicate. For example, if you're looking at a line chart outlining a company's financial history, the pattern you want is obvious: a line that increases from left to right, indicating economic growth over time.
When exploring more complex data, such as candlestick charts and bar charts, you need to learn what the primary purpose of each chart is so you know which patterns to look for. Candlestick charts, for example, show the starting and closing prices of a stock as well as high and low prices within a certain period of time. If you want to buy or sell when a stock hits a certain price, you'd look for high and low prices specifically and could ignore other data that this type of chart presents.
Know What Certain Movements Mean
Get Started
Claim up to $26,000 per W2 Employee
Billions of dollars in funding available
Funds are available to U.S. Businesses NOW
This is not a loan. These tax credits do not need to be repaid
The ERC Program is currently open, but has been amended in the past. We recommend you claim yours before anything changes.
Much like analyzing key patterns, you should also know what certain movements mean to read stock charts correctly. As another simple example, a line graph of a company's financial history that suddenly spikes or dives indicates rapid growth or loss, respectively. This may suggest a good opportunity to buy or sell, depending on the situation.
You can also do this with candlestick charts, bar charts, and point and figure charts. For example, bar charts are great for visualizing the price range of a stock within a certain period of time. Knowing that a certain movement places a stock at a lower price than how it has been trending may indicate a good time to buy or inform some other trading decision.
Adjust the Time Period
To go beyond a basic level of interpretation and reach deeper, more actionable insights when looking at charts for a certain company, try adjusting the time period when the data is being collected. If you're tracking financial information over the course of a day or week, a drop in price may seem like a good time to buy. Before moving forward, look at monthly and yearly trends for the company, too. You may see that the movement isn't enough of a difference to prompt this particular decision.
Consider the Company and Industry
Think about the specifics of the company and industry you're researching when looking at charts. For example, in light of laws legalizing cannabis use in many states, many investors are eager to find the best marijuana stocks. You'll find discover plenty of companies you could back, but you'll need to keep the volatility of this industry in mind. New laws governing cannabis use are constantly being worked on and passed, and things could change at the federal and state level that would have a major impact on the industry — for better or worse.
Analyzing charts accurately should be a cornerstone of your investment strategy. Keep these tips in mind to make the process easier.