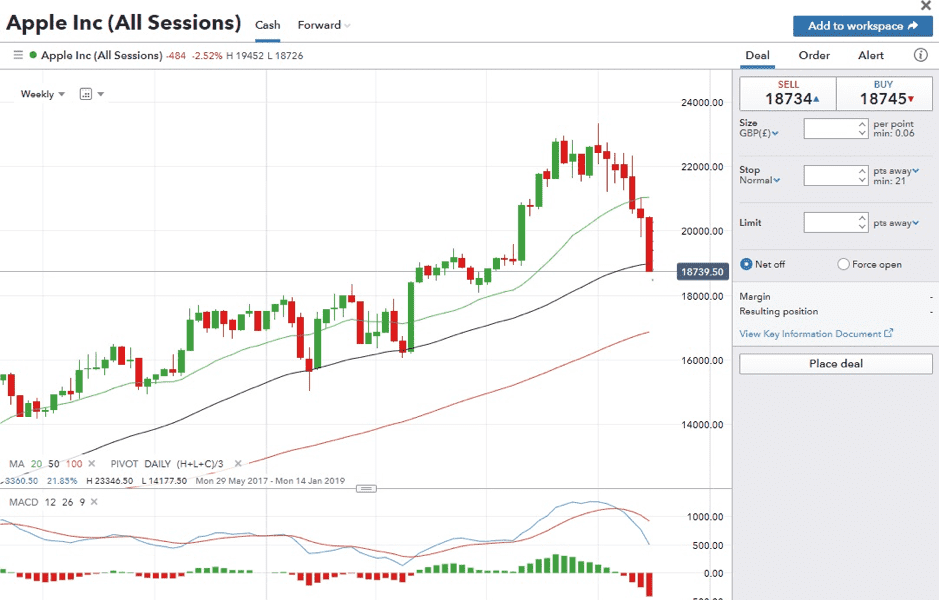 If you fancy yourself as the next Warren Buffett or George Soros, hoping to make a fortune from financial investments, then it might be wise to curb your enthusiasm a little and refrain from diving in head first.
The pair of them didn't make a bean from rash decision making, but instead built up slowly and learned the ropes of financial management in a measured manner.
You should be prepared to do the same, and that means getting your feet wet trading in stock markets, commodities and forex by trying out some platform demo accounts first.
The benefits of using a demo account
The key upside of trading platform demo accounts is they are just that – demonstrations. In other words, you're only investing pretend money. However, everything else like the real-time data in company stocks, indices like the FTSE 100, the NASDAQ-100 or Germany's DAX 30, or commodities like gold and oil (the Brent Crude daily chart on ETX Capital is shownabove) are very real. You can even practise investing inbonds
Effectively, you'll get to experience everything about an investment platform without having to risk a penny of your own money.
You might build a dummy portfolio, diversifying between stocks, commodities, forex and more, and adding a set amount of virtual money each month to see if your monthly purchase of shares or commodities can build a decent fund.
Use the platform tools to help you spot signals that the market is going to move up or down. Some are easier to use, like studying simple moving averages and the relative strength index, while others, like the Fibonacci retracement, take a little more understanding.
You'll find your demo account allows you to customise your chart appearance, draw on support and resistance levels, and trend lines that will help you make a smart trading decision. Look back over years' worth of data for any market.
Once you've tried out a few methods and strategies, you might find your "play money" balance has grown. If that's the case, you can be more confident about opening up a real money account and investing with some of your own, hard-earned cash.
Get Started
Claim up to $26,000 per W2 Employee
Billions of dollars in funding available
Funds are available to U.S. Businesses NOW
This is not a loan. These tax credits do not need to be repaid
The ERC Program is currently open, but has been amended in the past. We recommend you claim yours before anything changes.
Example of investing with a demo account
You can find all sorts of things to "invest" in with a demo account.
Together with traditional stocks and shares, you can practise investing in cryptocurrencies, contracts for difference (CFDs), derivatives, bonds and more.
One of the most common investment opportunities is company sharesor stocks. You investment demo account will allow you to see a stock's performance over time, allowing you to spot patterns and look for signals that the price is heading one way or another.
It's worth familiarising yourself with just a few stocks before jumping around on a variety of markets, which dilutes your attention.
Let's take a well-known example, Apple.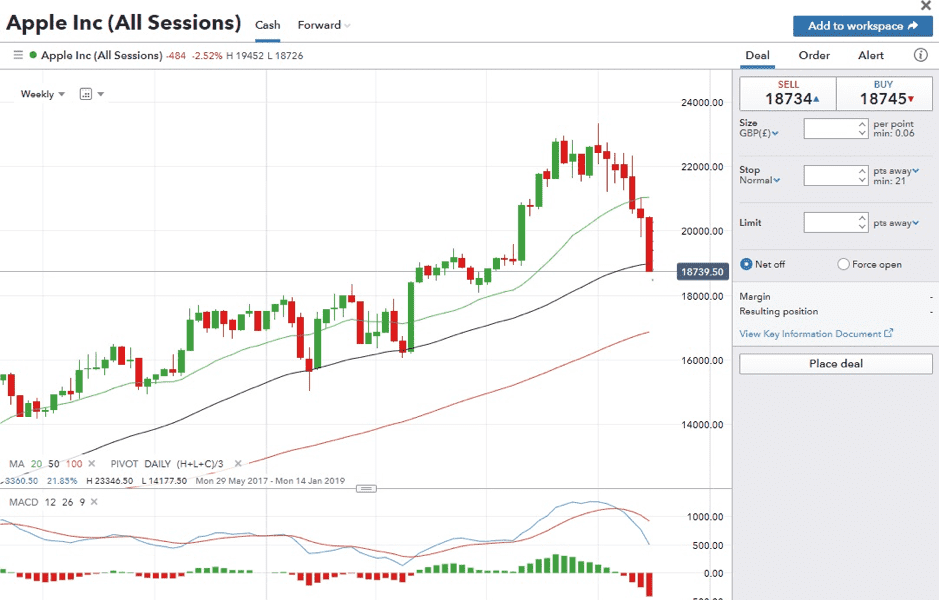 From a simple chart like the one taken above, from the IG Index platform, you can see how the Apple shares have risen steadily since July 2017 (each bar represents one week in this case)but had a well-publicisedhit since October.
Had you followed this really simple example in your demo account, you may have "bought" shares in Apple earlier this year, hoping for the rise to continue. Once you saw the price stall and then drop last month,you might have closed your position, and made a nice virtual profit.
However, even using a demo account, you should get used to putting stop losses in place in case the market takes a sudden turn for the worse without you noticing.
Which investment platforms have demo accounts available?
All of the serious platforms will have demo account functionality. It makes sense for them to do so, allowing rookies to try out and learn before taking the real-money plunge. They want their customers to stick around, not lose money quickly and never return.
If you were looking for specific guidance, seek out the like of ETX Capital, IG Index or AVATrade.
What demo accounts won't help you with
Let's say you make a profit with your demo account. Unfortunately,that does NOT mean you're on the way to making your first million.
What demo accounts can't teach you is the real psychology of trading. Your mental ability to cope with the pressures of putting your own money on the line is only testedwith the real thing.
You need to know that you can cope with lossesbecause there will be some. You need to understand how to ride your winners and cut those losses.
All this comes with experience. So, take things easy, andmaybe you might become the next Warren Buffett after all.