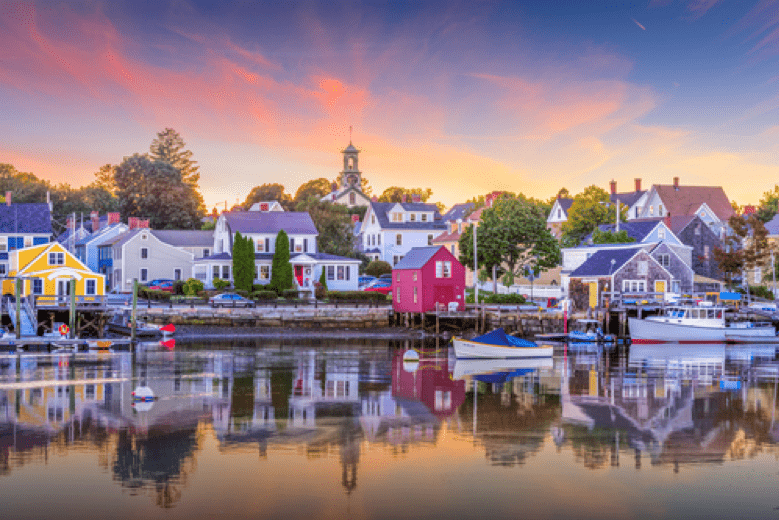 Investing in a vacation property can be a profitable business move, and an enjoyable place for you and your family to vacation. But there's more than just the white sand beaches of Florida out there. If you're looking for a vacation property that boasts more than just the summer season, you may want to consider New Hampshire.
The Granite State offers both idyllic mountainscapes and colonial beachside cottages for fun all year long for you and your tenants. We've outlined what you need to know about investing in New Hampshire property, and why you'll love this quaint New England state.
New Hampshire Rental Property
New Hampshire is well-known for its vast mountains, quaint country stores, and low state taxes. That's right — New Hampshire offers its residents no personal income tax and for residents and tourists alike — no sales tax. These qualities make it an attractive vacation or permanent destination. While their sales and income taxes are lacking, New Hampshire has some of the highest property tax in the U.S.
Not to fear though — with a smart income property purchase in a desirable area, your rental property could reel in much more than just the trout you're frying up for dinner. Whether you're investing in a mountain cabin or a lakeside escape, there are plenty of activities in the area for your tenants to enjoy.
If you're a first time income property buyer, you may want to consider BCCU mortgages to see if you qualify for a lower interest loan to make your income property possible. With lower interest payments, you can maximize your revenue from your busy rental season, and enjoy your property during the slow season without taking a financial cut.
Get Started
Claim up to $26,000 per W2 Employee
Billions of dollars in funding available
Funds are available to U.S. Businesses NOW
This is not a loan. These tax credits do not need to be repaid
The ERC Program is currently open, but has been amended in the past. We recommend you claim yours before anything changes.
How to Increase Your Vacation Rental Revenue
No matter where you invest, putting in the time to make improvements to your vacation rental can help you keep your property occupied, and increase its nightly rate. It's important to keep in mind that others will be making your home their own for the week, or even longer —  using classic styles for the interior is best.
Some simple ways you can increase your vacation rental property's value and bookings are:
Taking professional photos to entice tourists
Including an updated, clear property description
Offering advice for tourist activities and local recommendations
Upgrade outdoor spaces so they can spend time enjoying the fresh air and view
Include all kitchen essentials so they can enjoy your space during an evening in
Highlight luxury items and unique features in your description
Base pricing on high and low seasons for maximum ROI
Among cosmetic updates, maintaining consistent communication and making constant updates are also important if you're trying to make your vacation rental your side hustle. So get ready to turn those notifications on, and be responsive to your guests — they'll appreciate it and reward you with good reviews.

Why Vacation in New Hampshire?
Now that you know what to expect when you're a vacation property landlord, now it's time to advertise your property. Besides knowing how to best show off your property, you'll probably have to do some marketing to get tourists out to your area.
Tell your potential renters exactly why they'll want to visit the great state of New Hampshire by curating a list of your favorite attractions and activities to put in your property description. We've done some of the hard work for you by giving you an idea of what kinds of activities your guests may be interested in, giving you the benefit of more bookings and higher rates.
New Hampshire Vacation Ideas
Whether you're in the mountains or at the beach, there's something for everyone in this East Coast gem.
Summer boating or beach relaxing at Hampton Beach is a fun and effortless activity for the whole family.
Ride the first aerial tramway or hit the slopes at Cannon Mountain. If your guests are hungry for adventure, this is the perfect activity to indulge in some adrenaline-spiking fun.
Visit New Hampshire's quaint country stores and historic homes in Portsmouth.
Revel at the fall foliage on the Kancamagus Highway, and see some of the most beautiful scenes in the world.
With the right rental marketing strategy, investment know-how, and passion for New Hampshire's tourism, you'll have no problem making your vacation rental and investment you'll enjoy for years to come.