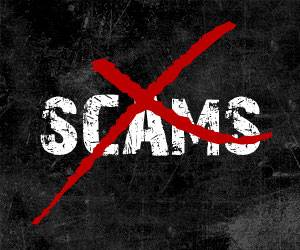 Investing your hard earned money and making the right choice of investment is a big deal. So when someone offers you a deal that promises a 'once-in-a-lifetime' opportunity, is it too good to be true? According to the Australian Securities and Investment Commission (ASIC) some scams can be hard to spot as they often come across as very "professional, slick and believable." You have to remember that scam artists don't care about you or how you've accumulated your funds, their only focus is your money. So here are some tips on how to spot and beat the dreaded investment scams:
Know the lingo – Any fraudster who is trying to make you feel small may use tactics such as intimidation or even try to make you feel guilty or foolish. They could use technical trading terms in an attempt to bamboozle you into making a decision that you later regret. If you are planning on making an investment, ensure that you are clued up with the technical terms in this glossary from IG so you're never in the dark when it comes to the language of money.
Warning signs – There are lots of warning signs that a potential investment could be dodgy and remember to trust your instincts. Very often fraudsters will offer amazing deals and this should be a red flag. If it looks too good to be true then it probably is! If you receive unexpected phone calls, messages, emails, letters or even visitors at your door then be very wary. When you receive these communications they can often be quite pressurising as they will encourage you to act quickly or you will 'miss out'. No genuine investment company will put unnecessary pressure on you if it is a legitimate offer. Never tolerate sales pressure and if you suspect a scam or are a victim, report it to Scamwatch.
Get Started
Claim up to $26,000 per W2 Employee
Billions of dollars in funding available
Funds are available to U.S. Businesses NOW
This is not a loan. These tax credits do not need to be repaid
The ERC Program is currently open, but has been amended in the past. We recommend you claim yours before anything changes.
Promises, promises – Anyone suggesting that investing will be low risk, no risk or offers a guarantee on your investment is probably making it up. All investments come with a level of risk and, depending on your investment, you'll be able to select the level that you are willing to take. No one is able to control the markets or the events that affect the changes so no one can guarantee that.
Questions need answers – Most fraudsters will rely on you taking their word, If you question them enough then you'll soon expose the fact that they don't know the answers. Test them out by asking them questions about the companies that they want you to invest in. If they can't provide adequate answers to your questions then do your own research and explain that's what you'll be doing before you invest in anything. They will soon lose interest in you. Being awkward sometimes pays off!
Accreditation – An Australian Financial Services Licence is a legal requirement in order to deal in or arrange investments. It is important that when working with investors or brokers that you check that they have all relevant qualifications, memberships and accreditations.
Be smart and be aware that if anything sounds like 'easy money' then there's most probably a catch and it's more likely to be an 'easy mistake'.