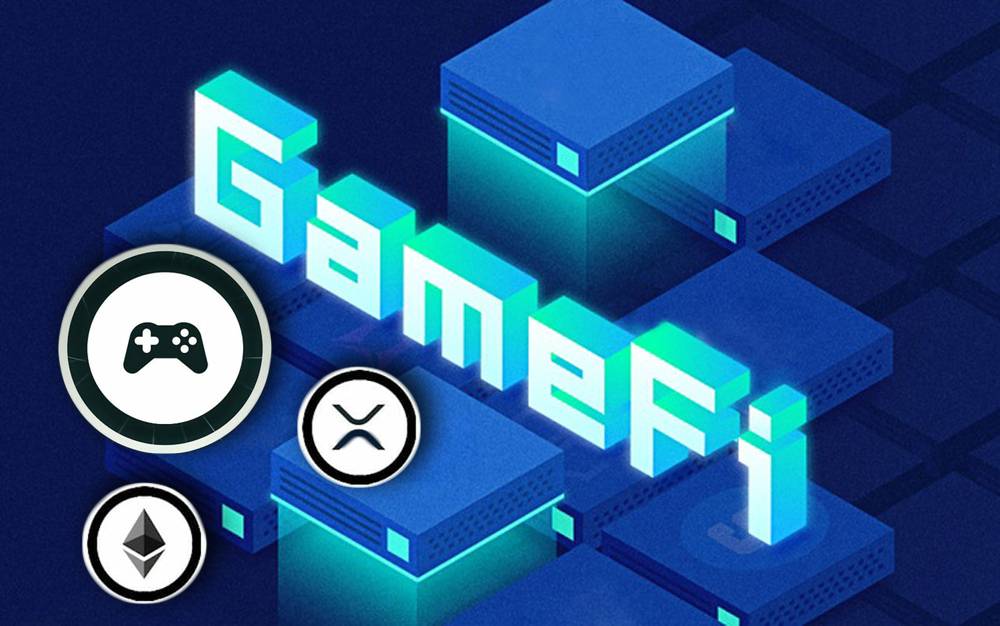 With people being locked up inside their homes for months on end these last couple of years, the popularity of computer games is at an all-time high.
However, playing computer games is not just a hobby anymore. Many people considered online gaming a pastime before, but today they have become an avenue for legitimate earnings.
Computer games have advanced to the point that you can earn money by performing your tasks well and leveling up in the game. The use of blockchain technology in such computer games has made it possible to earn tokens or virtual coins.
There is a wide range of computer tokens that you can earn today. While some of them are very elementary, others are very lucrative online and offline as well.
Here are some of the top GameFi coins you should be on the lookout for in the upcoming year!
What are GameFi Coins?
GameFi is based on decentralized finance. DeFi is a system for trading and lending tokens online. However, you can now trade these tokens like cryptocurrency on the game itself. You can trade these tokens in games and exchange them for economic benefits too.
A decade ago, no one would have believed in the concept of entire economies running in the virtual world, but it is a new reality today. Gaming tokens or GameFi coins are considered cryptocurrencies that have real value.
The concept of GameFi coins is that you earn tokens by playing games. These tokens are similar to DeFi coins, just with the benefits of cryptocurrency. You can trade, lend, and exchange these coins using the gaming interface itself.
Since these game tokens are similar to cryptocurrency, the value of these tokens can increase or plummet at any time. These tokens are subject to market capitalization. However, according to recent trends, most of these cryptocurrency tokens or GameFi coins are worth more than ever before.
You need to pick GameFi coins carefully so that you can reap the most benefits from these tokens. Many people consider this as one of their primary ways of earning money. There are many GameFi coin options you can consider.
Where Can You Find the Best Games to Play?
Every metaverse will have different tokens that you can use to buy various objects virtually. You can find the top blockchain games on platforms like DappRadar and CoinMarketCap.
There are over 400 blockchain games available online. It would be best if you properly researched to find the best ones to play. You can base your research on a few factors: its value, the trend, the features, the availability of NFT tokens, popularity among other players, etc.
Further, another excellent way to find out if a blockchain game is worth your time is by reading reviews. Many platforms review games and hold discussion panels to help you invest your money better.
You could follow these platforms to understand the game better before diving right into it. 2022 is an excellent year for GameFi coins. With suitable investments, you will be able to make a killing while playing games online!
Top GameFi Coins You Can Consider Buying
With a wide range of options available to users over the internet, it can be a little challenging to pick the right one. However, here is a list of all the most promising tokens you can try.
1.     SAND

The Sandbox
Cost$0.458487
The cost increased by1.03%
Buy The Sandbox
The Sandbox gaming ecosystem is one of the most popular for online gaming enthusiasts. SAND is the token that players use in this ecosystem. This token has proven to be one of the most lucrative buys over the last year.
Get Started
Claim up to $26,000 per W2 Employee
Billions of dollars in funding available
Funds are available to U.S. Businesses NOW
This is not a loan. These tax credits do not need to be repaid
The ERC Program is currently open, but has been amended in the past. We recommend you claim yours before anything changes.
The Sandbox gaming ecosystem released its metaverse in 2020. This metaverse used SAND as its cryptocurrency. Users could use these tokens to buy land, build factories, neighborhoods, etc.
SAND can be used as virtual currency on many gaming platforms in the virtual world. These include Uniswap, Digifinex, Crypto.com, Gate.io, and Binance. The token also gives access to the holders to make decisions by voting, helping with platform management, etc.
2.     AXS (Axie İnfinity)
Axie İnfinity is a blockchain game that became of the most popular games in 2021. It got into the game and surpassed the revenue of one of the biggest blockchain platforms, Ethereum. This popularity made it the breakthrough of the year, and blockchain game fanatics all rushed to it.
The Ethereum blockchain platform was worth three times less than Axie Infinity in August of 2021. This hike in its value became a very lucrative buying option for most gamers and cryptocurrency enthusiasts. The same month it exceeded the revenue of Ethereum in 2021 surpassing the trading volume by over $1.1 billion.

Axie Infinity
Cost$7.26
The cost increased by3.18%
Buy Axie Infinity
AXS is not just a gaming token. With most gaming tokens, you are limited to the products within the game like gaming skins, features, etc. However, with AXS, you can try out trading as well.
Axie has animals in the game itself. These animals are not entirely for gaming purposes. They are NFTs that players can sell in marketplaces. These animals are only found in their respective metaverse and have a ton of different perks.
While you can buy Axie cards at OpenSea marketplace, the tokens can be purchased online on Binance, Crypto.com, TokoCrypto, Digifinex, FTX, and Coinbase. It has also gained popularity because tech giants like Samsung and Binance praised it.
3.     True Flip Token (TFL)
TFL or True Flip Token is used on the True Group international iGaming platform. This platform is prevalent as the native token can be used for game development and even brand operations. This GameFi coin has been in the top 10 lists for 20 years.
In 2020, the native True Flip Coin of their leading brand, True Flip, got nominated for the Askgamblers Awards. It ended up winning the Best Casino nomination and gained a ton of traction among users.
iGaming NEXT: Valletta '21 also featured True Flip as their headline sponsors. This event is a large-scale gaming event where players from all over the world participate. True Flip did not consider GameFi their primary mode of operation before this.
They discussed at the convention that they will be prioritizing GameFi as their primary focus. However, no confirmation has been received on this matter yet. The True Group is also planning to upgrade and develop its plans for tokenomics since September 2021.
Holders of this token are in for a ton of benefits if the True Group acts upon these discussions. You can buy these coins on the KickEx cryptocurrency exchange now, and further, they may be made available on DEX and CEX.
4.     MANA (Decentraland)
It is an internet currency of the metaverse. Decentraland universe offers various features with this blockchain game set. Users can use this currency or token to buy things in the metaverse.

Decentraland
Cost$0.494135
The cost increased by2.72%
Buy Decentraland
Users can buy land, make virtual heroes, or even spend these tokens to learn real-life skills like understanding languages or even playing the guitar. The cost of every activity varies on the metaverse, and the more you play, the better your characters get.
Initially, the price of this token was set at $1.46 in May of 2021. That was when a virtual casino initiation partnership was established with Atari. The coin did well initially and was considered a vital asset in the GameFi market.
However, the coin's value dropped later that year to $0.46. The value keeps fluctuating depending on the market, so it is essential to understand GameFi coin trends before investing in them. You can buy these coins on Gate.io, Crypto.com, and Binance today.
5.     Enjin Coin (ENJ)
The Enjin blockchain platform is famous for creating exciting computer games for users. These games are generally based in the GameFi domain and are played by users globally. This blockchain platform uses Enjin coin or ENJ as its native token.
This coin has rattled the market since it was first released in 2019. People were intrigued by its features and used it, which helped improve its value significantly. You can use this token to access various features and even buy NFTs online.
These NFT tokens are available on the Enjin NFT Marketplace platform. The value of this token had varied from a whopping $3.27 to even $0.9 when it was at its lowest. However, the coin has excellent prospects in the upcoming year.

Enjin Coin
Cost$0.337147
The cost increased by3.43%
Buy Enjin Coin
If you are interested in investing in ENJ, you can buy the token on Coinbase, Huobi Global, and Binance!
GameFi Coins Predictions for 2022
While the games mentioned above have shown promising trends over the last year, there are new advancements in GameFi over the horizon. The year 2022 cold mark the revolution of blockchain gaming.
According to Stockhead, there are hundreds of games under development that are all set to release this year. Here are some of the top blockchain games you can be on the lookout for:
ILLUVIUM
Blockchain: Ethereum, Immutable X

Illuvium
Cost$102.7
The cost increased by1.32%
Buy Illuvium
GUILD OF GUARDIANS
Blockchain: Ethereum, Immutable X
PHANTOM GALAXIES
MONKEY LEAGUE
HEROES OF MAVIA

Ethereum
Cost$2,354.67
The cost increased by4.33%
Buy Ethereum
Additionally, the year 2022 is promising for the value of GameFi tokens as well. The short-term prediction for the coin suggests it will reach the value of $72.94 by 21st February 2022, with a rise of 42.48%.
Studies show that the new cryptocurrency coin, GAFI is all set to have an ROI of 4,769%. This data was recently collected from CoinmarketCap on 16th February 2022.
To Sum Up
The list of top GameFi coins is constantly changing and wavering. The best way to invest correctly is to keep in touch with the news and see the market trends. Any sudden changes in the economies can change up values instantly.
There are many other GameFi coins in the market that you can explore too. You will make profits as long as you put in the research and time to understand the coins. So, make sure you know how the market could affect your GameFi coins so you can make the right investment choices!