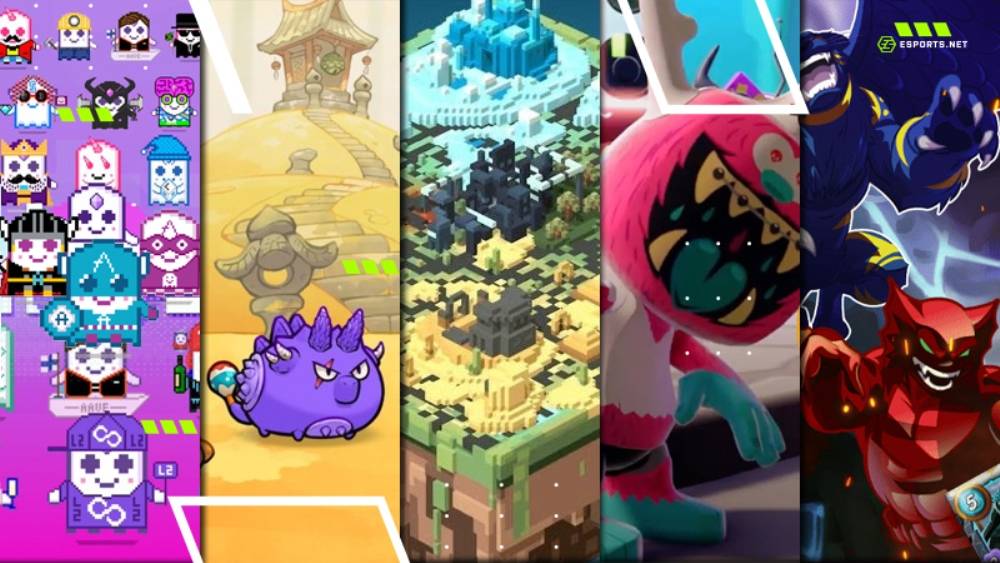 Did you know that 2021 has seen billions of dollars of expense in the gaming industry? Well, to be very exact, it would be 175 billion dollars!
Historically, the gaming studios such as Tencent and Blizzard have generated immense revenue. Through the years, the spread of blockchain technology has taken the cryptocurrency trading and gaming markets to the next level.
Additionally, with the increasing popularity of the play-to-earn crypto coins, the token prices also saw a significant increase. Besides being the good news for all the gamers interested in crypto-trading, games like the Sandbox, Meta, and Gala are approaching new trends and popularity.
The increased surges in the token prices have surged beyond 800% in a single month. The trend is nowhere to stop, but with the ideal model of play-to-earn (P2E), the trend can grow more than 20% in 2022.
Read through this post to learn more about play-to-earn crypto coins, the upcoming trends of 2022, and how to invest in these games.
Let's get started!
What is Play-to-Earn?
Have you invested your time and effort in play-to-earn before? If not, it is what it sounds like. It is a business model designed for gamers to play and earn crypto coins while playing the games. It is a psychological model combining money-making art and entertainment.
It provides the gamers with ownership of specific games and assets and increases the value of participating actively in the game. Ownership and transfer are possible through non-fungible tokens (NFTs) in the crypto world.
Now, let's take a look through some of the most popular play-to-earn games that have captured the interest and excitement of cryptocurrency traders and gamers.
Metaverse Crypto
Recent studies have reported that the metaverse coins have seen an increase by 37,000% this year which has surpassed the bitcoin's earnings of the previous years. However, if you aren't quite aware of what Metaverse is, it is the concept of an alternate dimension where people are free to style themselves according to their preference.
As a result of the metaverse concept, the introduction of the blockchain platform came into existence. Using Metaverse could enable the users to own digital assets while creating investment incentives.
Metaverse, however, poses the risk of being overcome by oligopoly. This way, the seekers can revive the threat of digital monopoly. The Sandbox and Gala are the most popular games of the Metaverse known for dealing with cryptocurrency trading.
The Sandbox

The Sandbox
Cost$0.430423
The cost increased by1.30%
Buy The Sandbox
As previously mentioned, the Metaverse is a world of alternate dimensions. Similarly, the Sandbox is a virtual world. Players can be themselves in this world, create, own, or monetize their gaming experience using the Ethereum blockchain with the help of SAND tokens.
Digital assets come in the form of non-fungible tokens (NFTs). Plus, they upload the token to the market and integrate the token with the games using the Game Maker.
Additionally, the Sandbox's price has increased and reached formidable heights, creating the All-Time High record since July 2021. The Sandbox offers creators ideal ownership of creations in the form of NFTs.
Get Started
Claim up to $26,000 per W2 Employee
Billions of dollars in funding available
Funds are available to U.S. Businesses NOW
This is not a loan. These tax credits do not need to be repaid
The ERC Program is currently open, but has been amended in the past. We recommend you claim yours before anything changes.
The participation of these players is then rewarded through transactions and interactions in the form of staking, fees, buying, and selling of game equipment, etc.
Gala
Gala is that meta blockchain gaming forum developed by Eric Schiermeyer in 2019, which combines NFTs to create a blockchain gaming ecosystem. Players are enabled with the freedom of exchanging or trading game assets globally.
Gala was designed to take the gaming industry to new heights and re-establishing the players' control over the games. The purpose of the website of Gala is to develop games that players would be actually interested in playing.
The Gala token is meant for network governance, node operator incentives, and rewards within the game related to participation. Additionally, they can be utilized for purchasing NFTs and assets as well. Based on blockchain technology, Gala enables the players to take the help of their unique NFT characters.

GALA
Cost$0.02723984
The cost increased by2.69%
Buy GALA
Pros And Cons of Play-To-Earn Cryptocurrencies
Pros
Blockchain-developed games
Exciting gaming experience with the fun to collect crypto-coins
Opportunity to earn real cryptocurrency which is transferrable to fiat money
Cons
Technically complex for some
Chances of losing money
You might spend beyond limits
Different Platforms to Buy Cryptocurrency (BlockFi, Gemini, Kraken)
Since you have scrolled and reached this part of the page, you must be pretty interested in the cryptocurrency world. Then it is worth mentioning the fact that crypto-trading has gained the utmost popularity with the increasing demands and value of bitcoin, ethereum, dogecoin, etc.
And no matter the prevalent occurrences of scams or intimidating trade actions of the bitcoin, with so many platforms available for cryptocurrency selling and buying platforms, play-to-earn games only become the cherry topping to the cake.
You can buy or sell your cryptocurrency on various platforms. However, a few of them are pretty popular and valuable that would quickly grab your attention as you go through their terms and benefits. Here are the three popular crypto-trading platforms.
BlockFi
BlockFi is more than a simple cryptocurrency exchange. Additionally, you get to open crypto savings accounts, crypto-backed holding, and win rewards. The BlockFi Interest Account enables you to earn about 9% APY on your assets higher than what you hold in your savings account.
You can earn when your trade is placed. BlockFi enables you with loans in case there is a need for funds. Everything is within the package you signed for, and no additional selling is required. The fees eligible here are at the of 0.7% to 1.5%.
You can use bitcoin, ethereum, or Litecoin. BlockFi also supports USDC, UNI, DAI, BAT, PAXG, BUSD, GUSD, etc. Not only do you earn valuable points, but you also earn excellent offerings, such as Visa cards and savings accounts.
Gemini
Gemini would be the ideal choice if you are a newbie in the crypto world or want to explore the low-profile access with new jargon and want to step into the crypto world while experiencing its highs and lows. It is also the most accessible cryptocurrency platform. It is famous for various reasons.
Gemini is compatible with mobile devices and is available for iOS and Android. Not only is the platform streamlined and straightforward, but it is also constructive in terms of tracking asset prices, presenting real-time market prices, etc.
This way, clients are updated with the current market fluctuations through their phones or tablet. Additionally, the robust security features of Gemini enable it to offer insurance against scams or hacks.
Moreover, Gemini cryptocurrency trading services are available across the US, and the platform supports more than 30 altcoins to choose from. However, one downside to Gemini is that its fees are higher compared to other platforms, and there is no capping to the minimum amounts.
Kraken
Kraken is another cryptocurrency exchange platform that has backed quite the reputation among cryptocurrency investors. It is famous for its reasonable fees and high security. Additionally, it is the ideal cryptocurrency exchange if you want to get on your mark with crypto-trading.
The best point about Kraken is its leveraged trading options. Advanced traders are offered 5x margin trading. As a trader on this platform, you can invest up to 50x leverage in the future. Additionally, you have the option of shortening the cryptos. However, beware of the strategies when you are associated with this cryptocurrency exchange market.
Kraken supports more than 50 different cryptocurrencies and is known among the top choices of crypto-investors. If you are a newbie, it may be challenging to get an edge at first. But once you get the hang of it, you'll realize that Kraken is probably the best choice out there.
Top Tokens and Trends for 2022
2021 has been a massive milestone in the crypto-world. It is not only a heated topic of discussion in financial pursuits, but it has also become a prevalent culture. Given such dynamic changes taking the high end of the curve in the crypto market, the trends of 2022 are coming up with newer and elongated approaches.
These trends are targeted to realize the overall importance of crypto-trading in the real world. Here are the various trends prevalent for the year 2022.
Institutional Investments in Crypto Markets Likely to Rise
The crypto industry has witnessed significant investments by famous companies and financial institutions. Invests and venture capital funds invested about $30 billion in 2021. With such incidence, it is predicted that the institutional investors of the crypto market are supposed to increase in the coming year.
For instance, Microsoft and Facebook are involved in the diverse metaverse plans while Nike and Adidas are still picking up their pace in the crypto-world.
Gaming and the Metaverse Will Keep Growing
Blockchain technology has come into existence, and with improved graphics and gameplay, there came the popularized demand for play-to-earn games. These games allow the gamers to earn tokens and swap on a cryptocurrency exchange for fiat currency.
Facebook's transition to the rebranding name of Meta has put new limelight over the whole concept.
Tokenized Funds
Another trend to be taken into high action next year is the rising demand for tokenized funds. You must have already heard of Exchange Traded Funds (ETFs). Although ETF is over 30 years old, there has not been any significant innovation in those years.
Blockchain technology has eased the task of tokenizing funds, and managers can now easily track the performance of the traditional market.
Play-to-Earn Crypto Game Industry Might Observe Massive Growth
The numbers suggest that the play-to-earn game market will continue to experience significant growth in 2022. It's because more players become interested in investing in these games.
According to market reports, over 100 play-to-earn games are currently in development, and many more to come. Game designers and developers are dedicated to providing user-friendly and enriching experiences.
Rise of the Anime Metaverse
Kawaii Islands is about to offer players a gaming experience of a lifetime. The game will allow users to play in the Anime Metaverse, an NFT simulation based on an imaginary island floating in the sky.
Players will be involved in an exhilarating experience, including crafting, home designing, farming, and earning real money.
The developers have gamified the DeFi mechanism to provide any unique experience with low entry barriers. So, Kawaii Islands will be one of the first games to offer a simulation-based experience in the crypto space.
Along with all this, it has been observed that players value their time more than before. So, the news suggests that players will want to get more out of their playing time.
On that note, Alexis Ohanian (Reddit co-founder) said that in the near future, players wouldn't play a game until they're valued for the time. He further stated that instead of luring players to purchase in-game items, game developers should offer opportunities to earn them instead.
So, run-of-the-mill online games might not be as popular as they used to be.
Summing Up
The primary concept of play-to-earn games is to reward the players who put in more time and effort into the games. Although new in the cryptocurrency market, it has acquired quite a popularity in the real world